Caesarstone
Wednesday 11th September 2019
The 4,120m² Spa at South Lodge, an exclusive hotel in the South Downs in Sussex, has opened to reveal an array of Caesarstone quartz surfaces designed by Sparcstudio, an independent creative design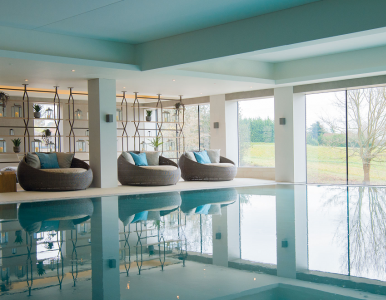 The Spa at South Lodge, an exclusive hotel in the South Downs in Sussex, with its Caesarstone interiors.
Caesarstone has been chosen by Bloor Homes as the exclusive kitchen worktop upgrade supplier for more than 3,000 new builds to be completed in the next 12 months.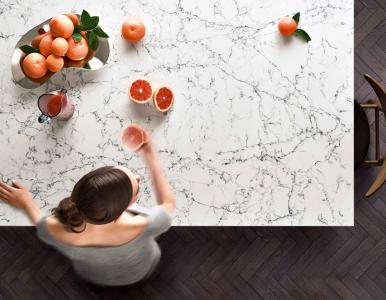 Caesarstone's White Attica, one of nine finishes chosen by Bloor Homes for kitchen upgrade offers in 3,000 new builds in the next 12 months.
Caesarstone UK, selling the Israeli Caesarstone quartz, has opened a second distribution centre. It is in Trafford Park, Manchester.
Caesarstone's new depot in Trafford Park, Manchester. More are on the way.
The latest addition to Caesarstone's Metropolitan Collection of industrial looks is Primordia.
This is Primordia, the latest launch in Caesarstone's Metropolitan Collection.
Major Kitchen Trends are being brought to you by Caesarstone and Lidewij Edelkoort in this year's kitchen trend book, titled Form Follows Food.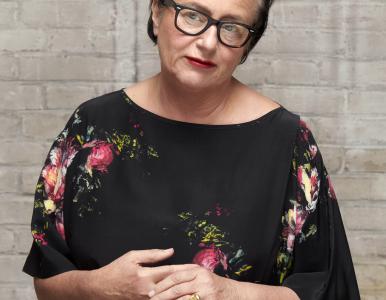 Caesarstone has launched a new trend forecast book together with Lidewji Edelkoort, pictured here.
Tottenham Hotspur has finally moved into its new £1billion stadium and last night (3 April) won its first game there 2-0. It was against Crystal Palace.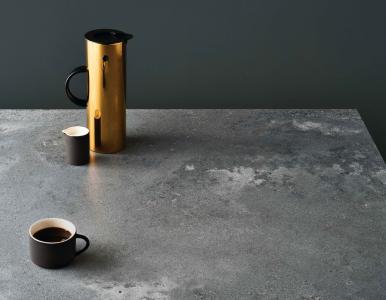 Sadly no picture of the 65m-long bar at Spurs' new stadium yet, but this is what it is made of - Ceasarstone Rugged Concrete.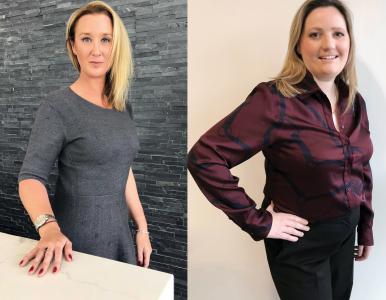 Hazel Blake (left) and Holly Barns have joined Caesarstone. Hazel is helping fabricators and kitchen & bathroom showrooms in the South East of England while Holly is working in Scotland.
Thursday 29th November 2018
Caesarstone, the manufacturer of quartz surfaces, enjoyed a victory at the FX International Interiors Design Awards, winning the Surfaces category.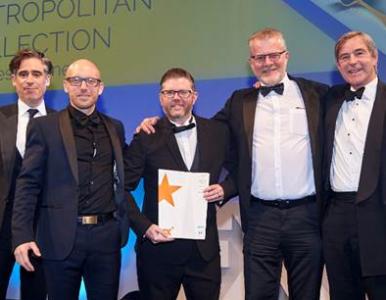 Caesarstone collects the FX Award 2018 for Surfaces. Pictured (left to right) are Comedian Stephan Mangan; Ian Clark, Commercial Specification Manager Caesarstone UK; Steve Gibbs, Commercial Manager Architects & Designers Caesarstone UK; Gareth Lowden, Commercial Manager Housebuilders & Developers Caesarstone UK; Christopher Newton, Director Surface Design Show (sponsors of the Award).
Quartz company Caesarstone's Metropolitan Collection, which it launched in May with its 'Rough Night Out' in The Barge House on London's South Bank, has won the Gold Award for Innovation in Kitchen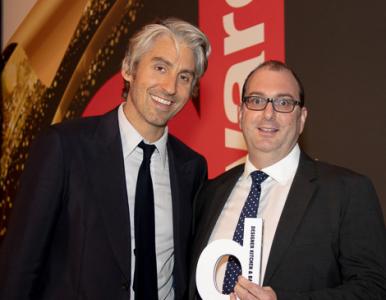 Amir Rekse (right), the Managing Director of Caesarstone UK, collects the Designer Kitchen & Bathroom Gold Award from host George Lamb.
Wednesday 24th January 2018
Caesarstone, the quartz manufacturer that opened its own warehouse inside the M25 at Enfield this time last year, has kicked off 2018 by announcing there will be no price increases this year and in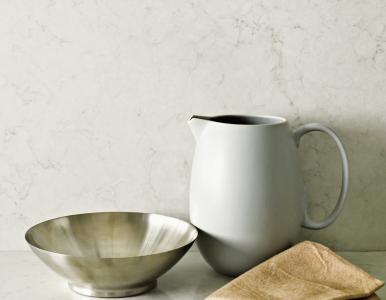 There is nearly a third off 5000 London Grey until the end of May.
Pages