Hi-Macs
Wednesday 5th December 2018
IDM Properties has renovated and restored the landmark Art Deco Hoover building in London, creating 66 luxury apartments with Hi-Macs solid surfaces.
Seamless Hi-Macs worktops in the apartments at the Hoover building.
In Sokcho, South Korea, a house has been built that lends itself to the snowy scenery. It has Alpine White Hi-Macs solid surfaces for the façade and roof.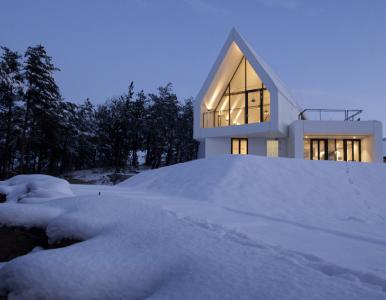 Woojin Lim's Hi-Macs house that reacts to the changes in the landscape in Sokcho, South Korea.