Worshipful Company of Masons
Congratulations to the four masons invested as Master Craftsmen in this year's Livery Companies Skills Council and The City and Guilds of London Institute Masters scheme, which recognises the skill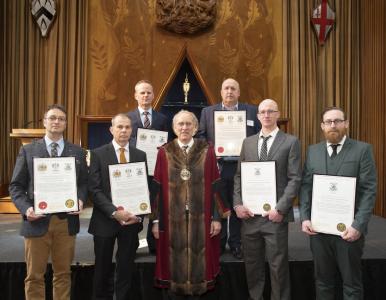 The 2019 Mason Master Craftsmen and Journeymen with their certificates presented at Carpenters Hall in the City of London on 11 March. In the picture (left to right) are Andrew Gomersall, Mark Hancock, Wieslaw Szot, Masons Livery Company Master Andrew Bowles, Stephen Andrew Byrne, Tom Francis (Journeyman), Lee Martin Andrews (Journeyman).

 

 
Wednesday 28th February 2018
Six of the UK's top stoneworkers are among those invested this year as Masters of their craft by the City of London Livery Companies (which include the Worship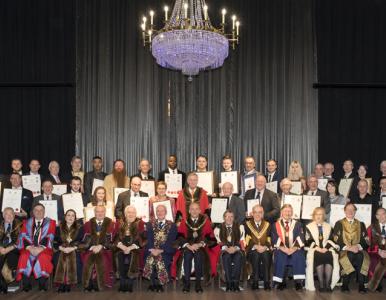 All the new 'Masters' of their crafts at the ceremony in Glaziers Hall in the City of London when they were invested. In the front row are the Lord Mayor of London and dignitaries from the Livery.
Saturday 7th October 2017
Stonemasons Victoria Darley and Tom Francis have jointly won this year's Duke of Gloucester Award for Excellence in Stonemasonry.
Tom Francis (left), winner of the Duke of Gloucester Award, with HRH The Duke of Gloucester and Liveryman Major General John Milne (right).

Photo: Simon Bish
Archie Stoke Faiers has been presented with a new set of tools to take with him to Abu Dhabi in October when he represents British stonemasonry at WorldSkills, the world's biggest skills competitio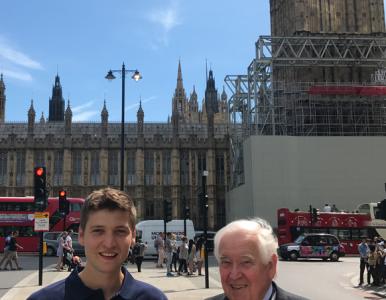 Archie receives a new set of tools from Peter Clark, Master of the Worshipul Company of Masons (the Masons Livery Company) as Big Ben strikes 3pm.