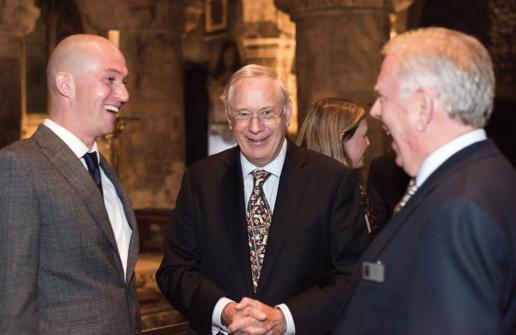 Tom Francis (left), winner of the Duke of Gloucester Award, with HRH The Duke of Gloucester and Liveryman Major General John Milne (right).

Photo: Simon Bish
Stonemasons Victoria Darley and Tom Francis have jointly won this year's Duke of Gloucester Award for Excellence in Stonemasonry. The Award was presented to them by His Royal Highness the Duke of Gloucester at a ceremony in London on 4 October.
The award was introduced in 2007 by the Masons' Livery Company in London and Stone Federation Great Britain to recognise and encourage high standards in all aspects of stonemasonry.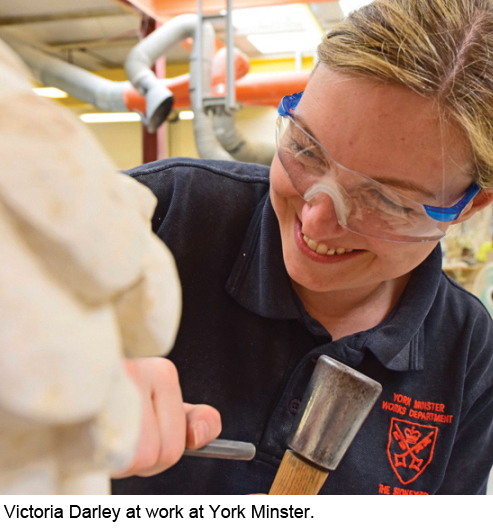 Victoria works for York Minster, starting as an apprentice seven years ago. She recently completed her first carving for the cathedral, a figure of King Solomon, which was returned to a pinnacle on the South Quire Aisle in September. Tom works for Chichester Stoneworks.
Award assessor Dr Dick Reid said the quality of submissions for this 10th anniversary year had been exceptionally high and that "Victoria's development, experience and achievement can only be described as outstanding".
Martin Ashley, another of the assessors, said of Tom's work: "Tom is steeped in the craft and artistry [of stonemasonry], and he is a credit to the industry."
The Duke of Gloucester Awards were introduced in 2007 in honour of HRH the Duke of Gloucester, who has been a liveryman of The Masons' Company since 1975 and an honorary member of its Court since 1995. The Duke, through his architectural background, has a keen interest in the construction industry, the national heritage and the training of craftspeople in the industry.
He personally presented the Awards during a presentation at London's oldest church, St Bartholomew the Great, in the City of London, on 4 October.
Jack Herniman, also from Chichester Stoneworks, was Highly Commended.
Peter Clark, Master of the Masons Company, said: "Many congratulations to all the entrants. It is good to see such talented individuals committed to the craft of stonemasonry."
He said the Award demonstrated that the Livery Company's support for training across the country continues to deliver outstanding craftsmen and women.
The awards are open to stonemasons with between two and nine years post-qualification experience who have shown high standards in all aspects of stonemasonry and have a portfolio of projects that illustrates their work.