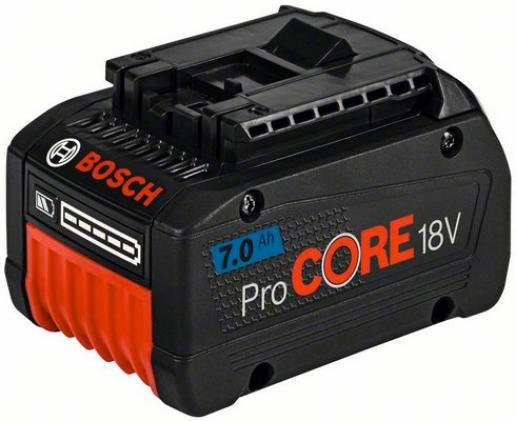 From Bosch, almost twice as much power from the ProCore 18V 7.0 Ah battery that is compatible with all its professional power tools in the class.
Bosch is offering more power for cordless tools from its ProCore 18V 7.0 Ah high-performance battery, introduced as part of the Bosch Flexible Power System that guarantees new launches like this are fully compatible with existing professional power tools in the class.
ProCore 18V 7.0 Ah offers approximately 90% more power than the previous 18V 6.0 Ah battery yet is 30% smaller than comparable high-performance batteries, giving it the highest energy density in its class.
On the GBH 18V-26 F Professional cordless rotary hammer, this high-performance battery achieved a 75% increase in drilling depth using a 25mm bit into C30/37 concrete.
This significant power increase is thanks to an improved cell design and measures taken to minimise internal resistances, like cell connectors made from low resistance copper, and the established Bosch CoolPack technology. The upshot is that this battery can handle higher power demand over a longer period. 
The CoolPack technology also helps to prolong the battery's life substantially. Heat dissipation is maximised by the high-density polyethylene housing and internal heat sinks and there is no internal spacing, so heat it is not caught inside.
There are also special openings for heat dissipation during charging, making recharging quick. And the five-level LED display allows the charge level to be kept under control. 
The ProCore 18V 7.0 Ah high-performance battery has a recommended price of £181.54 (plus VAT).