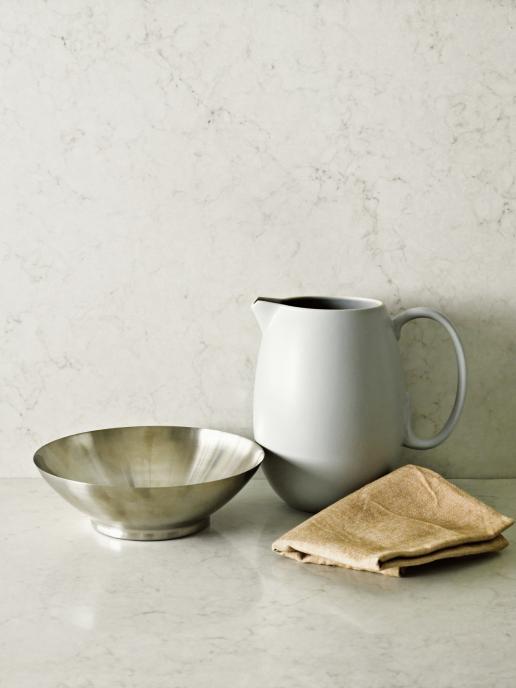 There is nearly a third off 5000 London Grey until the end of May.
Caesarstone, the quartz manufacturer that opened its own warehouse inside the M25 at Enfield this time last year, has kicked off 2018 by announcing there will be no price increases this year and introducing jumbo format slabs.
It also has a special promotion until 31 May on its 5000 London Grey, which drops to Price Group 3 from 4, saving 32% on the full price.
A light grey colour with soft charcoal veins, Caesarstone 5000 London Grey sits at the heart of traditional and transitional kitchen trends, perfectly blending with other earthy tones or providing a contrast to vibrant blues and greens.
In the latest edition of Natural Stone Specialist magazine, UK Managing Director Amir Reske looks back on his first year in the UK worktop market. He reports that he and his team had a lot to learn but believes Caesarstone is on track to become market leader in quartz in the UK and continues to take market share from laminates.
The company says it has frozen its prices this year because, after a successful 12 months establishing Caesarstone's own business in the UK, it wants to share its success with its partners, who gave it that success. 
VP Sales, Guy Rawstorne, says: "This move underlines our commitment to our UK partners as well as the wider industry."
And from February the jumbo slabs will be available. They measure 3330mm x 1660mm instead of the regular 3050 mm x 1440 mm.
They will be available in the UK's most popular Caesarstone colours and designs and will be in stock in Enfield.
The larger sizes are perfect for larger seamless kitchen island installations as well as for making more efficient use of material in some cases.
Jonathan Stanley, VP Marketing, says: "2017 proved to be a very successful year for Caesarstone UK... topped off with a number of industry awards that recognised the aesthetic quality and technical performance of the Caesarstone range.
"The next 12-months will be just as exciting - starting with this positive announcement.
"We also have a number of significant new products set for launch later in the year and hope to see many of our business partners join us for an early preview at KBB Birmingham 2018." KBB Birmingham is at the NEC 4-7 March.