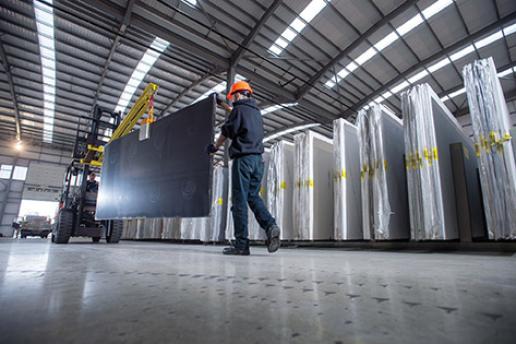 The new Caesarstone warehouse in London is filling up fast.
Caesarstone, the company behind the quartz product of the same name, has split with CR Laurence in Manchester, its distributor for the past 10 years, and opened a 4,000m2 warehouse of its own inside the M25.
Caesarstone's decision to go it alone came as a surprise to CR Laurence when it was told about it last year. CR Laurence responded by launching a porcelian under the name of Ceralsio last year and has now launched a range of quartz under the name of CRL Quartz. (Read more about the CR Laurence response here.)
Caesarstone's decision to open its own warehouse in London comes as the company marks its 30th anniversary. It says it has made the decision following significant successes with a direct distribution model in other parts of the world, including the USA and Australia.
It says the move highlights the importance the company places on the UK as one of its key markets.
Caesarstone is an Israeli company with two factories in Israel and one in America.
Amir Reske has been appointed Managing Director of Caesarstone UK. He says: "We are up and running and open for business. With our well stocked, 42,000 sq ft warehouse at our HQ in Enfield, North London, complemented by our own delivery fleet, we are in a strong position to ensure our customers enjoy a quick and efficient turnaround from order to delivery.
"Together with our team of dedicated sales and support people we aim to offer the exceptional service that you would expect of a premium brand – a service that is in line with our global service standards."
Caesarstone already enjoys significant brand presence and market share in the UK and is recognised as a premium surface product by both trade and consumers. The company says it sees huge potential in the UK quartz market.
"Quartz continues to grow in prominence within the UK surfaces market," says Amir, "…we see great opportunities for the brand in the UK. We want to take our products and services to a new level, while ensuring that our customers are at the heart of everything we do."
More products are promised to add to the existing 40 colours and designs and new loyalty programmes will be introduced.
First off there is a 25-year warranty on all domestic products. And a showroom will be opened at the warehouse in the coming months.
"We want our facilities to become a resource for fabricators, designers and architects in its own right – and our product design and innovations an inspiration to them," says Amir. "We now have everything in place to maximize the potential for Caesarstone in what will be a major market for the company."
One of the first companies to take delivery of products from Caesarstone's new UK business is Prima Stone Surfaces. Director Robert Jay says: "We are delighted with the smooth transition and excellent service received. We can see the passion and commitment to the brand in the UK market and we are looking forward to working with Caesarstone UK to develop our own quartz business."
Trade Sales contact for Caesarstone Tel:  0800 158 8088. Unit 3, Navigation Park, Morson Road, Enfield, London EN3 4NQ