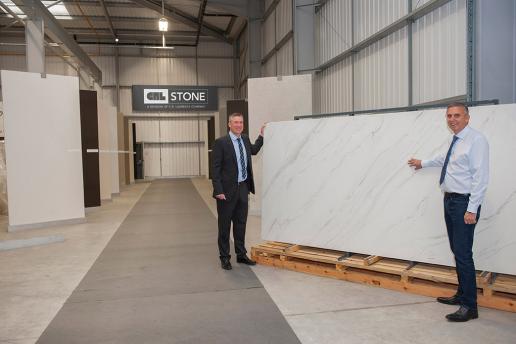 Simon Boocock (left) and David Beckett with a slab of Calacatta marble Ceralsio. See www.ceralsio.co.uk.
There is a new porcelain on the market. It is called Ceralsio, a name owned by CR Laurence and available exclusively from CRL Stone in Rochdale, Greater Manchester. And it is just the first of the new products coming from the CRL Stone brand.
CRL Stone has been in the stone industry for a long time, but it has played second fiddle to the Caesarstone quartz it sold. No more. CRL Stone has been unleashed. And it intends to become a major force in its own right, supplying a range of slab products to stone processors.
First off was the Ceralsio range of Porcelain surfaces launched by CRL Stone in the autumn. Then, on 3 January, came CRL Quartz Surfaces, sourced from various suppliers to create a range that is unique to CRL Stone – a range that you will be able to see alongside the Ceralsio products when they get their first public exposure at the Natural Stone Show in London on 25-27 April this year.
There is the suggestion of CRL Natural Granite to follow on. And with marble already having made a comeback for bathrooms, why not CRL Natural Marble?
Simon Boocock, MD of CR Laurence of Europe, and David Beckett, from CRL Stone, are spearheading the rise of the CRL Stone brand. They say bathrooms have always been a small part of the CRL Stone business but on the CR Laurence glass side, fittings for the glass doors of shower enclosures are big business. They see no reason why this should not be a growth area for the stone side of the business as well as it steps out from its comfort zone of the kitchen worktop.
And it is not just into bathrooms. With Ceralsio being UV stable, Simon Boocock sees the flooring market beckoning as well (although not in the price sensitive tiling sector) and possibly exterior cladding.
"Our business isn't based on volume," says Simon, "it's based on value – that applies to the brand as well as the product. We will cherry pick what we sell."
The move away from Caesarstone is not of CR Laurence's volition. It has come about because Caesarstone has decided to open a warehouse of its own in the UK. But it did not take CRL long to see it as an opportunity for growth.
CRL Stone has been selling Caesarstone in the UK since 2005 and established it as a leading quartz brand, claiming second position in the quartz market. CRL was even prepared to allow the Caesarstone brand to take precedence over the CRL Stone brand. But in the middle of last year CRL received a telephone call from the Israeli manufacturers of Caesarstone telling CRL of its plans to open its own distribution depot in the UK in 2017.
Simon Boocock says: "Our sales had plateaued a bit in the recession but since 2012 we have been doing incredibly well, so it was disappointing."
Even after the price rises brought about by the fall in the value of Sterling following the Brexit vote, sales remained strong. And once word was out that Caesarstone was setting up its own warehouse and CRL would no longer be selling the quartz, there was some stocking up by customers. "We had another record month in November," says Simon. "Every month in 2016 we had stronger growth than we had seen in 2015. And I feel reasonably confident about 2017 as well."
CRL Stone has its own, modern 3,250m2 warehouse, close to but separate from the CR Laurence glass side of the business in Rochdale, Greater Manchester, and a 600m2 showroom. The warehouse will hold around 10,000 slabs in stock at any one time, so wherever they are sourced will not become an issue for CRL's trade customers because they will be available ex-stock.
Even before Caesarstone announced it was opening its own warehouse in the UK, CRL Stone had begun to worry about the rise of porcelain products in interiors. At the EuroCucina kitchen, bathroom and furniture show in Milan, porcelain is everywhere. CRL had broached the subject with Caesarstone but the Israelis were not ready to move into a new product area.
CRL was also concerned that Caesarstone had not previously been able to supply it with the larger format jumbo quartz slabs that have become increasingly popular with processors and kitchen designers.
So when the break came – and CRL admits it came as a surprise – it did not take CRL Stone too long to decide it presented an opportunity to expand the slab sales side of its business into exciting new areas. And this time it would avoid becoming a hostage to any other brands by own-branding products under the CRL Stone umbrella.
First out of the blocks were the Ceralsio porcelain surfaces, available in 12mm and 6mm thicknesses and 26 variations. Made in Spain (where else?), the name is a CRL invention based on 'cer' for ceramic followed by the chemical formula of the aluminium silicates from which porcelain is produced (Al2SiO5).
Being new to porcelains, CRL gave the material to two of its customers to make sure it was up to scratch before they committed to selling it as Ceralsio. It was a hit.
Being porcelain, Ceralsio is hard, of course, and CRL is also selling tools for working it for those who have only used quartz previously.
The new CRL Stone quartz range is available in 32 plain and veined versions so far, although two more will probably have been added by the time the Stone Show opens at ExCeL London. The range includes jumbo 3.3m x 1.66m slabs in 20mm and 30mm thicknesses. The products do not come from a single source, but from the best source for each one, which also accommodates different price points.
The initial stock level is 5,500 slabs –  that's 70 containers, some of which are still en route as the CRL Stone warehouse is refilled with its unique offering.
Unfettered by Caesarstone, the CR Laurence parent has decided to use the muscle that its $600million annual turnover gives it to focus on the growth of the CRL Stone identity. That might even extend to distribution of its ranges overseas using the company's established international network on the glass side as a springboard.
Stone is not an area the American parent has previously been involved in, but it has seen the potential demonstrated by the UK operation and likes the model. "Now they are focused on us growing our stone division," says Simon. "They are investing in it. They have allowed us to go out and find the product that will be backed by our own branding and marketing, so we are never exposed to someone else's brand again.
"We're a customer focused company and are introducing colours and designs that we know customers like – we have the whitest white; we call it Ultra White. There are also four other whites and that's before we get into the veins. The ranges will evolve with what we see customers showing an interest in."
As David Beckett says: "Caesarstone, without realising it, has given this business a new lease of life. We will go forward."