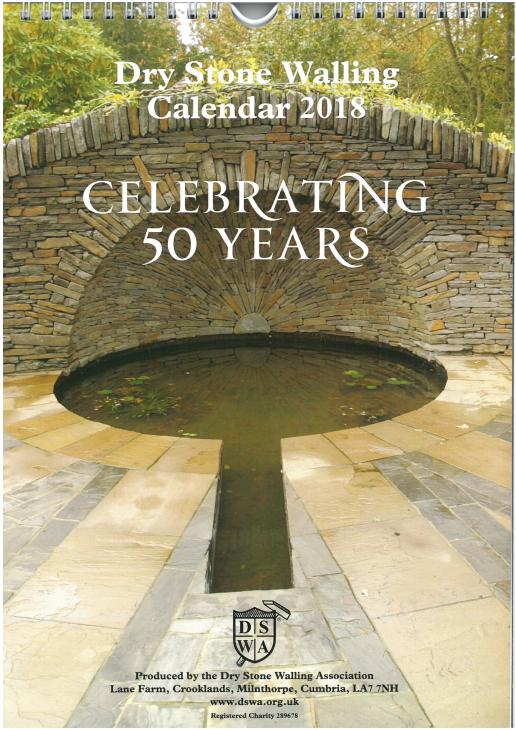 The Dry Stone Walling Association's 50th anniversary calendar featuring all 12 of the projects that have won the Association's Pinnacle Award.
The Dry Stone Walling Association of Great Britain (DSWA) celebrates its 50th anniversary next year (2018) and to mark the occasion is planning a National Walling Competition at Kirkby Lonsdale, near its headquarters in Cumbria, on 20 May.
There will be different categories to cater for a variety of walling styles and an inter-branch competition for Dry Stone Walling Association's UK and overseas branches.
There will be prizes and trophies for the winners. The DSWA would also be delighted to hear from anyone willing to help sponsor the event – email Alison on [email protected].
As well as the walling competition there will be plenty of other attractions on-site during the day and a barbeque in the evening with live music. There is plenty of room for pitching tents and there is a variety of bed-and-breakfast and hotel accommodation available in the area.
There will also be a Members' Weekend at the beginning of March at Gatehouse of Fleet in Kirkcudbrightshire, in Dumfries & Galloway, Scotland, which is where the Associated was started back in 1968. It felt appropriate to return to its roots for the anniversary.
If you want to keep track of next year's dates, DSWA has produced a calendar. It features each of the 12 projects that have been awarded its top honour of the Pinnacle Award for oustanding dry stone walling. The calendar costs £5 and can be purchased from the DSWA online shop on the website www.dswa.org.uk.