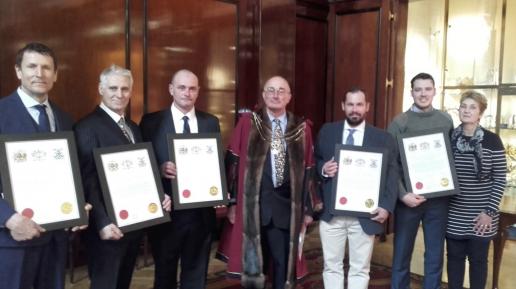 At the awards ceremony of Master Masons are (left to right) Jonathan Anderson, David Collier, Anthony Long, Nick Payne (The Master of the Worshipful Company of Masons), Matthias Garn and Jordan and Karen Mills.
There were five stonemasons among the skilled craftspeople who received the Livery Company accolade of Master Craftsman this year, presented at Merchant Tailors Hall in the City of London by the Lord Mayor of London, the Rt Hon Alderman Dr Andrew Parmley, today (13 February).
The Master Craftsmen Scheme is designed to promote career progression by encouraging the pursuit of excellence in vocational educational and training. The Worshipful Company of Masons is one of the Livery Companies still actively involved in a living industry and promoting skills development within it. 
This year's Master Masons are listed below with their citations. 
Jonathan Anderson began by sweeping the yard, sieving dust, loading the lorry and labouring for masons. It was his introduction to 'all things stone' and it was how he got 'the bug'. So when an apprenticeship was offered to him in 1984 he jumped at it. Since then he has had the privilege of working on some highly prestigious buildings (including King's College Chapel and Westminster Abbey), as well as many other conservation / restoration projects in the UK and overseas. Since 2008 he has been training students from Bath College and the Prince's Foundation at Woodchester Mansion.
David George Collier has worked as a stonemason for more than 30 years. He trained at Weymouth College and Wells Cathedral and worked in masonry production and fixing, conservation and stone carving. As a manager he has overseen a wide variety of projects ranging from St David's Cathedral to the Great Court of the British Museum. He has mentored many young masons through their training and has been a member of the Natural Stone Industry Training Group and the National Heritage Training Group. For the past 10 years he has served on the judging panel for the Masons Livery Company Boss Stone Carving Competition at Weymouth College and he sponsors the College Masonry Draughtsmanship Award.
Matthias Garn comes from a family of masons and carvers and has worked as a mason and carver for more than 25 years, first in Dresden, then in Switzerland and now in the UK at Wells Cathedral and York. He became a Master Mason in Germany in 2004 and then set up his own business in York later that year. His workshop deals mostly with heritage projects. As a SPAB Fellow, Queen's Scholar and holding an MA in Conservation from York, his main interest is in preserving and perpetuating craft skills and teaching the next generation of craftspeople.
Anthony Steven Long left school in 1986 and joined Canterbury Cathedral as an apprentice stonemason. During his employment with Canterbury Cathedral for the past 30 years he has had the pleasure of working on countless projects involving the restoration of the cathedral fabric, while also being involved in outside restoration contracts relating to numerous local parish churches. He has thoroughly enjoyed passing on his skills to the apprentices who have worked with him, knowing that their work is helping preserve Canterbury Cathedral as the centre of Anglican worship for future generations to enjoy.
Alan J Mills began his career in masonry in 1970. His work took him around the country, honing his skills in architectural masonry, restoration and memorials. He spent years training many apprentices. He also supported the Orton Trust, eventually becoming a Board member. Alan has had work opened by HM The Queen and HRH Prince Charles. Alan sadly lost his three-year battle with cancer on 21 July 2016, but will be remembered through the many pieces of stone that he worked and by those fortunate enough to be taught by him. Alan's widow, Karen, and son, Jordan, were present to receive his posthumous award.