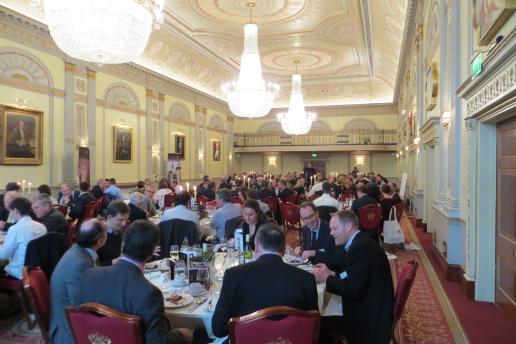 The inaugural heritage lunch in Plaisterers Hall hosted by Heritage Building & Conservation.
An inaugural Heritage Building & Conservation (HB&C) lunch was held on 6 November in the magnificent Plaisterers Hall at One London Wall in the City of London, with more than 175 guests from across the heritage sector attending, including architects, engineers and surveyors.
HB&C expressed its great gratitude to Szerelmey for its hand in the formation of the company, stating that the Szerelmey support and encouragement had been invaluable. However, for more than a year HB&C has been an independent, stand-alone company comprising the skills and talent of the teams of some of the best known stonemasonry companies in the UK after those companies had closed.
The key note speaker at the lunch on 6 November was Professor John Edwards, who provided an insight into his career in the heritage sector spanning more than 30 years. He was the author of BS 79132: A Guide to the Conservation of Historic Buildings. He discussed some of the challenges facing the industry of ensuring people with the right qualifications are in the right positions.
HB&C says of itself: What we have constructed is a national supportive network of heritage craft skills, knowledge and experience within the HB&C group that shares its resources while maintaining the relationships and local connections to the business and wider local communities we inhabit – National Resource, Local Knowledge.