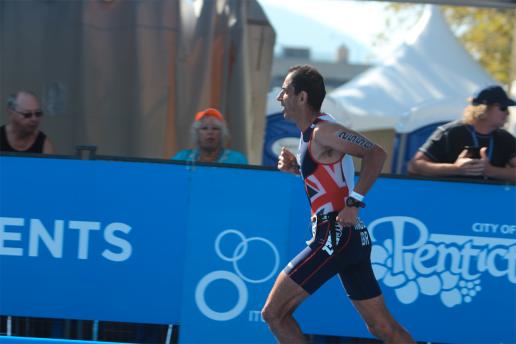 John Krause in action during the duathlon / triathlon in Canada.
John Krause, the Managing Director of London stone and terrazzo company Diespeker, loves to run and this year combined a family holiday in August with another feat of athleticism on the world stage at the Penticton multisport world championship fesitival in Canada.
John took part in two events, the duathlon and long-distance triathlon (which he describes as a three-quarter Ironman).
The standard (as opposed to sprint) duathlon consisted of a 10km run, 40km bike ride, finishing with a 5km run. The triathlon involved a 3km swim, 120km cycle and 30km run.
John's  overall position was 349th out of 603 contestants, which gave him 3rd position for the GB team of which he was part in his age group. He says his performance was a little under par because he was distracted by a flurry of new business for Diespeker back home in London.