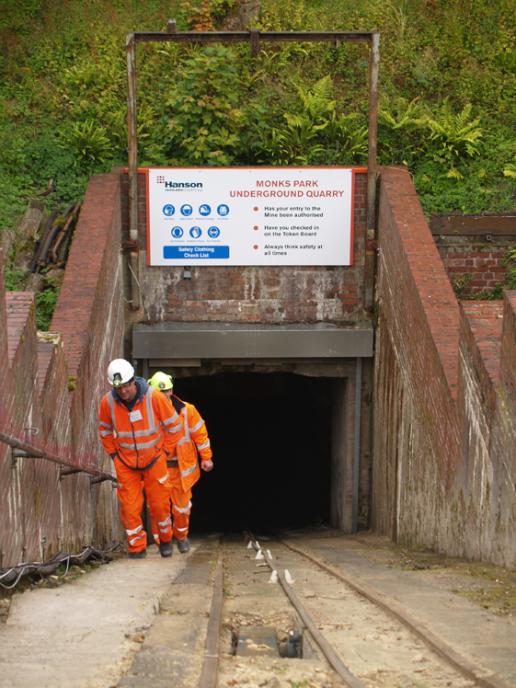 The entrance to Monks Park underground Bath Stone quarry, which is being bought from Hanson Bath & Portland by Johnston Quarry Group along with Bath & Portland's Keynsham masonry works and the reserves of Bath Stone owned by Bath & Portland at Hartham Park.
Update: Johnston Quarry Group has bought Bath Stone Group, headed by Elaine Marson. Bath Stone Group produces Stoke Ground Bath Stone from Stoke Hill underground quarry in Limpley Stoke, Bath. Matthew Hawker remains at the company and Elain Marson has left. Read more in Natural Stone Specialist magazine - subscribe here.
Johnston Quarry Group, based at Great Tew, Oxfordshire, is buying Bath & Portland from Heidelberg Cement-owned Hanson. The changeover was expected to be completed by the end of October. Bath & Portland employs 26 people who will transfer with the business.
Hanson had long since decided it wanted to dispose of its small dimensional stone operation and had sold its Portland limestone quarries to Geoff Smith (Portland Stone Firms) in 2004. But Geoff did not want the Keynsham masonry works in Bristol nor Hanson's Cotswold quarries or Bath Stone mines. Other companies showed an interest but could not agree a price with Hanson.
Now Johnston Quarry Group, which extracts limestone limestone from Creeton, Cotswold and Guiting quarries, and the rustic brown Ironstone of Great Tew, has taken over the Keynsham works, the active Monks Park Bath Stone mine and the reserves of Bath Stone in the section of Hartham Park still controlled by Bath & Portland. Lovell Stone Group took over the lease to the entrance of the Hartham Park underground quarry at the start of 2016.
After losing the lease to the Hartham Park portal, Bath & Portland obtained planning permission to open a new portal to the section of the underground workings it had extended into on its land. But that required a seven-figure investment that Heidelberg Cement had not yet been prepared to make. Instead, it resumed Bath Stone extraction from Monks Park, which had been mothballed for several years because Hartham Park satisfied demand. Johnston Quarry Group will continue to extract Bath stone from Monks Park.
A spokesperson for Hanson Bath & Portland says that even during the recession the business had continued "washing its face". He said: "These are niche products at the high end of the market. They are top quality. There are always going to be people buying that sort of thing."