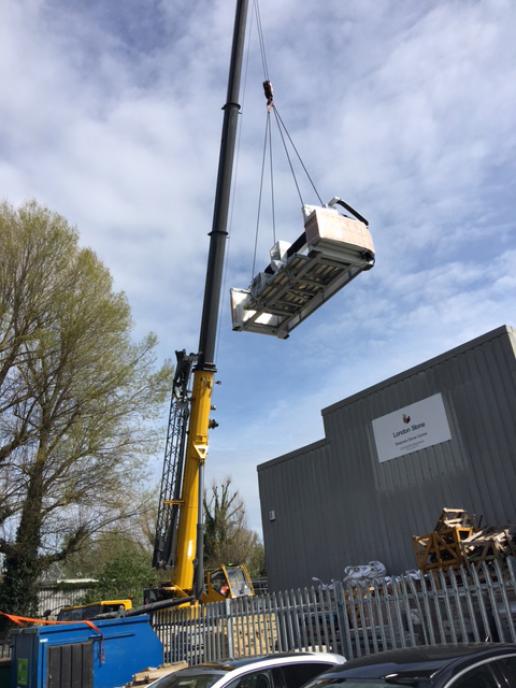 One of the two new Terzago CUTes being hoisted into London Stone's premises in Berkshire (above) and then moved into the factory by forklift (below). London stone now has four CNC machines cutting bespoke stone for clients' projects.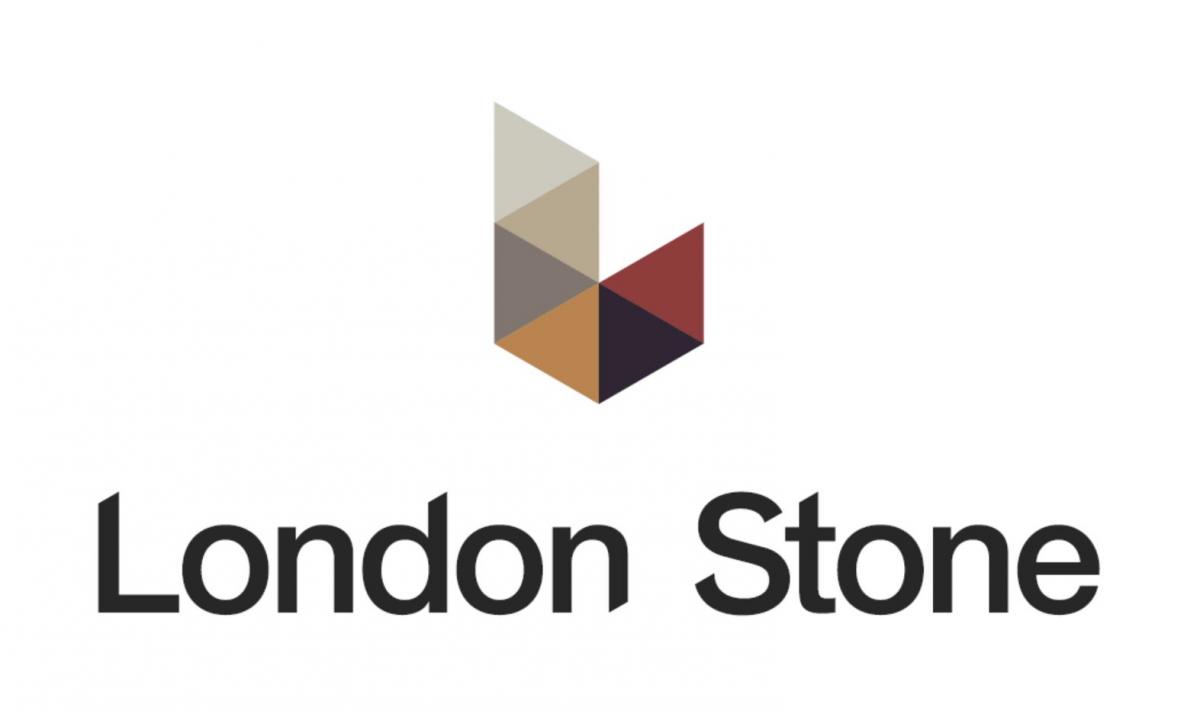 London Stone, which has just taken delivery of two new Terzago 4-axes CNC CUTes at its Berkshire stone centre, is supplying the natural stone products to be used in two of the APL Avenue show gardens at BBC Gardeners World Live 2017. The gardens are being built by Lanwarne Landscapes and Artemis Landscapes.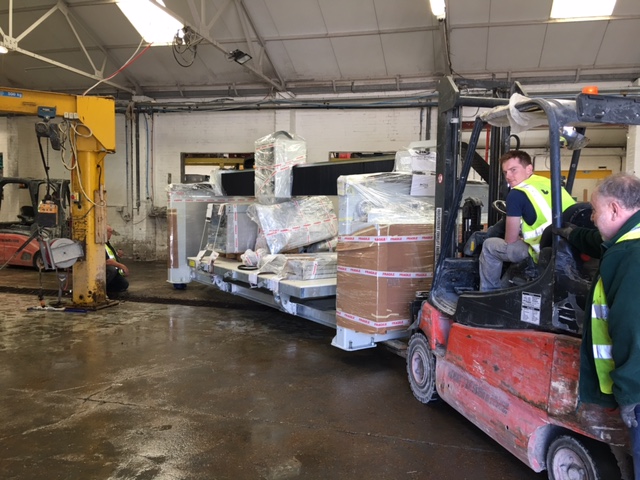 Following the successful launch of the APL Avenue Competition (run in conjunction with the Association of Professional Landscapers, hence APL) at the BBC Gardeners World Live exhibition last year, APL Avenue is returning to the Show this year. BBC Gardeners World Live takes place at NEC Birmingham 15-18 June.
The APL Avenue Competition is an opportunity for contractors and designers to feature as one of five gardens that are inspirational, aspirational and relatable.
These five gardens give visitors a chance to see what can be achieved in a small space when engaging the skills of professional design and build teams. To ensure top-quality design and construction, each garden receives a contribution towards the build. The landscapers will provide a breakdown of costs for Show visitors to give a greater understanding of the costs involved in a garden build.
The five APL Avenue finalists for the 2017 competition, who now go on to build their gardens at the Gardeners World Live exhibition, are:
Artemis Landscapes (Kent), designer Viv Selcombe
Lanwarne Landscapes (Hertfordshire), designer Martin Lines
Living Garden Designs (Lancashire), designer Peter Cowell
Big Fish Landscapes (Herefordshire), designer Cherry Carmen
Pro-Gardens (Oxfordshire), designer Jamie Langlands
Martin Lines of Lanwarne Landscapes, building one of the gardens for which London Stone is supplying the natural stone hard landscaping, was the winner of BBC Gardeners World Live's Beautiful Border competition last year. He has now progressed to be one of the APL Avenue designers. Martin says: "We loved being part of the BBC Gardeners World Live show last year and to come back this year with a show garden is a major step forward for us. The competition allows us to showcase our high level of workmanship."
For more information on the finalists and their initial garden designs, visit www.landscaper.org.uk.
Steven Walley, the Managing Director of London Stone, which has showrooms in Kent, Essex and Middlesex (with another in London soon to be announced, so we hear) as well as its depot and factory in Berkshire, says: "Show gardens are good for the whole landscape industry. As well as showing off the skill and creativity of our landscape specialists, they play an important role in educating the general public on exactly why they should employ the services of professional landscapers and designers. We are excited to be a part of the process and are looking forward to seeing our products getting used in a high profile garden show like Gardeners World Live."
The new Terzago 4-axes CNC CUTe saws (sold in the UK by D Zambelis) will help produce the stone needed for the gardens. The saws have only just been installed at London Stone's factory, increasing its capacity to produce bespoke stonework needed for projects. Gavin Walley, Production Director of the London & Home Counties-based stone supplier, says:"We're under constant pressure from our customers to keep our lead times down. The addition of these machines will enable us to do that even now, at the busiest time of year. We've now got four CNCs in total, meaning we can handle any job type on any machine, allowing us to process large, complex orders quickly and accurately.
"The landscaping industry is very seasonal, so it's important our customers have their material on site when they need it."
If you need bespoke stone for a landscaping project, send some details of your requirements to London Stone at [email protected].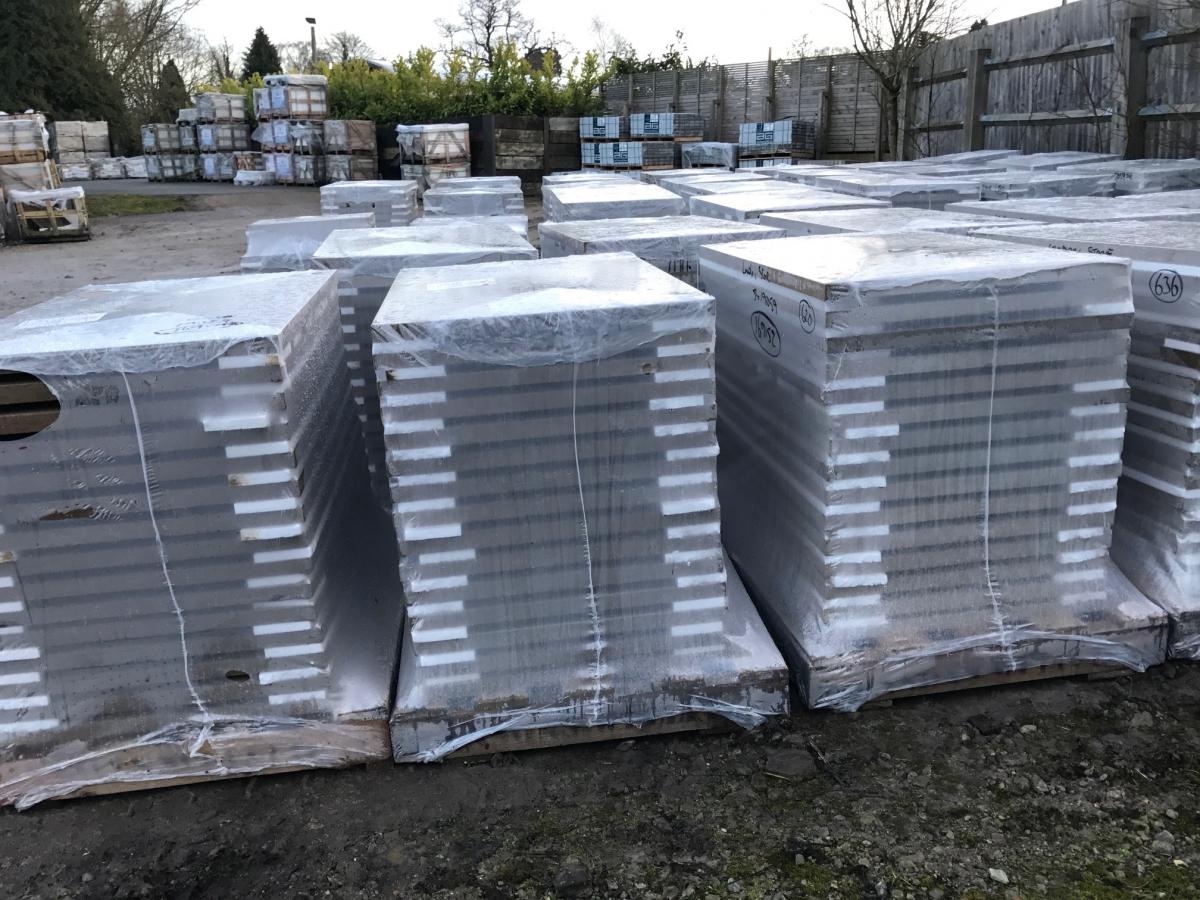 For the same reason of timely delivery of products required, London Stone is also now keeping Hard Buff Yorkstone Paving and Step Treads in stock at its depot near Heathrow. Steven Walley explains: "I've never understood why Yorkstone, an indigenous material, is subject to lead times of four, eight, 12, even 16 weeks. We want our clients to think of Yorkstone as a normal product they can collect from us in standard, off-the-shelf sizes."
And now all orders of sawn paving and porcelain valued at more than £500 will be delivered free. Steven again: "Clients don't like delivery charges – and it's not just because of the cost. Clients like things to be clear and delivery costs are the exact opposite. Messy! We spent a long time looking for ways to provide our clients with a clear and transparent delivery policy but it was really difficult. So then we had the idea to scrap delivery costs altogether. It just made sense for everybody. You can't get much more transparent than free."