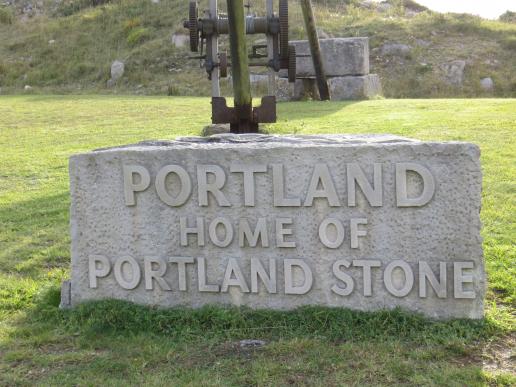 Portland company is suing the bank for putting it into Administration.
Geoff Smith's Portland limestone quarry company is suing Barclays, saying that the bank engineered the 2010 Administration of its operating subsidiary that extracted the famous stone, according to the Mail on Sunday newspaper today (22 October).
Barclays disputes the claim, saying in court documents that it is "a straightforward case of Stone Firms Limited becoming insolvent through the decisions of Mr Smith, which allowed a huge unpaid debt of over £760,000 to HMRC to build up."
Geoff Smith previously sued the British Museum and won a payment of £211,000 (not quite as much as he had asked for) for an outstanding sum after his company at the time, Easton Masonry, had famously supplied French limestone rather than Portland limestone for a new portico in the Great Court of the British Museum (read more about that here).
It also gained an undisclosed sum in compensation from Dorset County Council for not extracting stone from the highly protected Jurassic Coast on Portland (read more here).
According to the Mail on Sunday, Portland Stone Holdings Ltd alleges that Barclays business support unit – the division that is meant to help troubled firms – was "an internal profit centre" focused on making money rather than acting in the best interests of clients in distress.
Similar allegations have been levelled at Royal Bank of Scotland's controversial Global Restructuring Group.
According to the Sunday newspaper, Portland Stone Holdings Ltd is suing the bank and former Administrators KPMG, alleging they conspired to put Stone Firms into Administration in 2010 (read more about subsequent developments here).
Geoff Smith bought the Portland quarrying business of Hanson Bath & Portland in 2004 at the same time as Easton Masonry closed (read more here).
Geoff Smith comments about that: "Easton Masonry was not closed by me. You are referring to Easton Masonry (UK ) Ltd run by Stephen Mold and Tony Porter, its directors, who had no choice due to misvaluing contracts whilst tenants of G Smith, paying rent for the factory and land use. Their bank had no option following extending an overdraught well beyond its security. I cleared the bank debt for them despite rent not being paid for a long time. Unfortunately their timing was awkward in my just agreeing to purchase Portland Division from Barclays for them.
"Stephen had the option of heading the Stone Firm's new group but decided to decline. Tony joined Albion Stone. Easton Masonry (Portland) Ltd is still in existence. It never closed."
After some years of trading, the Portland quarry operation hit problems. Barclays transferred the group to its business support unit and subsequently put it into administration after it was unable to pay a debt to HM Revenue & Customs. At the time, Geoff Smith blamed the bank for withdrawing its support. He later got finance to buy back the business as part of a voluntary arrangement with creditors.
A KPMG spokesman is reported in the Mail on Sunday as saying: "We strongly refute the allegation that KPMG or the officeholders acted improperly. We believe this claim has no merit in fact or law and we will continue to vigorously defend the firm and officeholders against it."