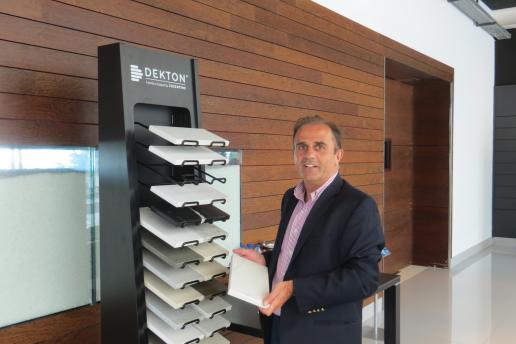 Christophe Gontier, the Managing Director of Cosentino UK, says there is a lot of growth yet for Cosentino in the UK.

Next year, Dekton, from Spanish manufacturer Cosentino, won't just have a pattern printed on it, the pattern will be part of it, going all the way through – like a piece of natural stone or the Silestone quartz that Cosentino also makes.
That's the intention, anyway. Cosentino already has examples of slabs with veining going through it at its 1million square metre site in Almería, Spain, where its 70,000m2 factory making the superdense sintered Dekton was opened by the now King of Spain in 2013. The plaque he unveiled is kept polished on a factory wall.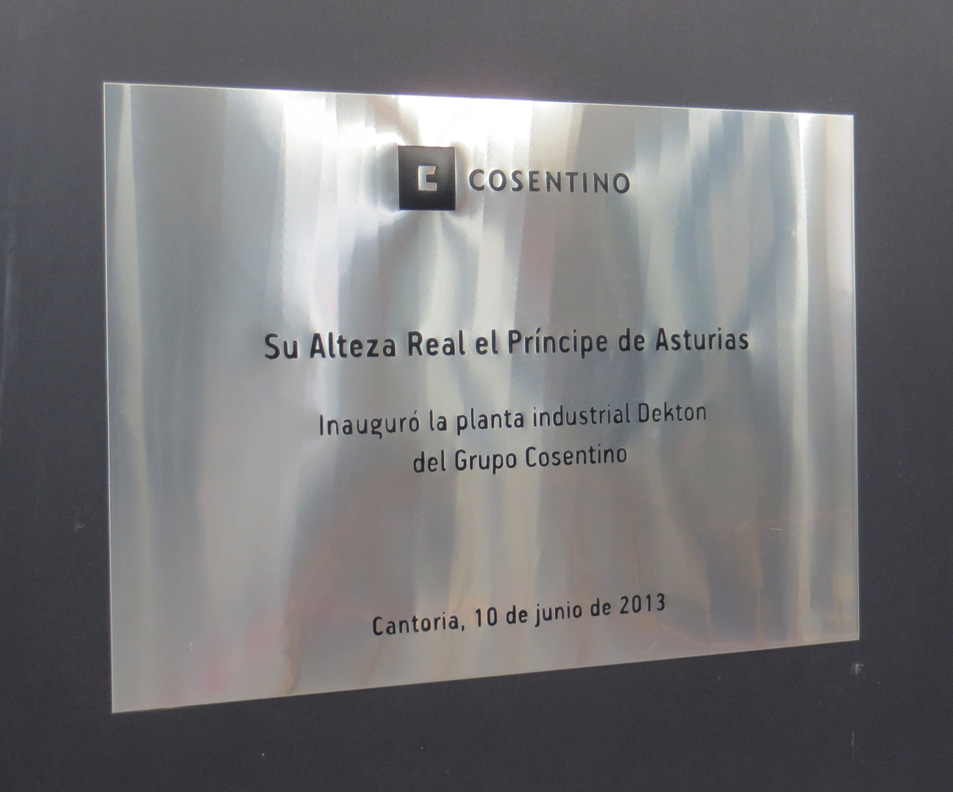 Before Christmas, 30mm slabs of Dekton should be on general release (some companies in the UK and Ireland have already tried them out). Christophe Gontier, the Managing Director of Cosentino UK, describes the 30mm slabs as a "game changer". Making the pattern an integral part of the slab rather than being printed on it will be another.
Christophe believes developments like these will help Cosentino UK continue its extraordinary growth record – a record that makes the UK Managing Director scoff at the idea of increasing sales by a mere 20% a year. In 2015 (the latest published figures) sales increased more than 40% to £43million. Christophe says the UK company will this year contribute more than £70million to Cosentino's worldwide sales of somewhere near €1billion. The Group's profit (EBITDA) is expected to be more than 10% of that.
Figures relating to Cosentino's factory in Almería are jaw dropping. It employs 1,400 people in production and 300 in its offices. It uses as much water in a day (all recycled) as a town of 150,000 people. There is a section of the factory just making samples – and sending out 70,000 a day.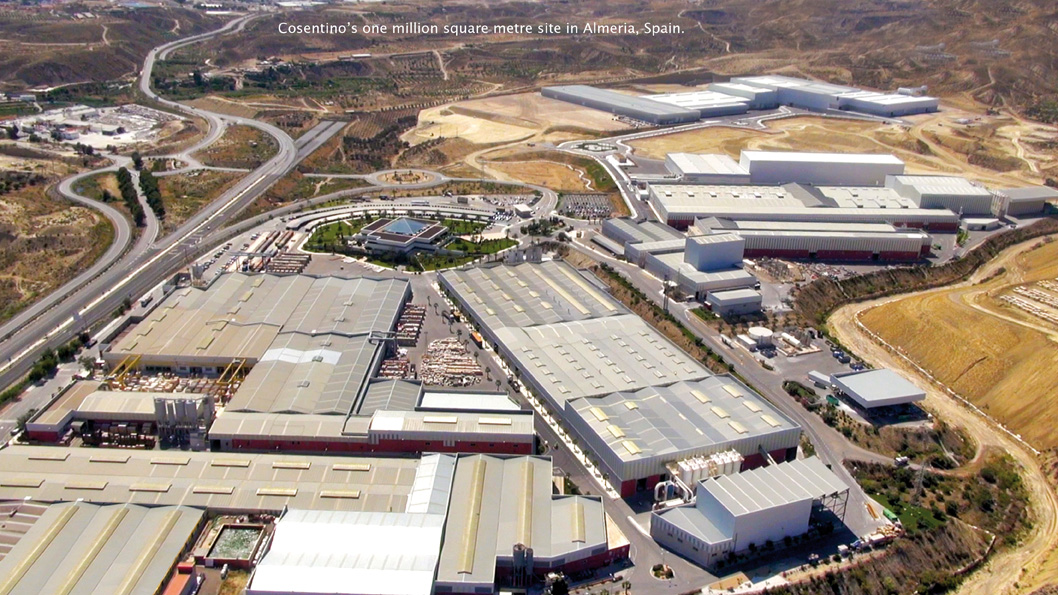 There are 50 x 25tonne truck loads of quartz (mostly from Turkey, Brazil and Belgium) delivered to the factory each day and 80 truck loads of finished product going out. The trucks are filled with finished slabs by robot forklifts with just a five-minute turnround time. There are 11 lines producing Silestone with 300-400 slabs coming off each one every day.
There are now two lines producing Dekton with the third for 30mm material just commissioned. Dekton is made from mixtures of 20 different minerals, sintered together in presses that exert a force of 25,000tonnes. The slabs are cooked in 200m long ovens at temperatures of up to 1,200ºC. The gas for heating the ovens comes from Algeria and Cosentino consumes €20,000-worth a day.
And expansion continues. The site covers 1million square metres because it was extended by nearly 600,000m2 to accommodate the Dekton factory and a new distribution centre where there are 260,000 slabs of Dekton and Silestone stored ready for automated picking and robot loading on to lorries.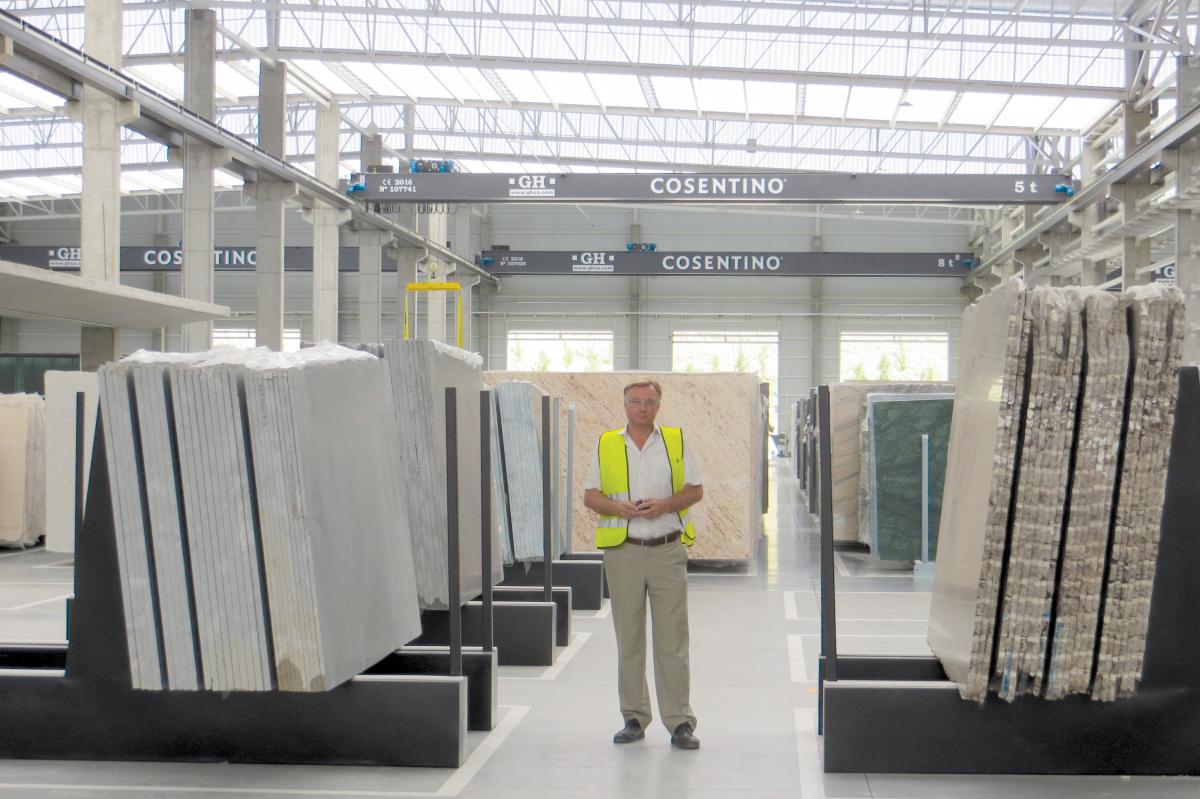 Just built is a new 25,000m2 warehouse for natural stone from all over the world, which Cosentino will sell through its various depots as an enhanced service to the fabricators it supplies.
But Christophe does expect it to be more of a service to fabricators, so they don't have to go elsewhere, than a range actively promoted by Cosentino. "It's hard to promote natural stone," he says. "We will only have top quality to avoid any discussions about price."
Cosentino has always sold natural stone – it was a marble producer before it started manufacturing Silestone and still has its own quarry from which it produces Blanco Macael marble near its huge factory complex. It also sells a range of factory-sealed granites under the brand name of Sensa and an Exotic range it launched two-and-a-half years ago. Sensa slabs are treated at a plant in Brazil, Cosentino's only other factory.
Natural granite and stone are a small part of Cosentino's business – accounting for no more than 10% of its sales in the UK last year – although the company believes they have growth potential, if only through increased market share in the UK, where granite worktop sales are not increasing at anything like the pace of quartz. Marble sales do seem to be strong for bathrooms, in particular, and Cosentino will stock marble.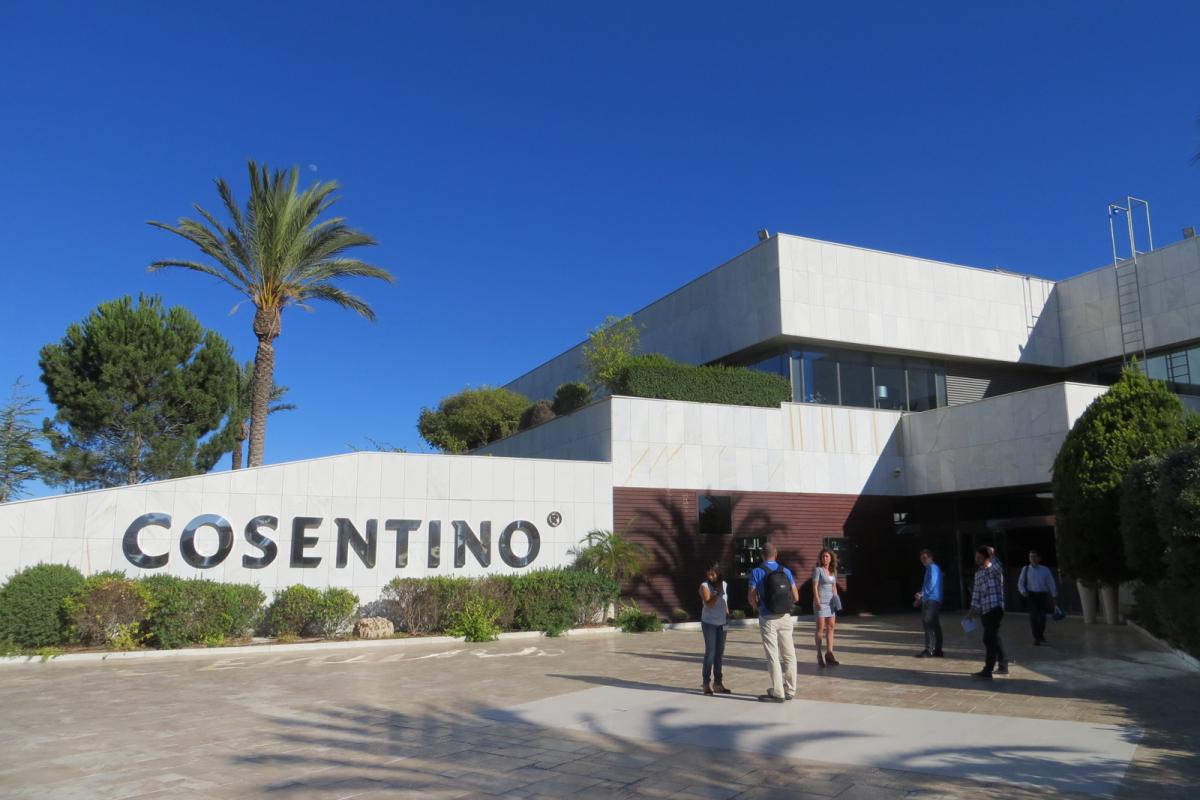 Last year Cosentino spent €170million of an earmarked budget of €380million on expansion, almost 80% of it going into improving and expanding production and distribution in Almería.
The rest is for commercial investments, such as the Cosentino City centres like the one opened in London this time last year (see bit.ly/CosentinoCity). Cosentino currently also has seven depots around the UK and Ireland, with two more planned (one in Belfast, the other in Newmarket) because the current network is becoming stretched. "96% of our customers get two or three deliveries a week," says Christophe. "If you buy from a distributor who can deliver twice a week you don't have to have so much money tied up in stock and that money can be used to develop the company."
And with Silestone currently accounting for about 20% of the worktop market, Cosentino believes there is market share to be grabbed, whether the market grows or not. Christophe says that in post-Brexit referendum Britain the growth of the kitchen market is slowing. It is not shrinking, but people are not deciding to have new kitchens quite as quickly as they were.
"We're feeling that," says Christophe, although he says the project market for larger developments and refurbishment is still strong. Commercial work, for companies such as Starbucks, whose corporate image Cosentino helps maintain, is also healthy.
Innovation helps increase market share and the latest innovation from Cosentino, apart from the constantly developing range,  is N-Boost, a treatment added as part of the manufacturing process, in the same way as Sensa is treated in the factory. It gives an extra lustre and intensity of colour to the Silestone surfaces and means they do not smear when wiped.
It is a technologically advanced process, patented by Cosentino. It modifies the surface at a molecular level, producing an additional level of stain resistance without compromising the material's inherent properties. N-Boost reinforces the functionality and aesthetics of Silestone, which continues to carry all the international certifications for quality and safety it already had.
The new marble-inspired Silestone Eternal range is the first to feature N-Boost, along with the new Iconic White, although it will be progressively rolled out to all Silestone colours.
And Christophe is looking forward to Dekton creating more openings, taking fabricators into new areas of flooring and paving and even cladding for projects such as Archway Tower (see below).
Like most distributors, Cosentino is aware that it needs to reach clients and designers, as well as kitchen studios and fabricators, which is what the Cosentino City design centres are about.
The Cosentino City in London is in Clerkenwell, at the heart of the design community. Those in New York, Milan, Sydney, Singapore and elsewhere (nearly all capital cities) are also at the heart of design communities, taking Cosentino into that rarefied atmosphere.
"I was with some architects a few weeks ago and they all knew about Archway," says Christophe. It is not the only building in the UK where Dekton has been used externally, but it is in London and it is the biggest project in Britain to have used the material as cladding. There will be others. Cosentino has 12 people selling into commercial projects, one of them a specialist in rainscreen cladding. "We're going vertical now," says Christophe. "We go and talk to the decision-makers; that's what we do."
Then there is the fashion for taking indoor spaces outdoors, with floors extending out on to patios. Outdoor cooking is no longer just a barbecue, either, but a whole kitchen with surfaces, horizontal and vertical, that have to survive a British winter (not to mention a British summer). Colourfast, strong, fireproof and practically impermeable, Dekton lends itself to such applications and Cosentino promoted that this year by exhibiting for the first time at Chelsea Flower Show.
Christophe is optimistic about continued growth, although, as a Frenchman, he is bemused by Brexit. "I don't understand why the question was asked," he says. "Everything was going well; there were plenty of jobs; people were happy. You have a saying in England: if it's not broken, don't fix it."
He blames the on-going Brexit negotiations for sapping confidence, which has resulted in a slower growth rate and fewer housing and commercial new builds and refurbishments. There is a growing tendency to want to wait and see precisely what Brexit will mean. Nevertheless, Christophe says: "When fabricators ask me if I think they should invest in new machinery, I say this market is only going to grow; Silestone and Dekton. It's a trade with a good future."
Why quartz rather than granite? Christophe: "As a consumer or client, there's more choice with quartz. As a kitchen studio, it's easier – more consistent in colour and properties; more resilient. Now fabricators are used to it they love it for the same reasons – because it's easy. Everyone is in favour of it."
*************************************************************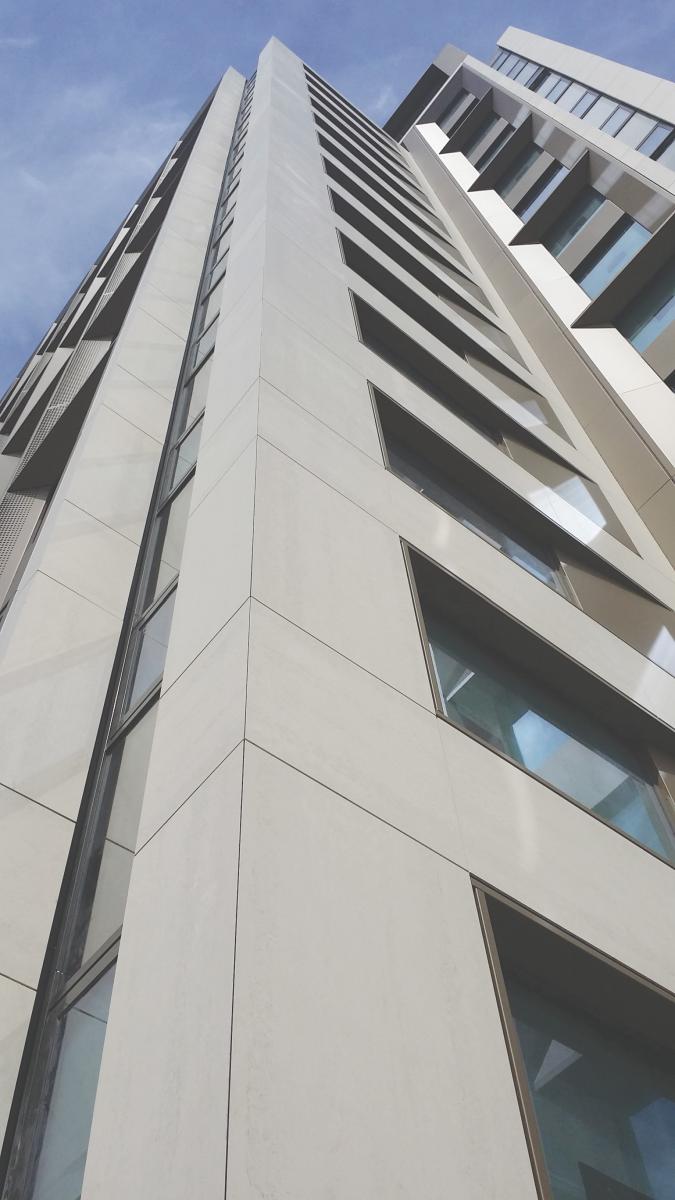 Dekton goes vertical at Vantage Point Archway Tower
Cosentino's Dekton has been used as cladding for the 17-storey Vantage Point Archway Tower redevelopment in London.
The tower is immediately above Archway underground station. It was built in 1963 as offices clad with glazing, spandrel and precast concrete panels.  
The £30million redevelopment by Essential Living in collaboration with Grid Architects has changed its use to private rental apartments.
As well as the internal refurbishment, the work involved the removal of the precast panels and the installation of Dekton in the Danae finish to provide all the features and tactile and visual characteristics required for this scheme.
The tower is surrounded by a number of listed buildings, so the cladding material had to blend acceptably with the heritage surroundings as well as meetings the construction and price requirements.
As well as satisfying the aesthetic considerations, Dekton offered high resistance to ultraviolet light, frost and thawing, giving colour stability and high stain resistance – ideal properties for cladding an exterior façade.
The Dekton panels follow a vertical emphasis above the second floor, with vertically proportioned bays running across. This gives the tower a distinctive appearance that symbolises the regeneration of the wider area, helping to express the structural form of the tower and making it more appropriate to residential use without disturbing the overall ambience of the area.
Due to limited space on the site, existing concrete panels were removed and cleared using a mast climbing system, with the new Dekton Danae rainscreen cladding and spandrel panels being installed the same way. An undercut anchor system was used to fix the panels on to the secondary support structure.