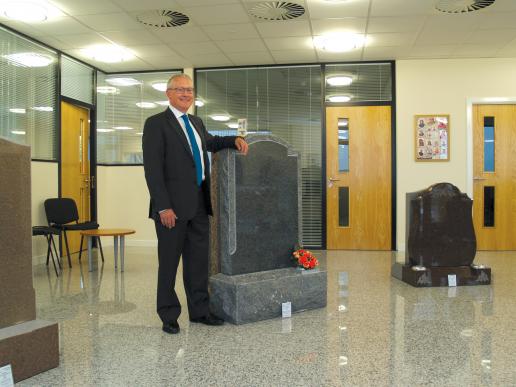 Graeme Robertson in the memorial showroom at the new home of Robertson Granite on the edge of Aberdeen during one of the open days when he invited customers to come and look around his company's new headquarters.
"It's almost like having a new business," says MD Graeme Robertson as one of the UK's largest memorial wholesalers moves into its new headquarters and factory on the outskirts of Aberdeen.
Some people say there's no such thing as luck in business. But Graeme Robertson, the Managing Director of memorial wholesaler Robertson Granite, believes there was an element of luck involved in the company being able to develop its new factory, designed and built by Chap Group on an expanding industrial estate on the edge of Aberdeen.
'Robertson Granite' is how A&J Robertson (Granite) Ltd has restyled itself with the move to its new, modern home. At the same time it has replaced the Celtic cross on its logo with a symbol that still looks Celtic but is more modern and less Christian.
The luck that led to the move to the new premises was an offer by a property developer to buy the company's previous premises in the centre of Aberdeen. They have already been demolished and construction of accommodation for 600 students has started.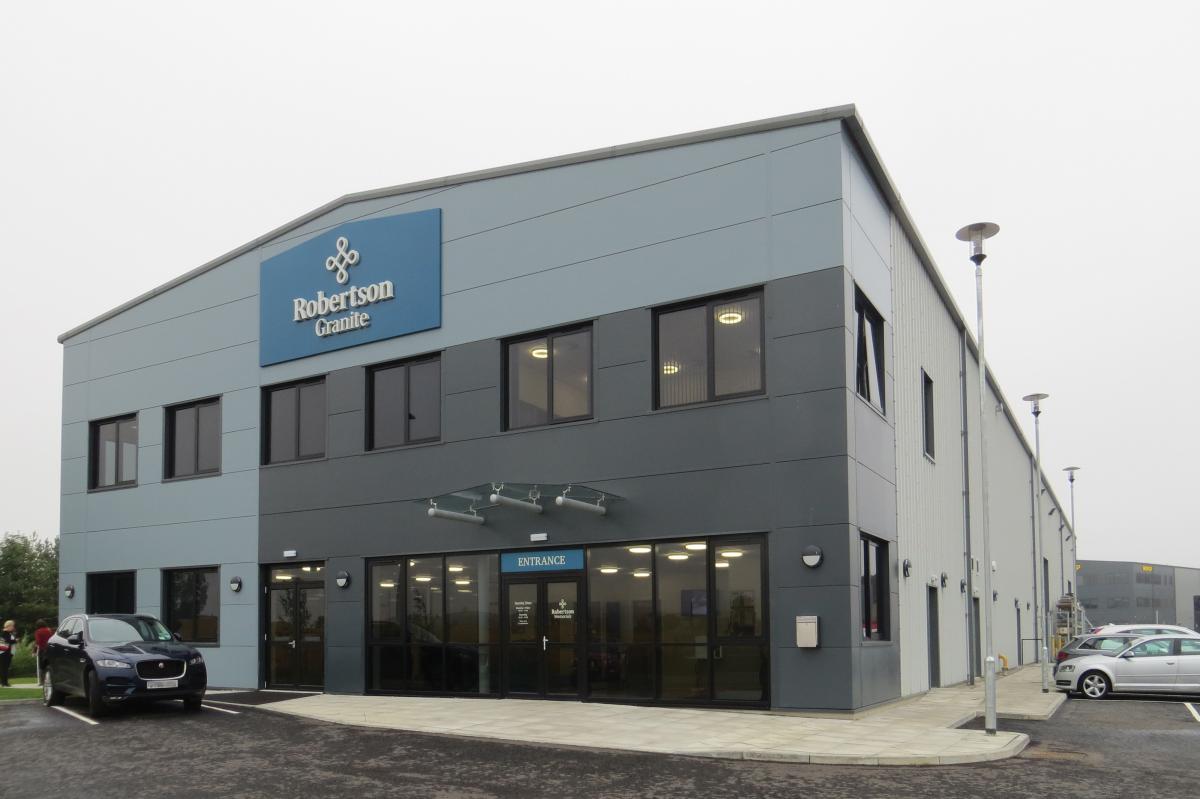 That has paid for the £5.8million investment in a 1.25acre site at Silvertrees, on the outskirts of Aberdeen, with its new building, plant and machinery – Robertson's having taken the opportunity of the move to replace most of its equipment.
The new 1,250m2 workshop has a gantry running the length of it with 10-tonne, five-tonne and two-tonne overhead cranes on it.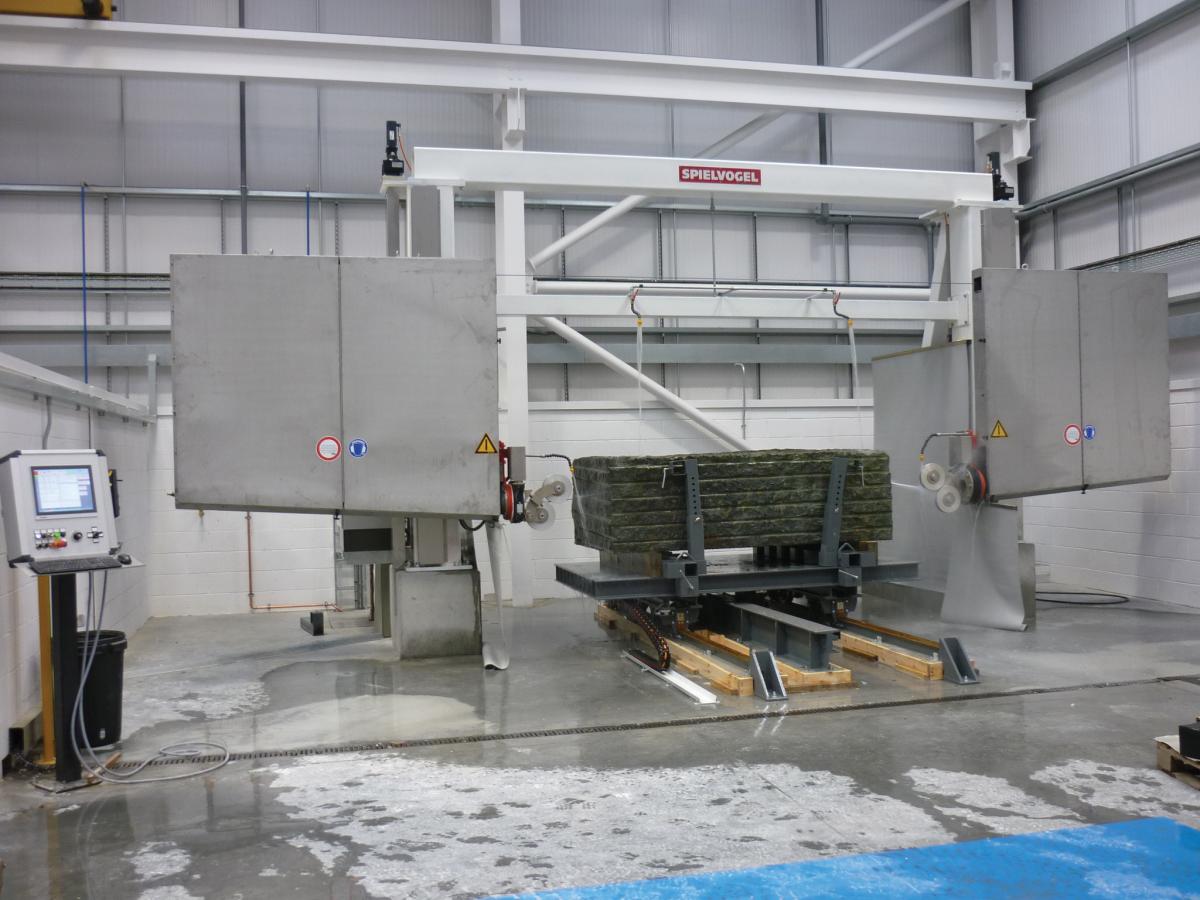 The new machines include a Spielvogel Boa diamond wire saw. It is essentially for slabbing but is a full CNC, so is also capable of making intricately shaped cuts. Also from the German engineers come two Birdie 750 secondary saws, which can drill and grind as well as saw, making them versatile while being relatively easy to operate. There is a Pelican HP500 multi purpose jenny lind, and a Pelican especially adapted just for drilling holes for vases.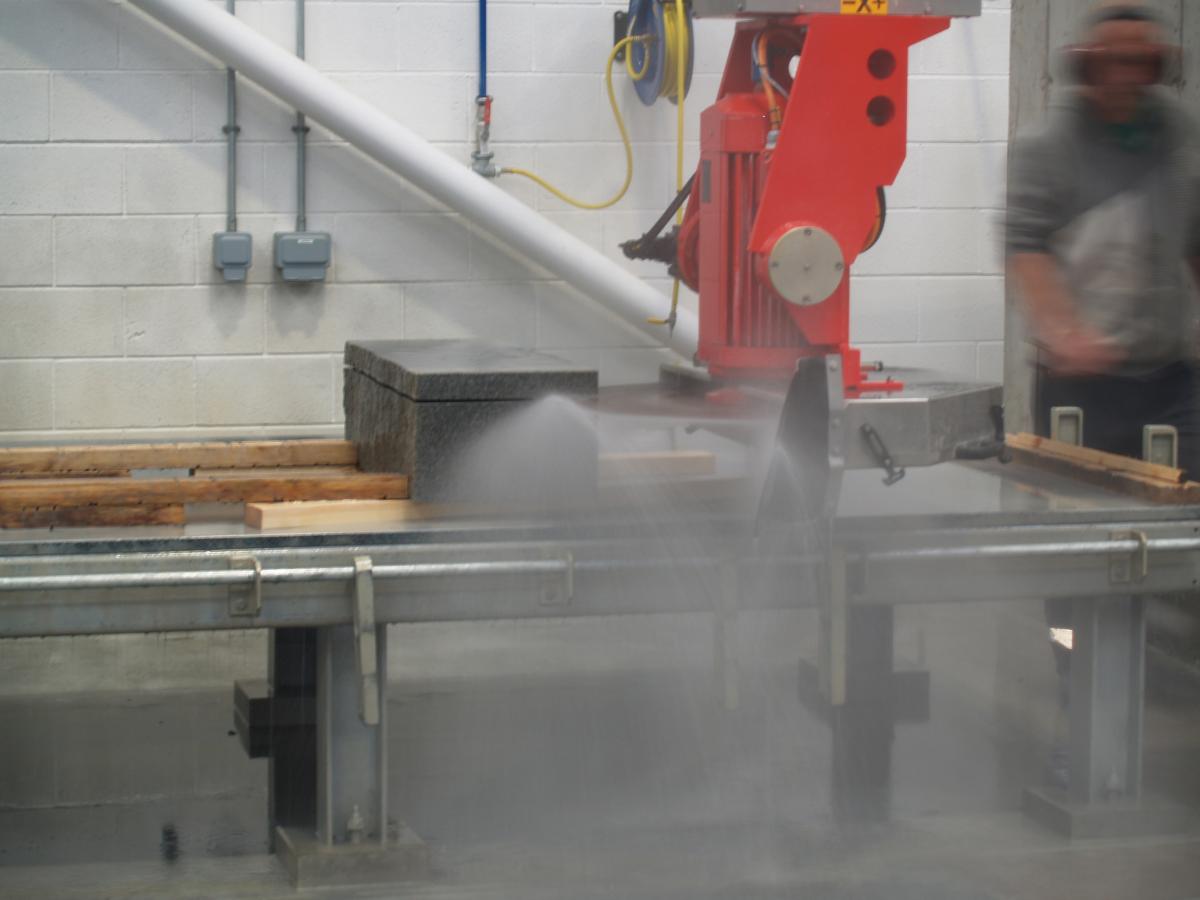 There is an ASP206C automatic grinding and polishing machine from Fickert & Winterling and a new Goldmann Futura Automatic blast cabinet (supplied by UK agent The Blast Shop) to join an older Futura that Robertson's brought with it from its city centre premises.
The only other machine brought from the old factory is the Vytek laser etcher that Robertson's bought in 2001. It is an American machine and was the first one to come into Europe. It is still in daily use.
Eich dust extraction and water purification plant has been installed, with the masons working in covered bays so the dust is more efficiently sucked into the extractors. There are 20 people on the shop floor (three decided not to move to the new premises), eight factory management and support staff (drawing office and estimating/sales), eight head office staff and three retail staff in a showroom that adjoins the factory.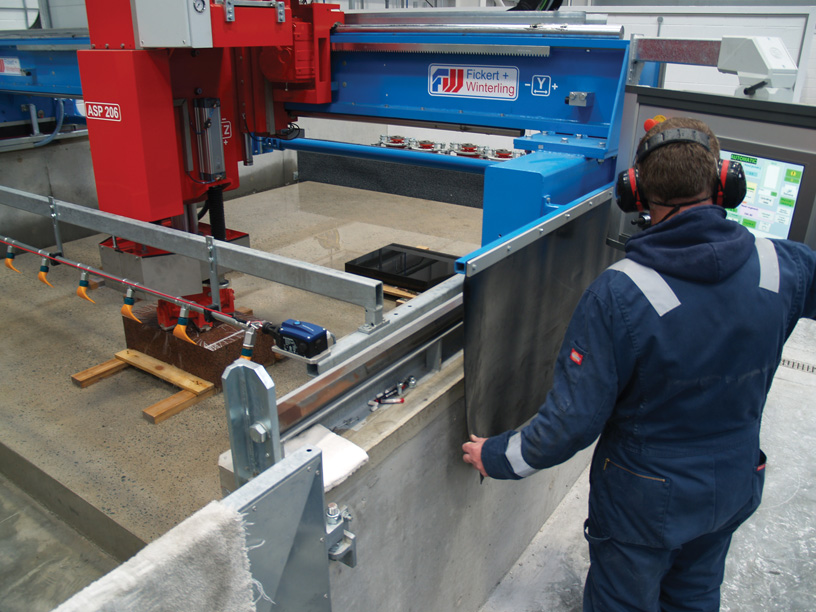 Robertson's employs 94 people in total, although many of them are in the 30 retail outlets the company owns, including four in London, one of which faces competition from its burial authority. Graeme describes that as "rather vexing" and is disparaging about the council's efforts.
Graeme is chairman of the Memorial Awareness Board (MAB), which has campaigned alongside the National Association of Memorial Masons (NAMM) to dissuade councils from selling memorials. NAMM commissioned a detailed report telling councils why it is not a good idea. In most cases it has worked and councils that had considered selling memorials have been convinced not to. But some have gone ahead. Camden & Islington at its cemetery in Finchley in London is one of them.
Robertson's move to its new factory was not quite as smooth as would have been hoped because the developers wanted to take possession of Robertson's previous headquarters at the end of December last year and the new premises were not ready to be occupied until May.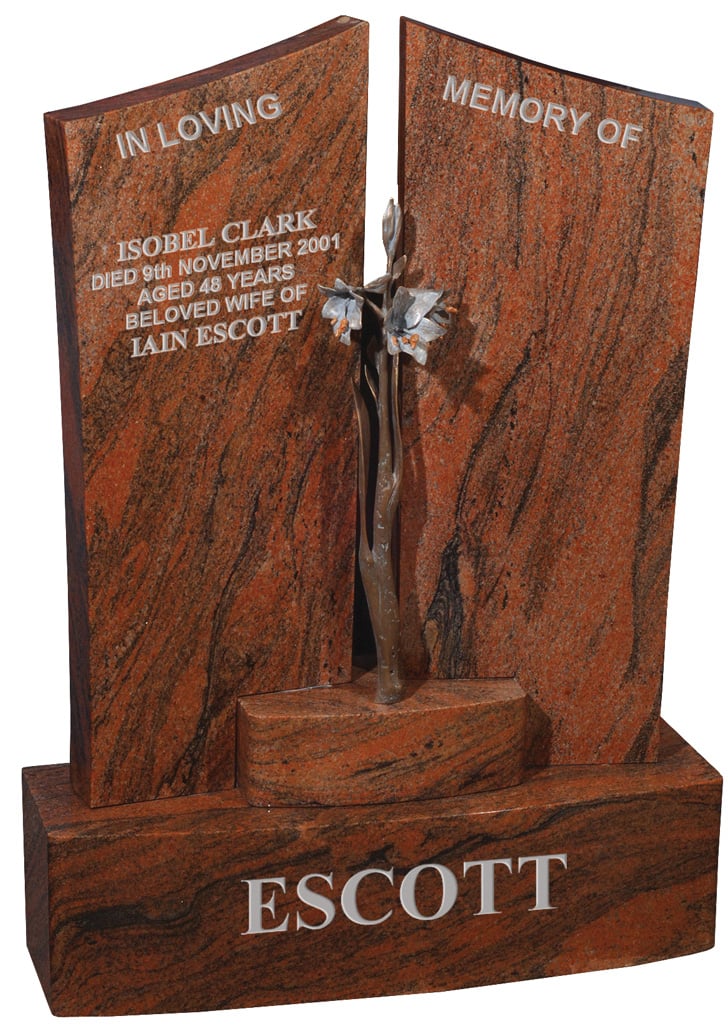 It meant Robertson's spent five months in temporary accommodation at Bridge of Don in Aberdeen, during which time the company was grateful for the processing assistance it received from another local stone company, Fyfe Glenrock, that was then owned by Pisani and has since been bought by aggregates and construction company Leiths (Scotland), which is also headquartered in Aberdeen.
The last of Robertson's new machinery was installed and commissioned in August, and with everyone growing familiar with their new workstations, in August and September Robertson's invited customers and friends to visit its new headquarters to see what has been achieved.
Was Graeme Robertson missing the old place? After all, he had practically grown up there. The business his family had started in 1876 had moved there 50 years ago. Graeme: "I haven't had time to miss it; I'm too busy enjoying this new place. The old place served us very well for 50 years and it's now time for the next chapter."
It might sometimes seem as if all memorials are imported from India and China, making a factory in the UK for a memorial masonry wholesaler unnecessary. Certainly either end of the memorial market is mostly Far Eastern imports – the price competitive lower end and the top end involving a lot of carving. But in the middle are discerning customers who want distinctive memorials, and in this area Robertson's UK production can compete.
Robertson's makes about 30% of the memorials it sells. They are often produced from granites from Europe, some of which it renames  – for example Glenaby and Glenrosa, which come from France, and Norden Grey from Portugal. Other granites it uses include Karin Grey from Finland, Verde Candeias from Brazil and, from Sweden, Bohus Pink and Best Ebony (Graeme maintains Best Ebony is the best black in the world). There are even some Scottish stones used, although few are in regular production any more.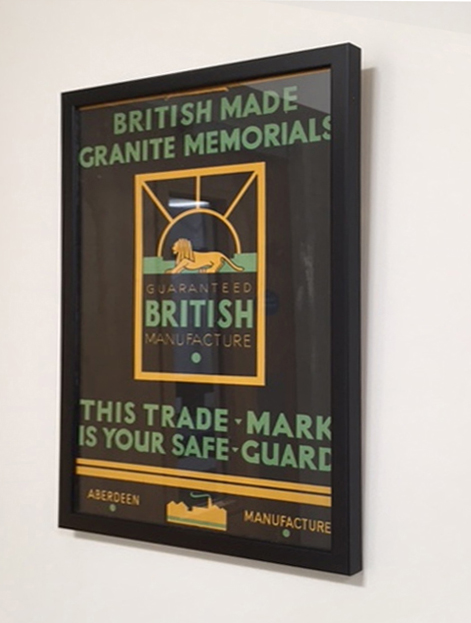 Competition from imports is not new. There is an advertisement from the 1930s on the wall of Robertson's new workshop promoting British-made memorials. In those days the imports would have been from Europe.
Robertsons was the last of the main memorial wholesalers to accept the tide of Far Eastern imports in the 1990s. In the end, it had to join in. Most of what it buys comes from one company in India. Graeme knows the family that runs it and believes they trade ethically. But even imports often have decoration and inscriptions chosen by the bereaved added in Aberdeen, although blanks are sold to other companies as well.
The number of memorials sold in any particular year is highly dependent on the number of deaths and the proportion of cremations. The death rate has been falling, partly because people are living longer and partly because the UK's population growth has owed a lot to the immigration of healthy young foreigners.
The number of deaths has crept back up lately to about 600,000 a year, having fallen below that level in the early part of this century for the first time since World War Two. And the proportion of cremations is stable at about 75%. Although stone is used for cremation commemoration, it is far more likely to be used to mark a grave.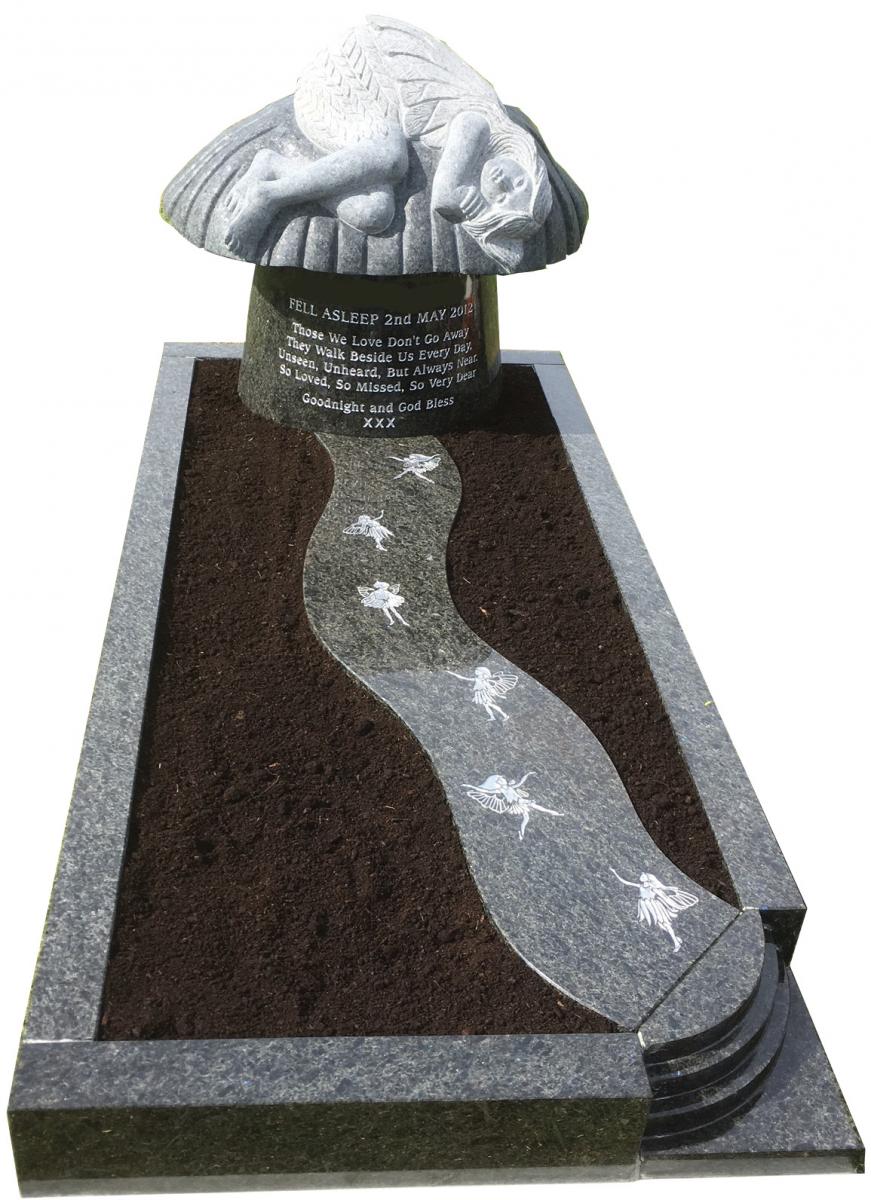 Graeme Robertson is not convinced the memorial market will grow substantially. However, he believes Robertson Granite can take a larger share of it.
The new factory will further that ambition. Graeme believes the company was efficient in its previous premises but also believes that the efficiency can be increased by the new machinery and improved logistics of Silvertrees. He has faith in the quality of design and production of memorials by Robertson's and says the company will now be able to offer an even faster turn around time from order to delivery.
He says the aim is always to improve the quality of memorials themselves and the products sold alongside them. For example, Robertson's has linked up with German art foundry Strassacker to supply better quality and higher value bronze ornaments. "We add value where we can," says Graeme.
And he believes simply making the move to the daylight bright new factory with its new equipment is inspirational. "It's an impetus to the business. It's almost like having a new business. We're beginning to re-engage with a number of trade customers we haven't done so much business with in the last number of years."
The reintroduction of Tradex as a stand-alone memorial exhibition by the National Association of Memorial Masons has helped. Robertson's attended the first of the shows at Warwickshire Exhibition Centre in 2015 and was back again at this year's exhibition in  June. "We re-engaged there with people we haven't supplied for a long time," says Graeme.
Robertson's introduced its new Robertson Granite branding at the exhibition this year and issued invitations to its open days. Graeme is proud of the new headquarters and wanted to show them off. The open days gave the company an opportunity to forge closer relationships with its customers – including some local architects and developers, because in Aberdeen Robertson's supplies worktops, fireplaces, stoves and signs, which it sells from a shop in the city centre as well as from its new website. It also had friends and family days for employees.
In May last year Robertson's was part of a consortium that opened a new, private crematorium in Banchory, near Aberdeen. It is more attractive than the council crematorium and there is an hour-and-a-half between services rather than 20 minutes given by the council. There are memorials there and Robertson's has supplied the stone, but Graeme says it is a small addition to the stone business.
Graeme Robertson says there was an element of good luck in obtaining his new factory. Perhaps there is an element of good luck in every successful business. But as movie mogul Sam Goldwyn said: the harder I work the luckier I get.