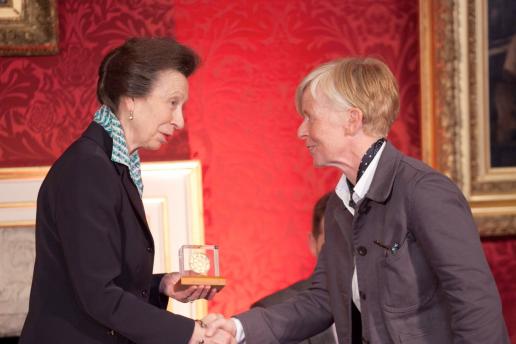 HRH Princess Anne presents Nina Bilbey with her Prince Philip Medal.
Congratulations to Nina Bilbey, the Senior Stone Carving Tutor at the City & Guilds of London Art School, the internationally highly respected centre of architectural and sculptural stone carving, on being presented with this year's Prince Philip Medal.
"It was an amazing honour," Nina told NSS. She received the medal from HRH The Princess Royal, Princess Anne, at St James's Palace in Westminster, London, on 8 June.
Nina had always been interested in carving, having been introduced to it (although in wood) by her father, who was a master joiner. But somehow she felt stone was her natural medium, although her early attempts to learn the skills were thwarted when the stone carving tutor at art school, where she was studying for a BA, died.
She became a ceramicist and taught pottery at secondary schools, although she continued to carve stone in her spare time. "Stone and I are a good fit," she says. "I enjoyed carving wood but it wasn't until I started hitting stone that it really made sense. I love the touch and feel of it. It was as if I was meant to be doing it. It's still like that. Every morning I get up and want to be carving stone. It feels very contemplative and meditative. I like the solitary nature of the work but also the community of carvers, which is quite an exceptional family." It is a family she has helped expand, having taught so many other carvers since she joined the City & Guilds of London Art School in 2009.
Nina decided to leave her teaching job and take the plunge into serious stone carving in 1994. She wrote to 50 stone companies asking if she could come and work for them free if they would teach her carving. Only two replied and only one offered her the chance to work with the company one day a week carving stone. In 1999 she enrolled on a stonemasonry course at the Building Crafts College in London and achieved her Advanced City & Guilds Diploma in Stonemasonry. "It opened a lot of doors for me," she says.
And now her work has earned her the accolade of the Prince Philip Medal, awarded annually by the City & Guilds of London Institute.
First presented in 1962, it is awarded to an individual who has displayed outstanding achievement in their career, or who has demonstrated excellence in their workplace. In HRH The Duke of Edinburgh's own words, recipients must have "walked the City & Guilds path" by starting or furthering their career with City & Guilds qualifications. The Medal is presented as part of a ceremony that is the culmination of three award schemes: the President's Award and the Livery Company Awards as well as The Prince Philip Medal.
Nina was selected for her outstanding leadership as both a stone carver and teacher. As stated at the ceremony proceedings: "As well as truly walking the City & Guilds path in her own right, Nina is continually helping many others to do the same. As a guardian of our historic buildings her work will stand tall for centuries to come and generations of craftspeople will follow in her footsteps guided by her inspiration and teaching."
The following is an extract from her citation: Always keen to develop new skills and find exciting creative paths for herself, Nina re-trained in 1999 at the Building Crafts College acquiring her City & Guilds Advanced Craft Diploma in Stonemasonry. Her outstanding skill and commitment led to her being awarded a coveted City & Guilds Medal for Excellence.
Nina has been involved in many incredibly challenging and ambitious restoration projects across the country, working on some of the UK's most recognisable landmarks. Her phenomenal skills have been critical to projects of major national historic importance, including the Houses of Parliament, The Royal Pavilion Brighton and Hereford Cathedral.
Nina's astounding talent as a stone carver has brought numerous commissions including statues for Hampton Court flower show, gargoyles for St Pancras Station and statues for Saint George's Chapel, Windsor. She also took great pride in assisting with the design of various sculptures that decorated the Royal Barge for the Queen's Diamond Jubilee in 2012.
One of her most recent commissions, which she is particularly proud of, has been the design and carving of two statues of Her Majesty the Queen and His Royal Highness the Duke of Edinburgh for the front of Canterbury Cathedral. They were unveiled by the royal couple in March 2015 and are the first sculptures to depict them as a pair.
An eminent architectural sculptor, Nina Bilbey started her illustrious career as a graduate of Fine Art Sculpture from the Central St Martins School of Art. After finishing her degree she quickly identified a passion for teaching and was determined to pass on her creative skills. She passed the necessary qualifications at Leeds University and for the next decade revelled in teaching art and ceramics to children and adults.
Nina says the Lavoux à Grain French limestone statues of the royal couple at Canterbury Cathedral were, at the time, the highlight of her career, which now spans more than 20 years. But, she says, a new carving in Portland Weatherbed she is currently working on for a park in Folkestone is even better. "With every carving you learn something and the next one is better," she says. "You should never be satisfied with what you have made."
As she says on the City & Guilds of London Art School website: "When you choose to truly understand stone, as with wood, you make the commitment to study its uses and the aesthetic styles historically associated with it. Through this you gain a design freedom that cultivates creativity through limitation. You learn to continually push your own professional practice through frustration. Learning through every new task how to solve a variety of problems and in doing so becoming a 'better' designer and sculptor. It is, I believe, the first commitment you undertake when craft becomes your chosen career path and something that, if you are lucky, gives you immense joy for the rest of your life."
The Folkestone carving of the town's patron saint, Eanswythe, is in Portland limestone and will be unveiled in July, by which time Nina will be working on carved corbels for Southwark Cathedral. She and three other tutors from the City & Guilds of London Art School, with a dozen students, are setting up a banker shop on the south bank of the Thames where they will work in public view carving the new masonry features for the cathedral until college resumes in September. The first day of the new term is Nina's 50th birthday.
In addition to Nina, who is a Freeman of the Masons Livery Company, the Fishmongers' Company gave their Livery Award to one of Nina's students, Felix Handley, who has a Diploma in Architectural Stone Carving from City & Guilds of London Art School. His citation reads: Felix is a talented craftsman whose natural flair for drawing has led him to become an accomplished stone carver. His technical skills are complemented by an understanding of style and context derived from his keen interest in art and architectural history. His consistent and intelligent hard work throughout his studies led to a first class grade, and his work has already received recognition in recent exhibitions.