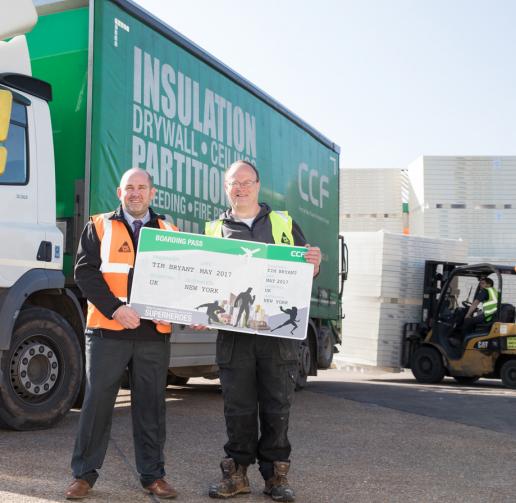 CCF Trade Superhero Tim Bryant (right) with CCF Exeter Branch Manager Stuart Mainwaring receiving his prize of a trip to New York with his family.
Tim Bryant of T Byrant Builders Ltd in Dawlish, South Devon, is a superhero. His special power is helping people who are in trouble. Just before Christmas last year he saved a children's Christingle Service in the local church from having to be cancelled when blocked drains overflowed and on the same day climbed up a ladder to get into a house through a window to open the front door after a toddler had been accidentally locked in.
Now he is flying to New York with his wife and children, thanks to his response to the emergencies winning him a Trade Superhero award from builders merchant Travis Perkins insulation and interiors company CCF.
Tim was given the Superhero title by an independent panel of judges who read about his pre-Christmas exploits when they were judging a competition launched as part of the CCF insulation campaign sponsored by Celotex, Isover, Kingspan, Knauf Insulation and Rockwool. And this was just one day among many for Tim, who is often called on by his local community to help out when something goes wrong.
Tim is modest. "I'm not sure I'm quite a superhero – more like being the right guy in the right place at the right time. I am thrilled that CCF felt I was deserving enough of this award and to be making a difference in my everyday job. I'm also really looking forward to making fantastic memories with my wife and children in New York City this month."
Tessa Cocksedge, Marketing Manager at CCF, said: "The competition was very fierce and we had lots of impressive superhero stories, but our judges felt that Tim, who came to the rescue not once but twice in one day, really demonstrated what being a Trade Superhero is all about."
CCF says it aims to be a superhero in its own right by being there for the trade when it is needed.