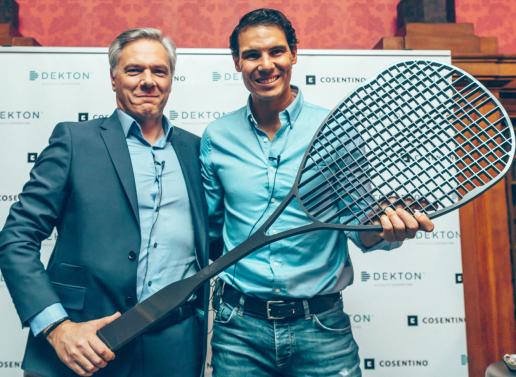 Paul Gidley (left), the new Cosentino Area Director for the UK, with Tennis superstar Rafael Nadal in London last night.
Tennis superstar Rafael Nadal joined Dekton and Silestone company Cosentino in London last night (9 November). 
Rafel was in the UK for the Nitto ATP Tennis Finals 2017, the Masters Cup, which takes place in London next week. Rafael is also a worldwide ambassador for Dekton, Cosentino's ultra-compact surface brand, so while he was in town he presented the new Dekton Industrial Series to a group of clients, stakeholders and members of the London architect and design community at the London Marriott County Hall Hotel.
They watched as Rafael was interviewed by BBC Radio 4 sports presenter Garry Richardson, who congratulated the Spanish tennis player for having just achieved Number One ranking in the ATP for the third time in his career. 
Cosentino was represented by Santiago Alfonso, the company's Vice-President Global Marketing & Communication, and Paul Gidley, who was introduced as the new Cosentino UK Area Director. Paul replaces Christophe Gontier, who, after 11 years as Area Manager for the UK and Ireland, starts 2018 as Sales Vice-President for the Asia Pacific Region for Cosentino Group.
Santiago Alfonso and Paul Gidley joined Nadal in a panel discussion moderated by Garry Richardson.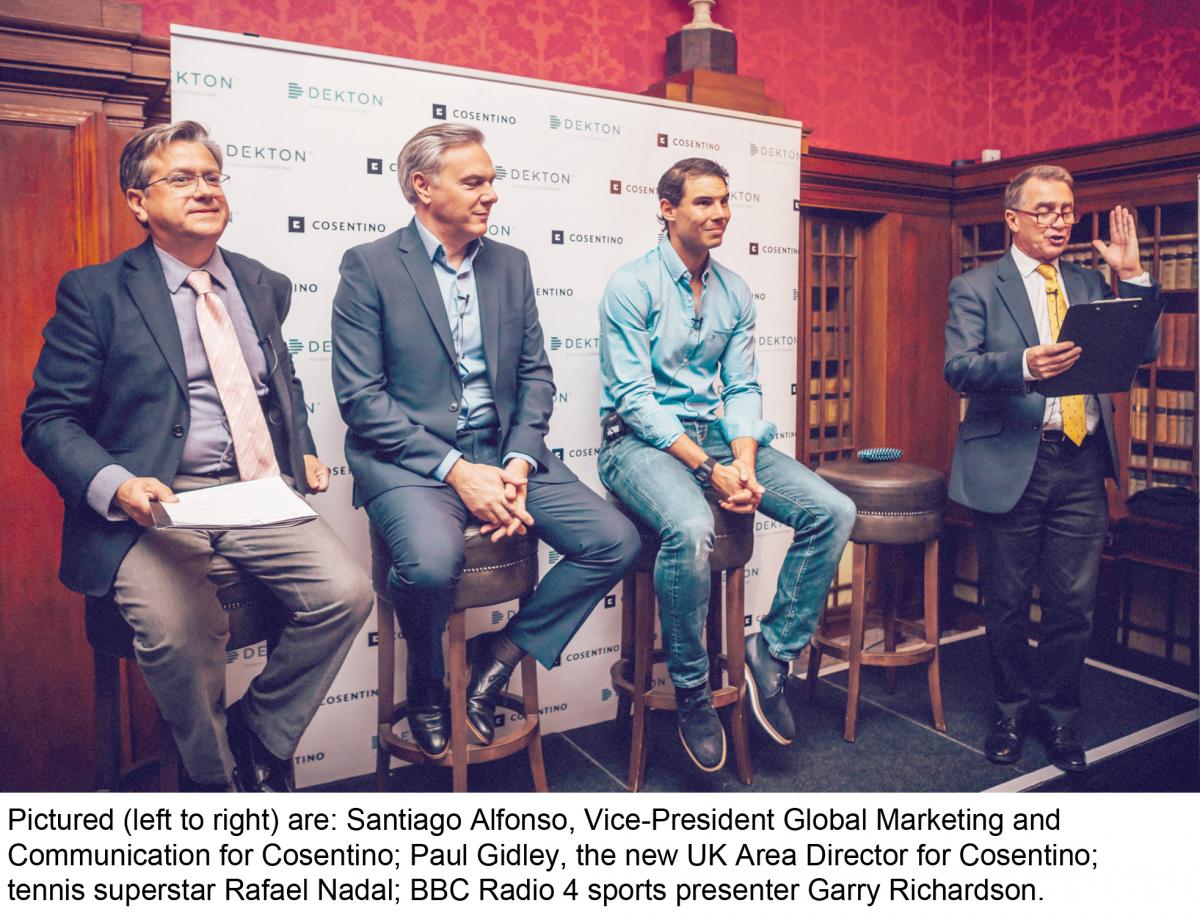 Dekton is one of the main sponsors of Nadal's Tennis Academy in Manacor, Spain, an impressive campus that features Cosentino surfaces throughout, with two bespoke Dekton colours produced exclusively for the Academy. Dekton has been used for façades and flooring and for swimming pool and spa areas.
Nadal said: "It's a pleasure for me to be together with Cosentino and Dekton in an event for their most important clients and collaborators in the British market. I am sure that the colours of the Dekton Industrial Series, which we are presenting today here in London, will be liked very much and will be a great success. 
"Since the start, the relationship with Cosentino has been very good. The fact that they are a family company, which I value very much in my life, makes the partnership even stronger. Innovation, closeness and hard work are key values for me, which are reflected in a company like Cosentino."
The Dekton Industrial Series is an urban-inspired range of colours designed in collaboration with leading architect and designer Daniel Germani.