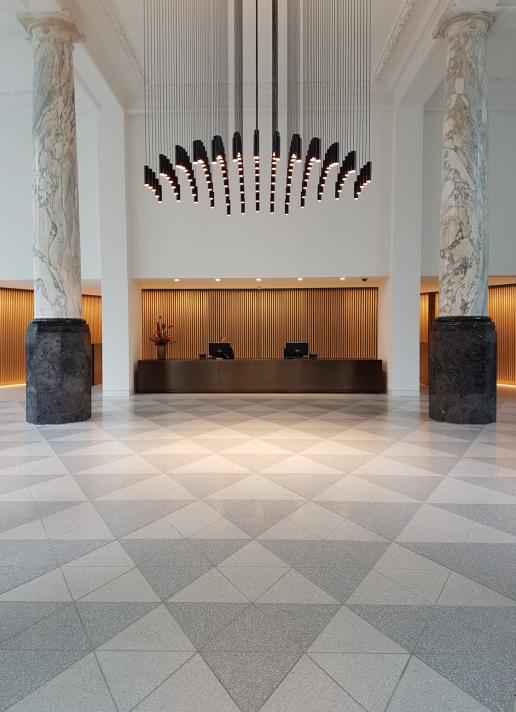 Terrazzo floor and marble columns make an impressive statement at 1 King William Street in The City of London.
The popularity of terrazzo as a colourful and high performance flooring is growing, says the National Federation of Terrazzo, Marble & Mosaic Specialists (NFTMMS).
An example of why can be seen in the new floor in the reception and lift lobby areas of the Grade II listed 1 King William Street development pictured here.
Ben Leach of architect AAMM says the practice's design intent was to have a robust and hard-wearing surface in a visually interesting material.
"The grey white tone chip of the terrazzo with flecks of Thassos and Giallo Siena suitably reflects the palette of materials and colours used throughout."
NFTMMS member In Opera Group, a specialist in stone and porcelain interior and exterior finishes, was selected to supply the terrazzo for the floor, the Calacatta marble for the columns and granite for the roof top floor.
"This was a significant project for us and we worked closely with AHMM on refining the design in terms of optimising sizes, thickness and specification as well as providing samples throughout the process for design and quality purposes," said In Opera Group Sales and Marketing Director Enzo Favro.
Working with a significant existing building with varying build-ups it was critical that different thicknesses could be used for the different applications as needed. This required continual review of sizes as site conditions were uncovered during construction.
In addition, the requirement of a luxurious inlay in the reception area of two-tone triangular tiles tested skills in design, fabrication and installation.
The installation itself was completed by another NFTMMS member, TRI Contracting.
TRI's Brian Connor: "We won the business as a result of assisting the architects in specification, samples and advice and competing in the tender costs. We supplied and installed factory finish terrazzo tiles to all lift lobbies over seven floors and the bespoke terrazzo pattern tile to main reception."
The NFTMMS represents companies that wish to maintain and improve the standards of craftsmanship and technical control. Its membership includes companies involved in terrazzo, mosaic, marble, granite, limestone and quartz. NFTMMS members offer technical advice and assistance with specifications.
The 1 King William Street office building refurbishment and extension in the Bank Conservation Area at the heart of the City of London was undertaken for UD Europe. Kajima was the development manager, McLaren the main contractor.