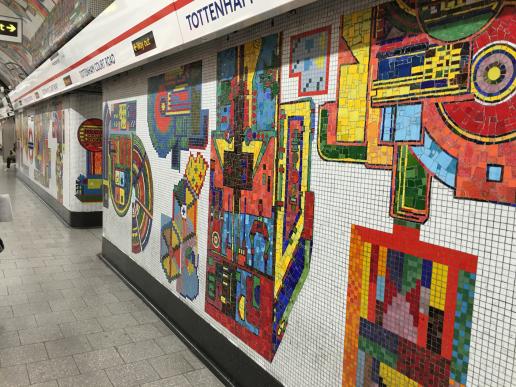 The terrazzo at Tottenham Court Road underground station.
Dramatic wall design at the refurbished Tottenham Court Road Underground Station is reminding the public just how stunning terrazzo can be when specified for walls and floors. Here, TRI Contracting has used terrazzo to restore the Eduardo Paolozzi mosaic work. It is an impressive example of how the material can brighten and interest everyday life.
There has been a resurgence in the use of colour in architecture in recent years to overcome the drabness of postwar buildings and to exploit the potential of what both traditional and modern materials can offer. For the architect and designer, colour has now become a key component of design rather than a finishing touch. 
Colour has become another tool. It can enhance the character and ambience of a building. Changes in metal manufacture have enabled intense panels of colour to brighten façades. Similarly, a recognition of the qualities and durability of traditional terrazzo craftsmanship has provided designers with another choice of material and a palette of colours.
Liklewise terrazzo flooring. It is extremely hardwearing with the low cycle costs. It offers pattern and shapes with varying levels of finish from honed to polished, even with decorative graphics thanks to waterjet cutting.
Leading suppliers of terrazzo, as well as marble and other coloured stones are members of The National Federation of Terrazzo Marble & Mosaic Specialists. The aims of the Federation are to maintain standards of craftsmanship and technical control, and provide information about the history and specification of the products. There is more information on the Federation's website.