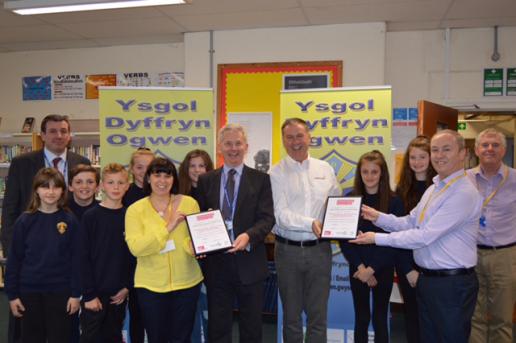 Welsh Slate teaches business sense to local school children. The photo shows year seven pupils with (left to right) Dylan Davies, deputy headteacher; Rhian Lloyd-Thomas, area manager, Careers Wales; Alun Llwyd, headteacher; Chris Allwood, Welsh Slate MD; John Edwards, business engagement adviser, Careers Wales; Dr Dafydd Roberts, Governor.
Welsh Slate has teamed up with its local secondary school to pioneer a Business Class programme.
The initiative with Ysgol Dyffryn Ogwen in Bethesda, where Welsh Slate has its headquarters and main Penrhyn Quarry, is one of more than 80 Business in the Community (BITC) programmes in Wales. It is delivered by Careers Wales and funded by the Welsh Government. The idea is to build sustainable partnerships between business and schools in Wales.
The Business Class partnerships are driven by the needs of schools and the priorities, resources and capacity of businesses to help create a future workforce and highlight workplace opportunities. Welsh Slate wants to help the youngsters develop entrepreneurial and employability skills through work experience, site visits and an enterprise challenge. The partnership helps students to develop lifelong skills and knowledge that will support them through school and into the world of work.
Welsh Slate managing director Chris Allwood says: "The future of Welsh Slate will depend on developing its future workforce to address the ever-changing challenges that present themselves, whether new technologies, new products and processes or new markets. Where better to start than with those students who have a unique insight into the culture and heritage of the slate landscape?
"The Business Class programme allows us to share our skills and expertise with the young people at Ysgol Dyffryn Ogwen to help them understand what is needed to thrive in the workplace once they leave school. It also allows us the opportunity to learn from the students about how they see us and our place in the community so the partnership benefits both ourselves and the pupils involved in the collaboration."
Shirley Rogers, Careers Wales Director of Service Delivery, adds: "Business Class brings industry and young people together in a practical way, as this excellent collaboration illustrates. We are looking forward to seeing how this partnership flourishes next year and beyond.
"Business Class provides invaluable lessons about the world of work outside of the normal school curriculum, showing students about the range of different opportunities there are after education. In this particular partnership, Welsh Slate is hoping to teach the students of Ysgol Dyffryn Ogwen about the importance of preparing for the world of work and thus equipping them with the tools required to become the next generation of Wales' workforce."
Matt Appleby, director of Business in the Community Cymru, says partnerships and events with major Welsh employers such as Welsh Slate is what Business Class is all about. "Encouraging companies to engage with young people not only demonstrates their commitment to their potential future staff but also helps equip students with lifelong skills such as teamwork, interview preparation and other practical knowledge for their future careers."