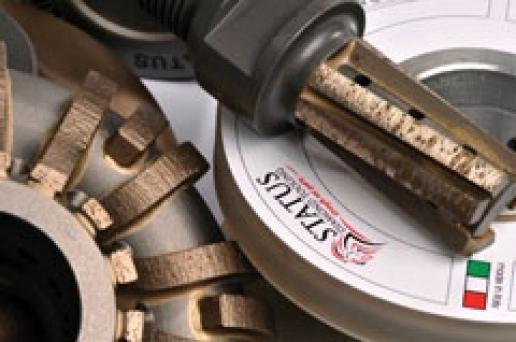 When the new sintered surfaces were introduced it quickly became apparent they needed their own diamond tooling.  
Diamond tools have revolutionised the processing of natural stone, especially granite – and continue to do so as they become longer lasting, faster, more accurate and produce better finishes all the time. Even the prices have fallen considerably.
But because the tools are pretty good at processing granite, it has come as a bit of a surprise to processors who have tried the new sintered hard surfaces to discover the same tools are not so good at processing the new materials.
When the new products were first introduced, some described them as being like ceramics, so processors turned to blades for cutting ceramics to saw and drill them, but that did not prove too successful, either. There has been a sharp learning curve and many processors have resorted to buying new machinery or having inverters fitted to their saws so they can infinitely vary the speeds to avoid problems.
But that is expensive, so D Zambelis has been working with its blade supplier, Cidiam, and its CNC tool supplier, Nicolai, to develop tools that will work without the use of inverters, even on old saws.
Zambelis prides itself on solving problems for stone processors. It is well known these days as a supplier of machinery, but it was supplying diamond tools for many years before it started selling machines.
Zambelis does not sell tools that have not been field tested first by some of its customers and believes it will shortly be able to offer blades and drills that will cut sintered materials on most machines without the expense of fitting inverters.
Sintered products are not all the same, though. And although the same tools will usually perform similarly on Lapitec and Neolith, Dekton requires blades and drills of its own. CNC tooling seem to work on all three materials equally and does not share the issues of sawing and drilling, which can cause sintered materials to break out rather than cut cleanly.
The redoubtable Stella Zambelis took some of her new blades along to the Natural Stone Show in London in April to gauge the response, which was positive. She has since asked customers with an Achilli MBS 3000 and a Denver Slot, which do not have inverters, to try out her latest blades.
She is not yet convinced they will work on all saws and hopes her suppliers can continue to make improvements. "As soon as we have a decent range we will advertise that we have," she says. "I told our suppliers we wanted a blade that would work on at least 80% of saws."
Her aim is to allow customers to process the new materials on existing machinery, although she thinks anyone who is going to be processing a lot of sintered materials might be better off with new saws.
ATS Diamond Tools is a relative newcomer to the stone processing tool supply sector. It started trading in 2012 with the objective of offering high quality diamond tooling at an affordable price by keeping overheads low. It has no retail premises, no reps and does not plan any expensive marketing campaigns. This enables it to sell quality products at sensible prices.
Its target audience is stonemasons, worktop fitters, stone tile specialists, restoration & maintenance companies… in fact, anyone looking to cut, profile and grind natural and engineered stone.
The way stone is processed has changed considerably over the last decade, and the recession has hit margins. Today's stone mason has to look for the best value for money in every aspect of his business. This extends to tooling and consumables – but the best value for money is not always simply the cheapest. Longevity and accuracy are important, minimising downtime while tools are changed and extra processing due to inaccuracies. The best value for money is the product that delivers the most cost effective per metre price of finished work.
All ATS tooling is manufactured to its own specification, and each tool and product is extensively tested to ensure it meets the company's strict quality requirements. It is only then that the product becomes available for general sale. "It makes it a long process when products have to go through rigorous testing but we need to ensure we get it right. Buyers remember the quality of products first. If the quality is not good, they will not be our customers any more," says Paul Ingleby, Joint Managing Director of ATS.
"We simply listen to what our customers need. We send new products out to a close circle of stone masons and landscapers for testing. We use the feedback to continue to develop our tooling and increase our range. By doing this we have gone from a customer base of one in 2012 to more than 2,500 three years later."
ATS does not source all its tools from a single manufacturer. When the company was established it approached a number of factories and chose the best. "It means we have a number of options and can always ensure we have a good range of products available to us without compromising quality," says Paul.
"Our first 'public outing' was a stand at this year's Stone Show at Excel. Not knowing what to expect was daunting at first but the show turned out to be a huge success for us. It was great to see so many granite fitters, stonemasons and landscapers who didn't know we existed and who are now buying from us on a regular basis. It was such a success we have already booked for 2017! As long as we keep our message simple and continue to offer great service and quality products we hope to be supplying this well established industry for many years to come."
Leading UK diamond tooling supplier Stonegate is celebrating a hat trick of successes with the three-year anniversary of its exclusive Diamut UK distribution deal, the expansion of its Status CNC range and the award of 'preferred supplier' status from French CNC machine manufacturer Thibaut.
Diamut is widely recognised as one of the world's major diamond tooling manufacturers, providing customers with products resulting from a wealth of experience, cutting edge technology and a deep understanding of today's market requirements. Diamut products represent tried and trusted solutions from a company with 25 years' experience in the industry.
As the exclusive UK agent for Diamut, Stonegate has been able to put together a team of experts to work with clients to find innovative tooling solutions. Combined with Diamut's quality products, the team members' in-depth knowledge of machine technology and materials means they can help workshops improve quality and efficiency. With direct access to Diamut's stock management system, they can arrange delivery direct to the client and Stonegate's 'right first time' policy ensures you get what you ordered first time every time.
Stonegate is also sole UK agent for Status Diamond Tooling, with its precision products for CNCs, including a new range.
Status is internationally recognised for high quality tools at competitive prices. The tools undergo rigorous individual quality control to ensure they will last a long time and cut with great precision.
Stonegate has developed a designated team for Status products to help customers purchase the right tools for the job.
And then there's that 'preferred supplier' status from Thibaut.
Thibaut has been designing and manufacturing stone processing machines since 1959. It has sold more than 5,000 machines in that time and has three engineering and design departments focused on product innovation to ensure its products continue to meet stone processors' needs.
Thibaut looked for evidence of excellence across a number of areas for its tooling distribution, which Stonegate was able to demonstrate.
Stonegate views the 'preferred supplier' appointment as acknowledgement of its hard work in delivering quality products, expert advice and premium levels of customer service.
As one of the largest stockists of stone tooling in the UK, Stonegate is able to set up a package for each of its customers tailored to suit their specific requirements.
Stonegate's team of time-served craftsmen with extensive knowledge of the industry and its products, applications and solutions, ensures that if a customer needs help, they know they can rely on Stonegate.
Stonegate Tooling is planning more product launches before the end of the year. And there is no waiting around for what you order. The next day delivery service is currently achieving 98.5% complete orders on all standard stock items.
Waters Group sells ADI stone processing diamond tools in the UK. The Solution router is designed to provide durability and fast, smooth cutting of granite, engineered stone and a variety of hard surfaces. These are premium tools for high performance, with superior waterfeed providing maximum cooling. The result is low cost per linear metre and a fine finish.