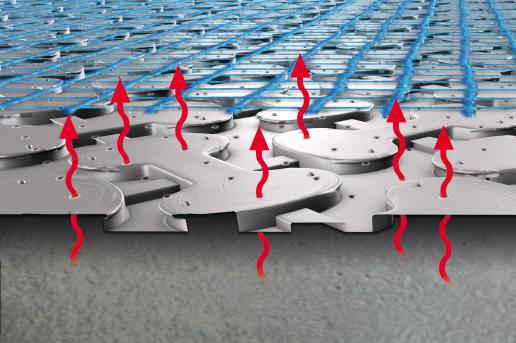 The Flexbone 2Easy floating mat can halve flooring installation times.
BAL is launching two new uncoupling mats with particular advantages for problem floors.
Following the launch of the award-winning BAL Rapid-Mat in 2014, the Flexbone range offers two different solutions with the launch of Flexbone 2Easy and Flexbone VAried.
BAL Flexbone 2Easy is a floating mat system, so no adhesive is needed underneath the mat, making it truly uncoupled.
BAL Flexbone VAried provides a waterproof layer, replacing tanking in bathrooms, showers and wetrooms.
David Wilson, UK Head of Technical at BAL says of 2Easy: "Because no adhesive is required, preparation of the substrate is reduced to a quick sweep of the floor. No removal of residue, no removal of laitance and no priming of the surface is needed. This means that contaminated and stained floors, wooden floors, cracked screeds and mixed substrates can be tiled immediately."
He says 2Easy can also be used directly on to difficult substrates such as bitumen, fresh sand:cement screeds or new anhydrite screeds that are not fully cured (up to 1.5% CM residual moisture). So no more projects on hold while new screeds dry enough to be tiled. "Fast track installation is possible as any residual moisture in the substrate is distributed evenly through a system of channels and can also ventilate via the covering joints through perforations in the mat."
Time trials indicate the removal of subfloor preparation gives around 50% time saving as well as saving on the cost of primer and adhesive.
Because BAL Flexbone 2Easy is laid loose as a floating system, it is perfect for heritage projects, protecting sensitive substrates. It is also ideal for areas where the floor needs to be changed regularly (such as rental properties).
BAL Flexbone VAried, meanwhile, is a bonded mat system with the same installation process as other fixed cavity mats in the market, although it has BAL's patented GripLock Technology and unique bone structure.
GripLock provides high shear strength (accommodating more lateral movement) and high tensile strength (to stop tiles popping-off or cracking under pressure) while a fleece gives vapour pressure compensation.
"As well as providing long-term benefits in terms of strength and flexibility, the unique bone structure also makes for significantly faster installations as the design ensures the trowelling-out of adhesive on the surface layer is fast and easy," says David Wilson.
Trials have shown adhesive can be spread as much as 30% faster because less is required on the mat surface.
BAL Flexbone VAried can be used anywhere. It is perfect for high load-bearing and commercial areas such as shopping malls, airports, car showrooms, office buildings and hospitals, as well as light or medium traffic areas.
Both mats are available in 20m rolls or 2m x 1m sheets (ideal for small bathrooms and wetrooms). They can be used with all tile types, including natural stone.
Like all BAL products, Flexbone uncoupling mats come with the company's 25-year guarantee.