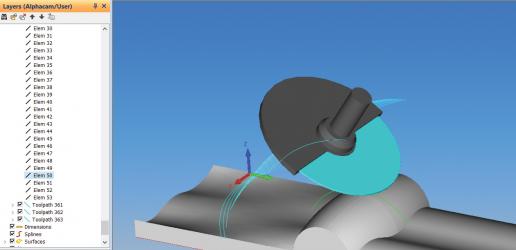 The latest developments from Alphacam include improved visualisation of guards.
Alphacam CAD/CAM software for stone processing machinery sees two major enhancements in its 2018 R1 release.
Firstly, there is increased support for guard visualisation when creating the disc cutting toolpaths. This improves the geometry disc cutting and the surface disc cutting cycles.
The guard can be visualised when selecting elements in layer mapping and changing tools during an operation, along with selecting toolpath elements from the layers tab.
This enables users to see the disc guard when creating toolpaths and to see how the guard will be oriented during cutting.
The second enhancement is a new option for including extra passes at profile walls when roughing in the cut and disc operation.
These extra passes can be set irrespective of the width of the cut and ensure excessive stock is removed from the profile walls for finishing.
It means users no longer have to create an extra operation or define a small width of cut to remove unwanted stock at the walls.
Alphacam is part of Vero Software, which is based in the UK and has offices in many countries.