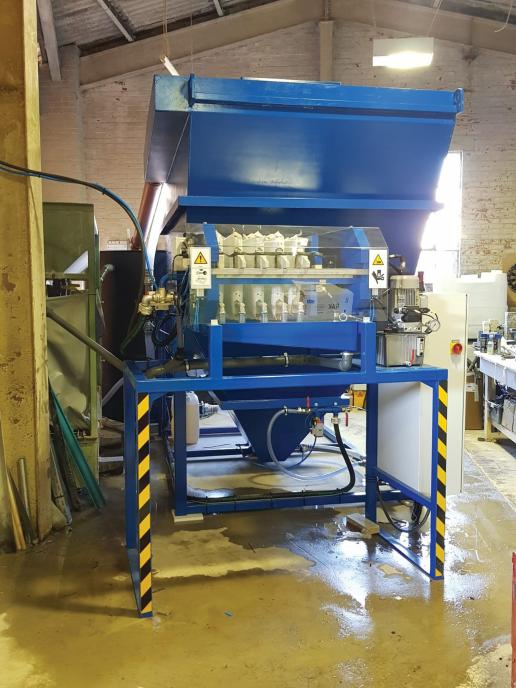 Bath Granite & Marble is the latest company to buy the ECS Eich water recycling system from On Point Engineering. On Point is also the UK agent for the Thibaut machinery Bath Granite & Marble has bought. 
Machinery needs a lot of clean water, which is encouraging companies to install more reliable recycling systems. These are some of the latest installations.
On Point Engineering introduced itself last year. The company has been set up by Bruno Machado, who has been in the stone industry for many years. The first brand the company represented was the German-made ECS Eich water treatment systems, some of which are already installed in the UK – at Rossi Stone Surfaces in London, for example, and Robertson Granite's new factory in Aberdeen. The latest company to install one is Bath Granite & Marble.
On Point, based in Grantham, is also the UK agent for Thibaut, the leading French stone machinery manufacturer with a range covering everything from the ever popular T108 jenny lind up to heavyweight CNCs including bridge saws, workcentres, waterjet cutters and even a robot arm. And since the Marmo+Mac exhibition in Verona, Italy, On Point is now the UK agent for the Manzelli range of vacuum lifts and dust extraction units.
It was taking on the agency for Thibaut that introduced On Point to Bath Granite & Marble, which has a large factory and showroom in Frome, Somerset.
Before On Point took on the UK agency for Thibaut, Paul Hughes and Alan Book at Bath Granite & Marble had bought two new Thibaut T812 CNC workcentres. They were installed alongside the existing Thibaut and Cobalm machines and the MarmoMeccanica edge polisher.
Many companies buy new water management systems when they invest in new machinery because of the extra water requirement of the machines. So it was with Bath Granite & Marble, which has established itself as a leading force in the kitchen and bathroom hard surfaces market, supplying granite, marble, engineered quartz, slate and hard limestone's nationwide.
With On Point taking on the Thibaut agency as Bath Granite & Marble was looking for a new water recycling system, the stone processor turned to Bruno Machado to supply the ECS Eich system.
ECS Eich water treatment is highly regarded by stone companies in many countries, with around 600 systems installed and working successfully all over the world.
The system chosen by Bath Granite & Marble was the VFP 850 Model, which includes a filterpress and can process up to 850 litres a minute. The system is fully automatic and is set up using the Siemens touchscreen incorporated in it.
This is just one of ECS Eich water recycling systems available from On Point. There is a wide range of both fully automatic and semi-automatic options, delivering between 150L/min all the way up to 2,000L/min. And the design of the silos means they do not need flocculents to aid the settlement of solids out of the water.
All the components are German engineered to high quality and there is no doubting their reliability and durability, yet they remain competitively priced.
There is a system to provide just the right answer to the individual requirements of all stone companies, from the largest to the smallest, and to cater for most budgets.
A great advantage for On Point customers is that On Point takes care of all the installation and training and carries a full complement of spare parts in stock in the UK, so if anything does go wrong it can be put right quickly.
Bruno Machado's aim from the time he formed On Point Engineering was to sell world class equipment backed up by individual On Point care packages with a
24-hour call out by the company's own engineers, who have a wealth of experience in the stone industry. There are Bronze, Silver and Gold care packages with coverage ranging from three years to five years.
On Point covers the whole of the UK and its stock of spares is extensive in order for it to offer that rapid response that customers need. There is also online assistance at www.onpointengineering.co.uk.
As well as the water recycling systems, ECS Eich has effective and powerful dust extraction systems with self-cleaning filters.
The DSC6, for example, is fully automatic with a suction performance designed for heavy duty dust environments. Roofed cabins ensure the air flows into the extractor rather than allowing dust to rise into the factory, although the roofs can be folded open if required.
Again there is Siemens control, which automatically detects the level of dust in the working area and regulates the suction performance to ensure it clears effectively, which means the system only uses as much electricity as it needs and the operator remains comfortable, being exposed only to the degree of draught necessary to clear the air rather than standing in a wind tunnel.
The combination of features on all the ECS Eich equipment means customers can choose just what they need for their particular factory and be sure of getting a system that offers long life with minimal maintenance.
The new OMEC water recycling plant at Albion Stone's factory on Portland supplied by New Stone Age.
Popular water management systems, particularly among stone companies that are using a lot of water, are those from OMEC sold in the UK by New Stone Age. Three of the latest systems have gone to British stone quarry companies Albion Stone, Churchfield Stone and Dunhouse Quarries, all of which have extensive processing facilities as well as being involved in primary extraction.
Albion Stone's water management system (pictured) processes 3000L/min with an OMD 60 (60m3) 3m dia, 12m high water cleaning silo fed by three sump pumps (two working at a time and one on standby).
The working pumps deliver 4,400L/min. A 1,000L flocculent tank automatically prepares and adds the flocculent when it is required. It uses between £15 and £30 worth of flocculant a week.
The OMF 814 filterpress has fourteen 800 x 800mm plates fed by a high pressure impellor pump and can process up to 1.5m3 of sludge an hour. Its stainless steel impellor has been designed to reduce wear caused by the fine particles of stone in the sludge.
The fully enclosed filterpress automatically analyses the consistency of the mud being pressed and determines when the next press is needed, although the number of presses is limited to the capacity of the mud discharge skip so it does not spill.
There is an OMT 40 clean water storage silo 2.25m dia and 11.5m high. Normally, New Stone Age would expect to provide the clean water pumps, but Albion wanted to use its existing pumps from its old system, which was being replaced because it had rusted in the salty atmosphere on the Dorset island of Portland from which the company mines Portland stone.
Both the OMD60 and the OMT40 Silos from OMEC are stainless steel, which helped Albion choose this system.
All the pipework supplied by OMEC for its system is also stainless steel as standard.
Albion has an on-going investment programme in plant and machinery and the new OMEC water management system coincided with the installation of a new Breton Fuego four axes CNC single wire saw and GMM five axes Zeda. That brings up to 10 the number of primary and secondary saws being fed by the new water management system. Albion has also added a Wells Wellcut cropping line for producing walling stone, but that does not use water.
The systems for Churchfield Stone and Dunhouse have not been installed at the time of writing, but Churchfield is having a 700L/min OMEC system with a 20m3 water cleaning silo fed by two sump pumps (one working and one on standby). The pumps each deliver 1,000L/min. A 300L flocculent tank automatically doses when required. An OMF 610 filterpress has 10 600 x 600mm plates that can process up to 0.6m3 an hour. There is an OMT 20 clean water storage silo.
Dunhouse Quarries is having a 3,000L/min system with an OMD 60 water cleaning silo fed by three sump pumps (two working, one on standby). The two working pumps deliver 4,400L/min. A 1,000 litre flocculent tank automatically doses as required and an OMF 814 automatic filterpress (with 14 800 x 800mm plates) fed by a high pressure impellor pump can process up to 1.5m3 of mud an hour. There is an OMT 40 clean water storage silo. Both the OMD60 and OMT40 Silos in this instance have been designed to sit on the existing concrete pump house. The cones of each silo will pass through the roof of the pump house, where all the pumps, valves and tanks will be installed.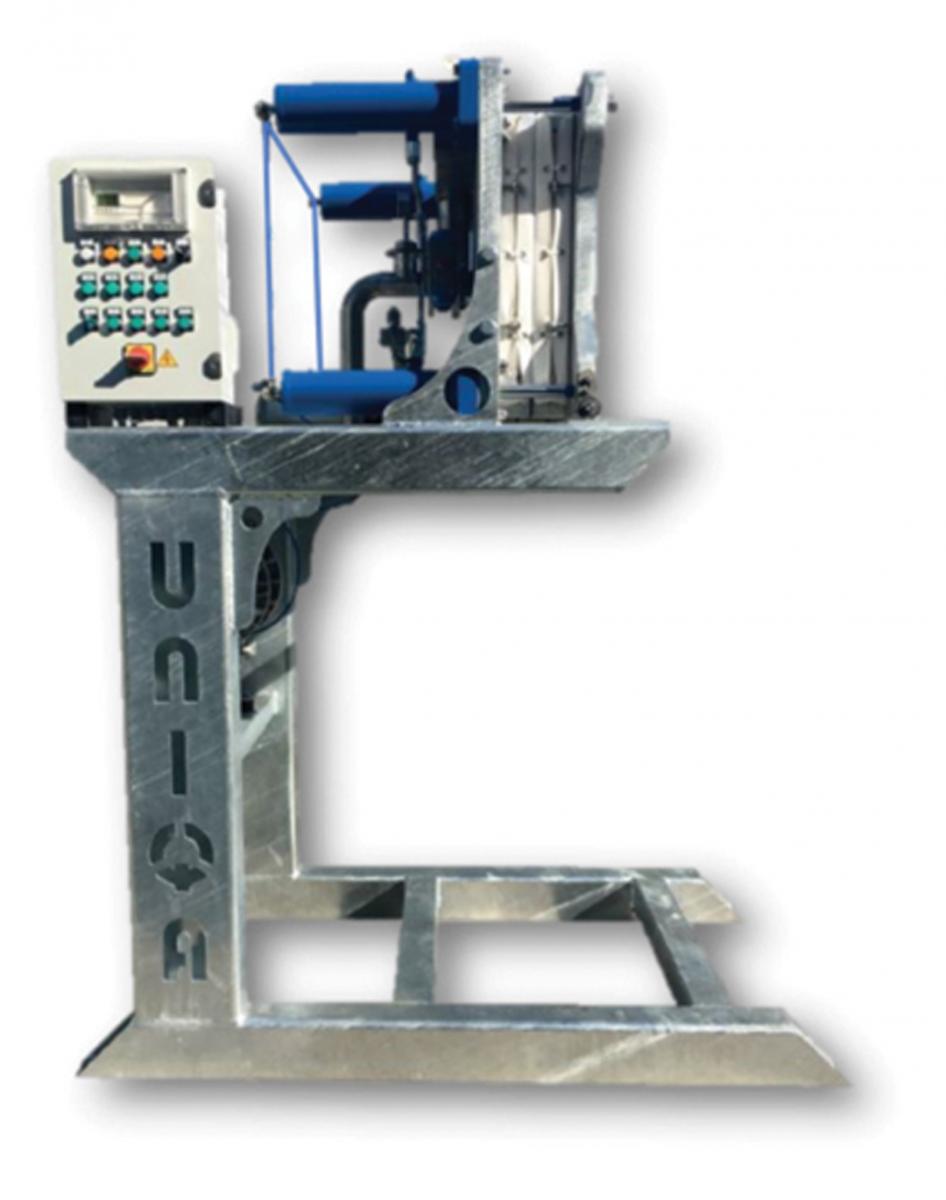 OMEC has now also introduced a new automatic filterpress (pictured right) – the 0.2m3-an-hour Uniqua OMF 602. It is a compact, self-contained press with two 600 x 600mm plates working in conjunction with an OMD 4 water treatment silo that can process up to 200L/min. This is ideal for marble and granite manufactures looking for a complete water treatment system or who need an upgrade from a bag filtration system.
It has plates operated by a new, patented and particularly reliable system using four hydraulic pistons activated by compressed air, eliminating the need for hydraulic pumps and motors.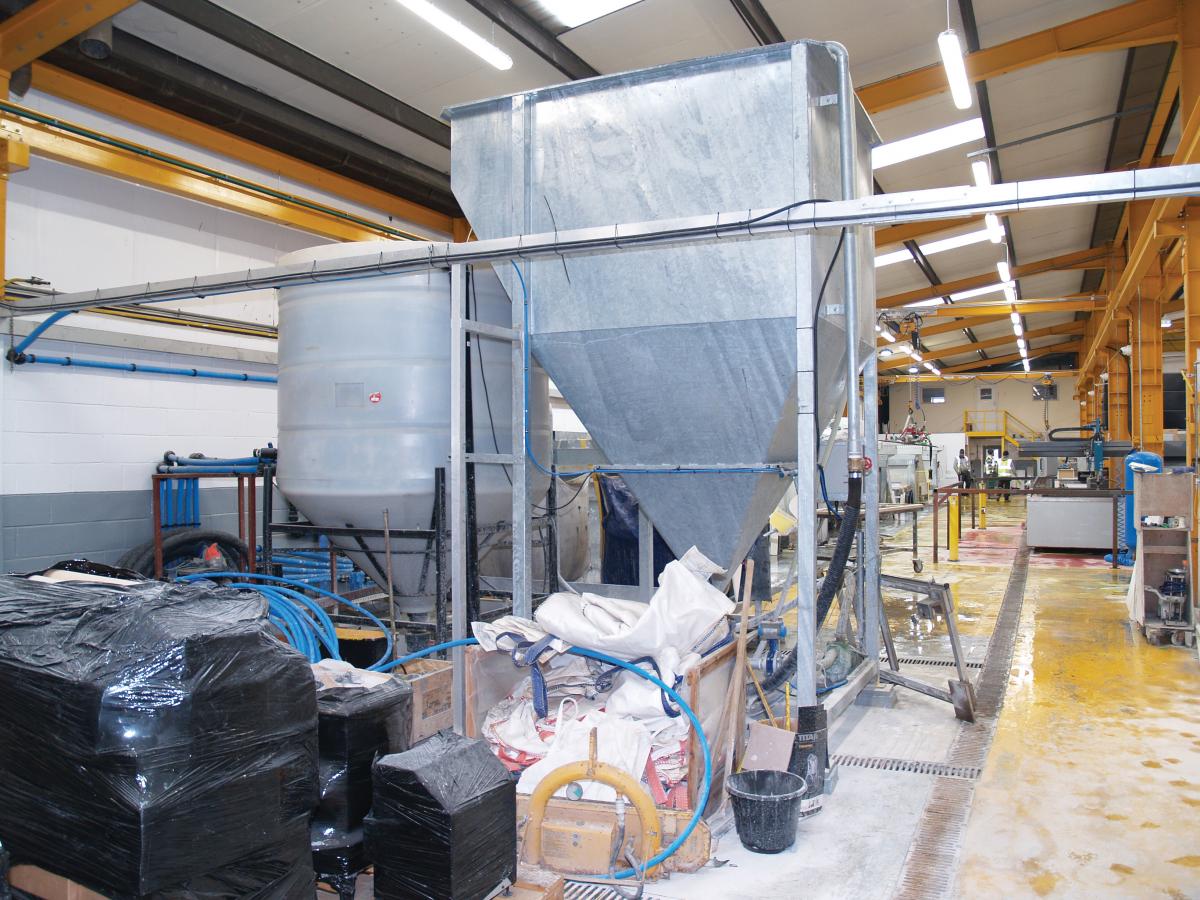 Another newly installed system is at Stone Consignment in Peterborough. The new factory there has been equipped with three Denver Skemas and a Slot, supplied by Denver's UK agent, Accurite.
The new water recycling system supplied by Accurite for Stone Consignment in Peterborough.
Along with the new machines, Accurite has also supplied the water recycling system. Accurite is owned by Mark Brownlee, and Stone Consignment Director Paul Simmonds says: "Mark is brilliant. He's helped us for years."
Stone Consignment had to dig the 600 linear metres of channels in the concrete factory floor that carry water to the collection pit, the hole for which also had to be dug. "It took hours and hours and hours," says Paul Simmonds.
The system delivered by Accurite has a bank of pumps delivering just the volume and pressure of water required by each of the machines, so energy is not wasted when water is not needed.
Accurite, which has developed a significant range of own-branded machinery as well as representing Denver, designs the systems required by its customers and has them made in Italy. Stone Consignment's plant uses bag filtration, with the sludge collected from the previous day normally being pumped into the bag each morning. The clean water tank holds 4,000L.
ItalMecc trials an easier filter for the spindle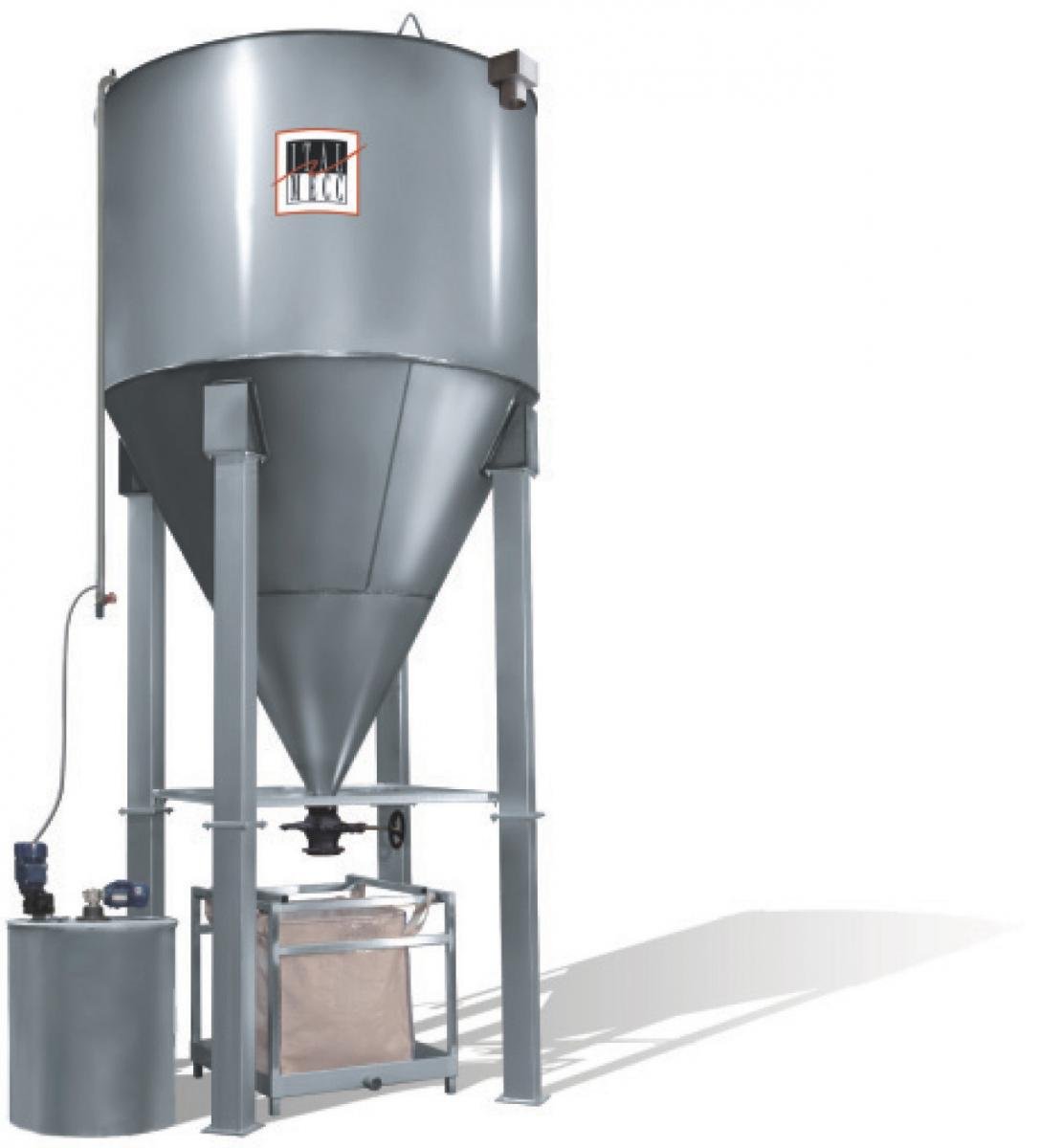 D Zambelis, the UK machinery, tools and consumables supplier that represents ItalMecc water recycling and dust control systems in the UK, says the Italian manufacturer is currently trialling a new kind of filter with some stone processors in Italy.
It is said to offer recycled water clean enough for use by the spindles of CNC machines.
Although there are currently filters available that will remove particles down to -20µ (microns), they are separate to the main recycling system. They are an extra cost and can be a bit awkward to use, so many processors find the easiest solution is simply to use fresh water for the spindle.
ItalMecc thinks it has come up with an answer in a filter that will provide water cleaned to particle sizes of -20µ, including removing flocculent. That is clean enough to be used for the spindle. The filter is also easy to use, with minimum maintenance – it automatically cleans itself.
ItalMecc has been happy with its own in-house trials, but, understandably, is putting the system through real life extended trials in processor workshops before putting it on general release. If all goes well, the new filter should be available in the UK by the end of this year or early next.
With ItalMecc, D Zambelis offers a full range of water and dust management systems catering for all sizes of companies, using both bags and presses and incorporating novel ideas like the lamella pack water clarifier. The design of the silo makes it self-cleaning and space saving, yet it delivers increased performance in terms of litres of water cleaned per minute and the clarity of the water. And it means you do not need settling pits.
ItalMecc will not only reduce the volume of water you need to buy, it will also save you money on energy costs with its banks of pumps with inverters that supply only as much water at the pressures needed by the machines being used at any one time.
You can download a comprehensive 36-page ItalMecc catalogue from the D Zambelis website (https://dzambelis.co.uk) that will give you details of all the products in the ItalMecc range.