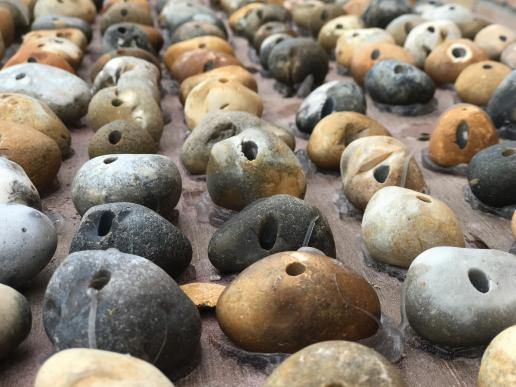 ICEE has used its waterjet to cut holes in 3,500 pebbles to help Eastern Solent Coastal Partnership better understand coastal erosion and alleviate flood threats.

Photos: Eastern Solent Coastal Partnership 
Since waterjets got the fifth axis that allows them to cut mitres, sales of them have been increasing in the stone industry in the UK and across the world. Many stone companies that have not yet bought one have them on their wish lists. And the technology itself, as well as the uses it is being put to, are evolving.
Waterjets got a boost from the latest generation of sintered and porcelain sheet products that many stone processors have added to their repertoire. They are not always easy to cut with discs and require special blades to be used. Changing blades is down time, so companies have turned to waterjets, which can cut through just about anything. And there is no danger of heat stress, although they are a bit slower and a bit more expensive to run than diamond blades.
Waterjets have so far pretty much stuck to cutting materials, but anyone who has ever used a high power water cleaner on masonry or paving will also be aware of water's ability to erode. Now that ability is being put to use to make waterjets capable not just of cutting, but also etching, much like a grit blaster. Again, they can be used on a whole variety of surfaces.
The Italian company called Waterjet was showing one of its HydroFinish waterjets at the Marmo+Mac stone exhibition in Verona in September. It has a range of machines, from the Classica, which is for cutting and etching, up to the completely automatic HydroFinish line.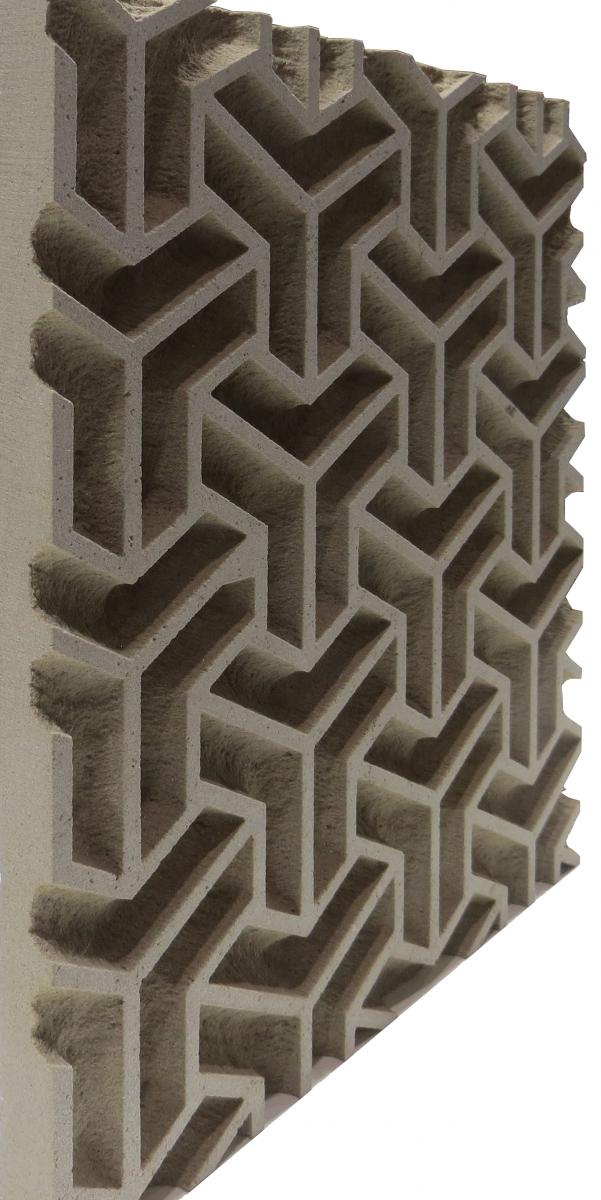 Water has not been widely used for etching because it cuts quickly and is difficult to control. But as processing power has increased and machines can respond more quickly to increasing amounts of feedback, it has become possible to use water for creating surface patterns in much the same way as with grit blasting – ie using a mask to shield areas that are to be left, although with water the masks are usually aluminium rather than rubber.
To etch the surface rather than cut through it a larger diameter aperture is used with just water (no abrasive). The depth of etch is simply a question of water pressure and how quickly the head moves over the stone. Examples of the result are pictured on the right of these pages.
Some of the companies that have invested in waterjets are happy enough to use their machines for projects apart from their own processing, while others have established themselves specifically to supply services to others. One of the latter is ICEE in Warrington, Cheshire, and Portsmouth, Hampshire, which offers services to the architecture, building and construction industry, among others.
It was approached by Eastern Solent Coastal Partnership (ESCP), which wanted holes cut through pebbles so they could be found on a beach full of pebbles.
ICEE used its Swiss-made Bystronic ByJet Flex 4030 3D five axes waterjet for the job.
It has cut through more than 3,500 pebbles for a total of three trials and studies carried out since 2012 by the ESCP after perfecting a method for safely and securely holding the pebbles during cutting.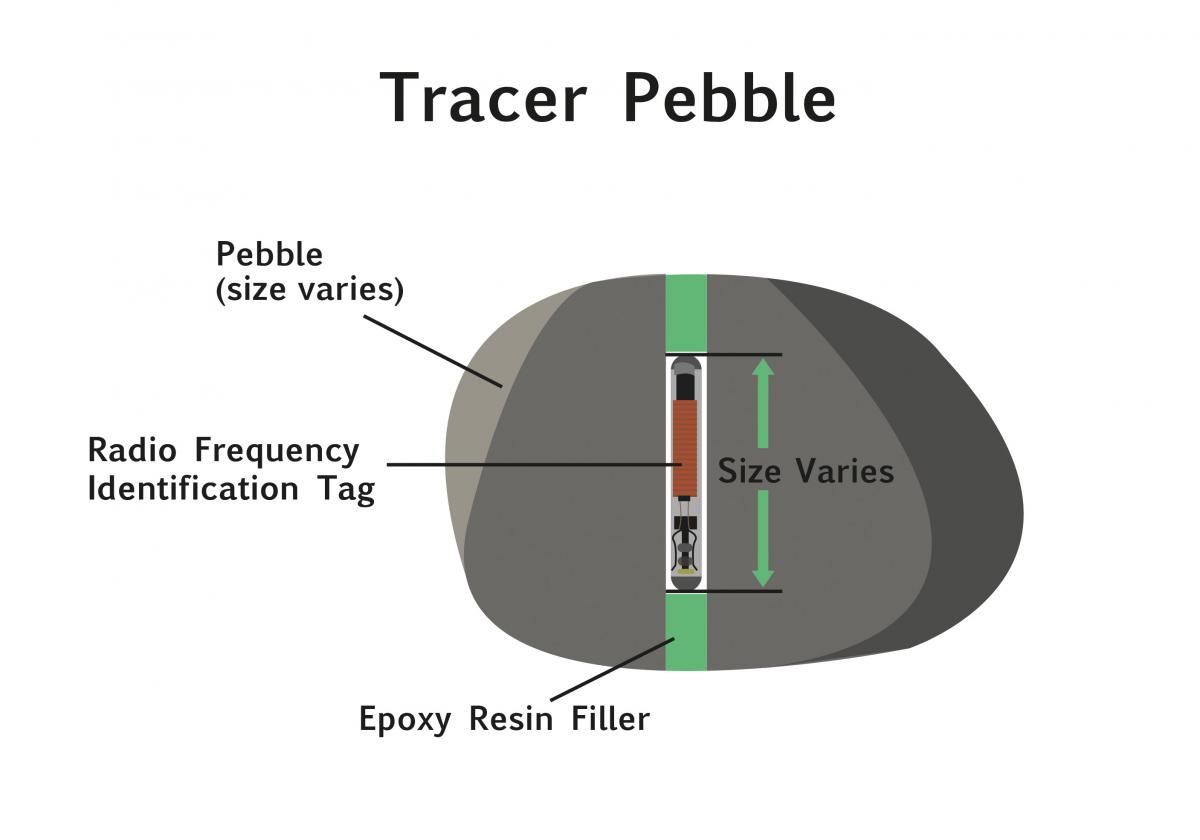 Brian Green, the ICEE manager handling the work, says: "Cutting a small hole up to 6mm diameter clean through an irregular stone object with a high-pressure stream of water only 0.8mm in diameter – at a ferocious 90,000psi [6000bar] – means holding a pebble rock-steady, otherwise it could end up on the other side of the factory or going through the roof. 
"As each order was received from ESCP, we gradually developed the best method of holding the widely varying sizes and shapes of pebble work pieces.
"Waterjet cutting is the easy bit. What's difficult is working out how to cut as many pebbles as possible in one session – quickly, safely and at least cost to the customer," says Brian. "That took a lot of painstaking trial and error, but we now have a proven method where around 1,200 pebbles a day can be processed efficiently and economically."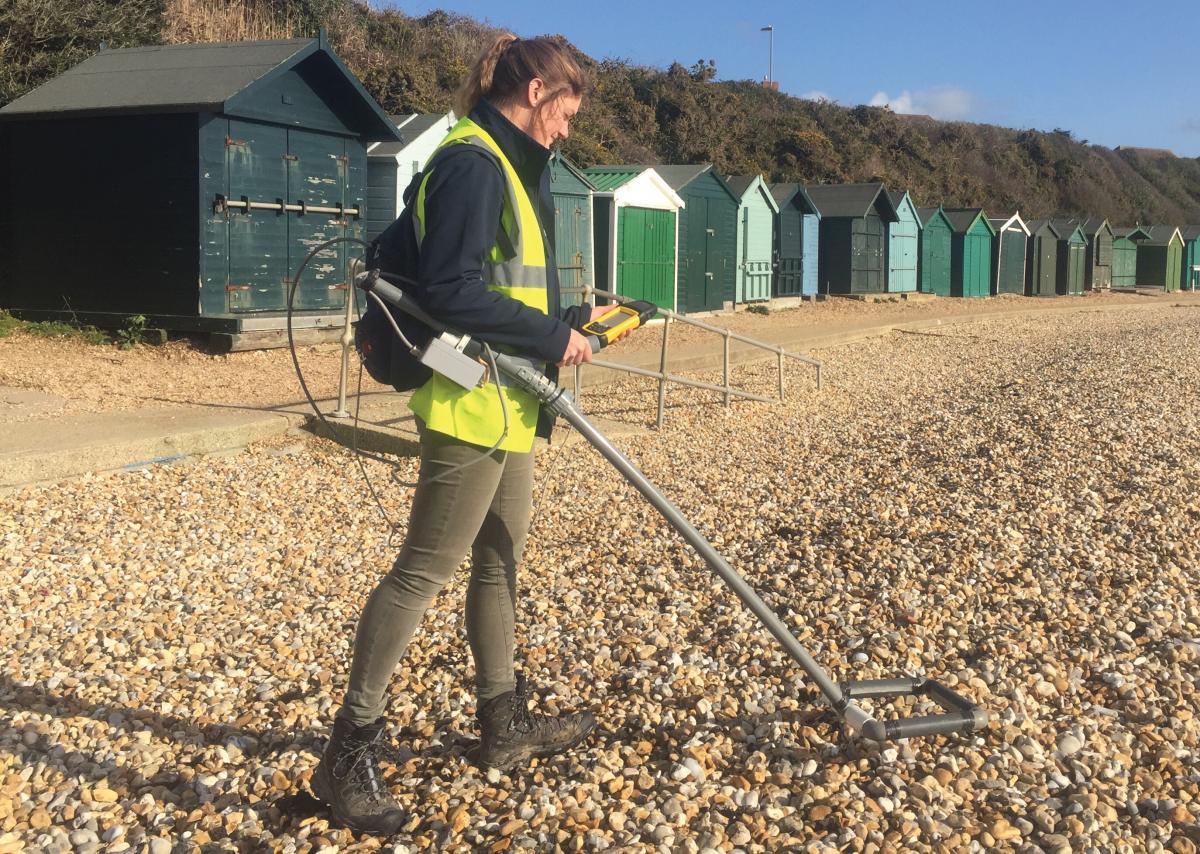 ESCP's initial thought was to drill the holes in the hard, irregularly shaped stones, but a 6mm drill point wandered and there was always a high risk of the drill breaking and causing a safety hazard. It also took too long.
One of the ESCP team had come across waterjet cutting and local contractors offering waterjet cutting services were approached. ICEE were happy to take on the project.
ICEE needed to put a lot of pebbles at a time on the waterjet table, programming the machine to cut through each of the stones in turn.To do that, the pebbles are attached to a sacrificial plywood panel in precise locations with silicon adhesive. After cutting, to reduce time and aid handling, the whole panel, complete with pebbles, is shipped back to the customer.
The waterjet first pierces a 0.8mm diameter hole on the centre line of the six millimetre bore required. It then cuts the 6mm circular, smooth hole.
The pebbles are used for a ground-breaking method of tracking and logging the movement of off-shore sediment on the south coast of Hayling Island near Portsmouth.
The pebbles have radio-frequency identification (RFID) tags put into the holes, which are then plugged with epoxy resin and put back on to the beach.
Sea flooding can be due to gradual wearing away of the coastline, caused by the action of waves and tides and accelerated by storms. Often, eroded sediment – mostly sand, shingle and pebbles – becomes transported to other parts of the coastline by this action and ESCP wanted to trace exactly what was happening and where the beach was going.
Using handheld scanners and quadbike-mounted RFID antennae arrays ESCP's coastal engineers comb the seashore at low tide in the direction of the known sedimentary drift to find where the smart pebbles have moved to.
Once found, the identity of a pebble and its location is logged and uploaded to a geographic information system (GIS) so the path of each of the thousands of stones can be studied. These data enable a far more accurate analysis than has previously been possible, providing information to plan strategies and implement effective measures to reduce coastal erosion and strengthen sea defences to protect against flooding.
Before this method was perfected, pebbles were painted or marked, but such marks would quickly wear off. Aluminium pebbles were tried, but they were lighter than stones and did not represent a true pattern of coastal erosion. The team tried casting resin pebbles weighted with copper, but they were expensive. In the end it was ICEE with its waterjet cutting that provided the answer.
Another case where a waterjet provided the answers was what CoveBurgess Architects describe as a 'folly' dedicated to social reformer Octavia Hill, who believed that everyone should have access to open spaces regardless of their circumstances. It was her work which led to the creation and preservation of public open space in London and the foundation of the National Trust.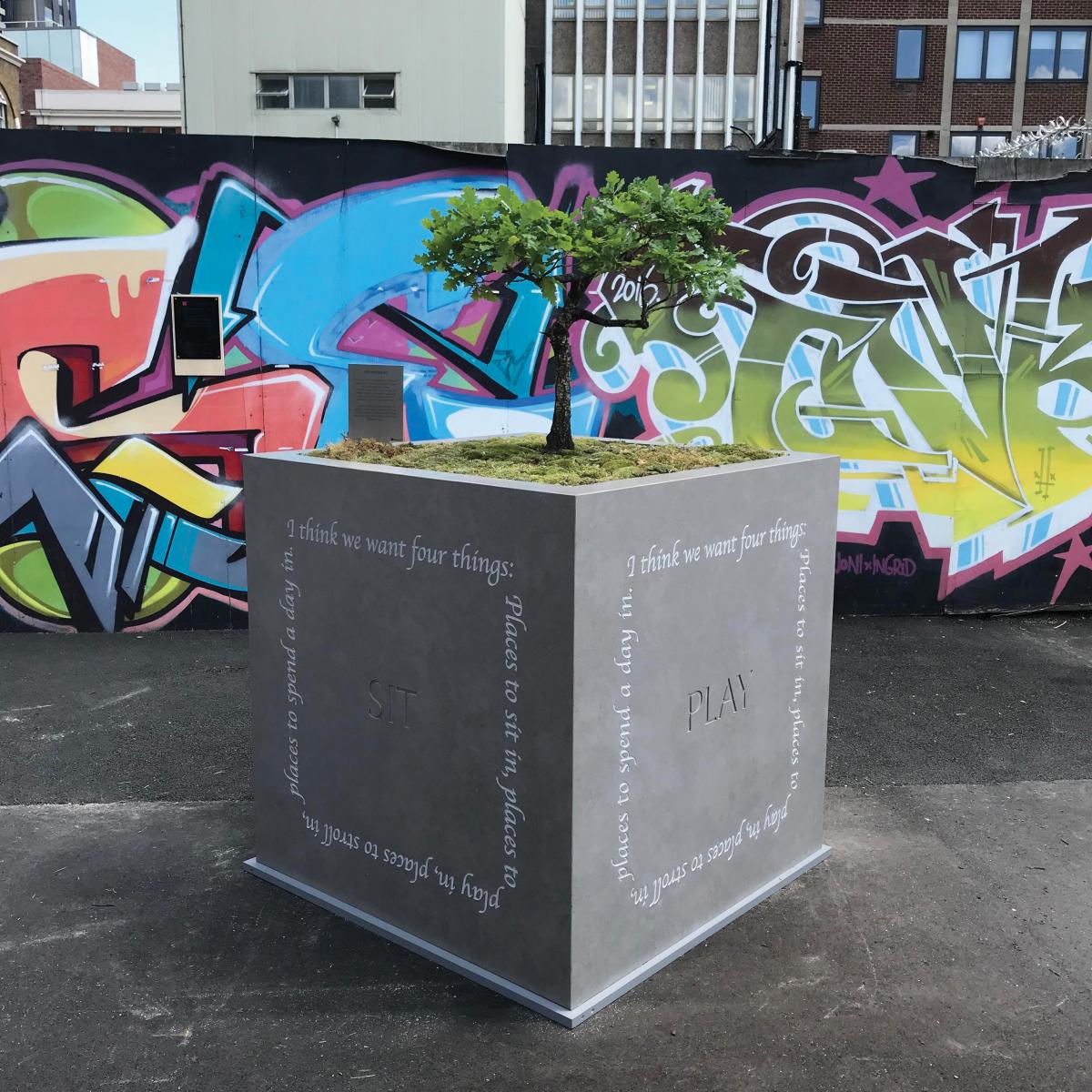 The folly in memory of Octavia Hill conceived by CoveBurgess and made by Pentagon using its waterjet. 
CoveBurgess teamed up with Pentagon, the importers and distributors of ceramics, natural stone, marble and allied products, to create the folly for the Interpreted Identities exhibition celebrating extraordinary women at Bankside, which has been preserved by Bankside Open Trust, in this year's London Festival of Architecture in June. It has now been relocated round the corner from its original position.
Pentagon, the architectural tile specialist who regularly collaborates closely with architects on award-winning projects, has established a separate manufacturing business called Pentagon Shape to produce bespoke products such as this folly for its clients.
It has invested in equipment including a milling machine and the five axes waterjet cutter from Chinese company APW that were both used to make this folly.
The folly is made from 11mm thick 1200mm x 1200mm Real porcelain tiles, which were chosen because the colour goes all the way through the material. They were cut on the waterjet (which has a 4m x 2m bed) with mitred edges and resined together. The milling machine was used to cut the inscriptions. And, says Richard Tucker of Pentagon Shape, "we broke a few bits doing it" because the material is so hard.
Sam Frith, Pentagon's Creative Director based in the company's London premises, says: "We were delighted to be invited to collaborate on this project with CoveBurgess. The timing couldn't have been better as it gave us the opportunity to showcase what our new five axes waterjet cutter and milling machines can do. We also wanted to support the ideas and sentiments behind the event."
The folly, which some might describe as a planter, contains a Bonsai Oak tree supplied by tree specialists Raw Bonsai. The sculptural piece represents nature and how trees in cities were integral to Octavia Hill's vision.
The folly represents the amount of green space created and preserved by Octavia Hill for the people of Bankside. She believed that everyone should have access to open spaces regardless of their circumstances and this folly pays homage to her vision.
As she said: "A few acres where the hill top enables the Londoner to rise above the smoke, to feel a refreshing air for a little time and to see the sun setting in coloured glory which abounds so in the Earth God made."
Tim Burgess of CoveBurgess Architects says of the monument: "We chose to focus on Octavia Hill's love and advocacy of green and public spaces.
"Her role in protecting public green spaces is still felt today, be it on a small scale through individual parks she helped preserve and create through her activism, which eventually lead to the 1956 Clean Air Act 3, and the creation of the National Trust.
"The aim is to evoke the idea of publicly owned space by showing the viewer what is effectively their small portion as well as highlighting the fragility of the idea by juxtaposing the contrasting context with the concrete of the installation site.'