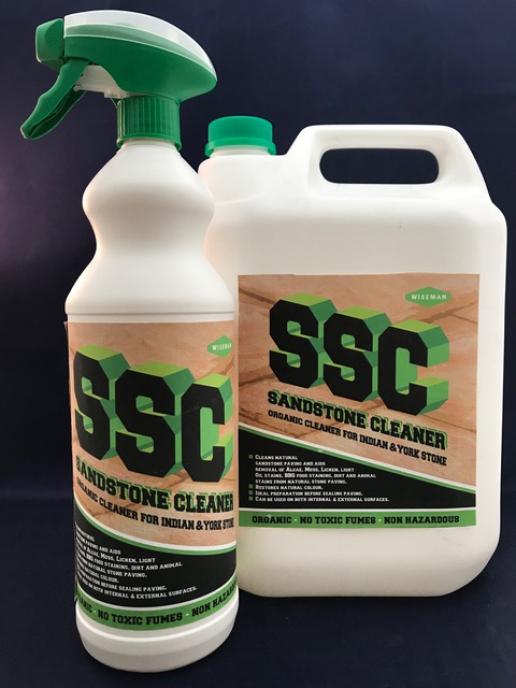 New from Wiseman is SSC – a sandstone cleaner that can be used indoors and out.
Wiseman has launched a sandstone cleaner under the name of SSC that it describes as "the next generation" of cleaner for sandstone (including York stone). It helps remove algae, moss, lichen, light oil stains, BBQ food stains, dirt and stains left by animals. It is safe to spray and put through a jet wash.
As sandstone paving is a valuable asset to any home, it pays to keep it looking in tip-top condition. And because stone is part of an exterior-interior design scheme for many, properly cleaning the stone both indoors and out will maintain that barrier-free effect.
Commenting on the new product launch, Harvey Wiseman, CEO of the company in Sharpthorpe, West Sussex, that carries his family name, says: "It has been exciting working with our chemists to develop a great sister product that fits into our range. Given the porous nature of stone, especially sandstone and York stone, they do need love and care if you wish the to retain their colour and be protected for the future. We see this very much as either a standalone product or one that can be used prior to sealing with our Water Sealer 'WS', Block Seal 'BS' and Indian Sandstone Sealer 'ISS' products."
The launch coincides with the right time of year to clean paving, especially as this year's hot, dry weather was ideal for barbecues. By cleaning and sealing the stone now it will be in good shape to weather the winter. With the increase in stone being laid in the home. Indoors, too, it will protect against soot from wood-burning stoves, wet and muddy shoes, and dirty animals walking in. 
SSC is organic, non-hazardous, does not produce toxic fumes and is pet safe. While giving a powerful clean it is gentle on the surface, is quick and easy to use and as soon as it is dry it is ready to be sealed.