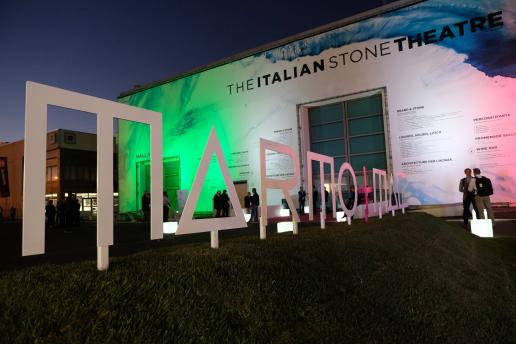 Europe's big annual international stone show in Verona, Italy, put more of an emphasis on its own stone industry this year.
Europe's big annual international stone show in Verona, Italy, put more of an emphasis on its own stone industry this year.
Italy's stone industry is one of the country's major industrial sectors and a big foreign earner. It has clout, so when it pushed for a higher profile from its country's major exhibition it got it.
The organisers of the Marmo+Mac exhibition have run the Italian Stone Theatre for several years to emphasise the technological advances of stone processing as well as the superiority of design in Italy. This year they also gave Italy's own speakers presidence at the conference run in association with the event. And they acquiesced (partially) to the stone producers' demand to restrict the exhibition to natural stone rather than engineered stone. There were also exhibitor awards open to Italian producers only, although there were also awards solely for foreign exhibitors.
There will be a report from the exhibition in the November issue of Natural Stone Specialist magazine, but in the meantime here are some photographs from the Italian Stone Theatre. For the Theatre, designers are invited to be imaginative in stone using the latest multi-axes high technology to produce what they design. There are videos of the designers talking about their creations and of the processing taking place on the machines. The manufacturers of the machines are also sponsors.
Among the international designers taking part this time was British-born Jon Isherwood, who runs the American-based Digital Stone Project with Robert Michael Smith (who is an American). Each year it holds a school in Italy in association with an Italian stone processing company (Garfagnana Innovazione), which has five axes CNC machinery and a seven axes robot, to teach people from around the world who want to take the course how to use the technology to produce sculpture. There is more about that in the October issue of Natural Stone Specialist.
The work produced for the Italian Stone Theatre fills Hall One at Marmo+Mac. The theme this year was water and stone, with the water reflecting the stonework to pleasing effect. The hall includes a restaurant and a bar, which are functional as well as part of the Theatre exhibits. The Theatre is also used for meetings during the exhibition and for the presentation of the show awards.