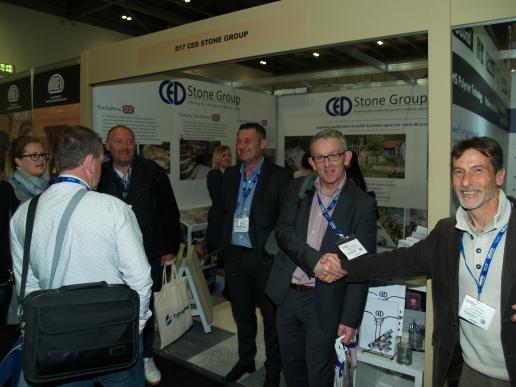 Thursday is your last chance to get along to the Natural Stone Show at ExCeL London for another two years. In the picture is Niall Kavanagh, MD of Irish company McKeon Stone (on the left of those shaking hands). He said: "It was very busy indeed at the show, a very positive vibe indeed."
Wednesday was Trade Day at the Natural Stone Show at ExCeL London. Thursday is the last day of the show, designated as Conservation Day for the conference sessions being run in conjunction with the Show. The Conservation Day conference programme is headed by Historic England, although it begins with the launch of the Stone Federation Heritage Register, listing the conservation specialities of the Federation's members. Topics also covered include the use of hot lime and guidance for best practice on the use of nanolime.
Thursday is your last chance to go and see what the stone industry has to offer. The Show closes at 5pm. Then it will be two years before the next Natural Stone Show. Make the most of the opportunity and go along to ExCeL London for all your stone, machinery, tool and consumable requirements. Make new contacts and renew old aquaintances.