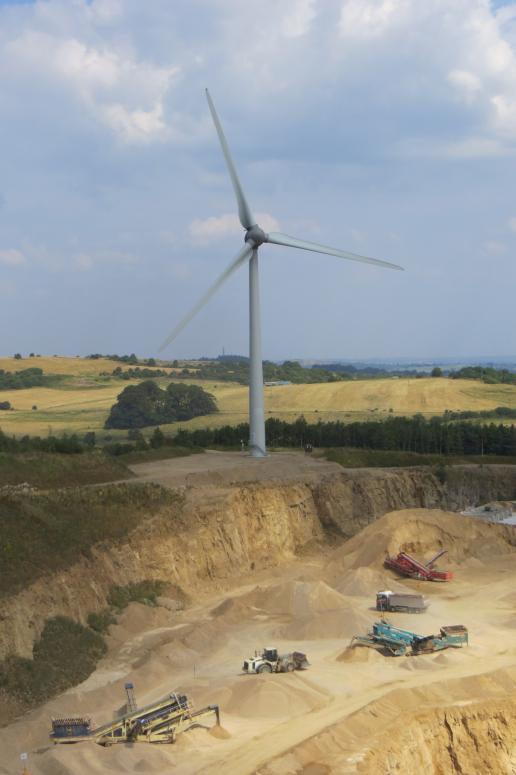 One of the two wind turbines installed at Ryder quarry by Longcliffe, which used ISO 50001 to reduce energy costs and identify energy investment opportunities.
A new version of ISO 50001 has just been published. This is an update of the international energy management standard introduced in 2011, which can benefit even small businesses by reducing energy consumption to protect the environment and enhance your company's reputation at the same time as cutting costs. Here, Longcliffe Quarries explains how it has benefitted from the standard.
Energy prices are volatile, but long-term trends tend to be up. At the same time, energy saving products are getting better and the price trend tends to be down. And even if energy prices were not going up, improving energy efficiency can almost guarantee to improve profits and/or competitiveness.
But doing something about it tends to be one of those jobs that get perpetually left to another day because there is always something more urgent that needs attention.
That's why Longcliffe Quarries near Matlock in Derbyshire decided to implement the energy management system ISO 50001. Working towards a standard provides the motivation to tackle issues.
"It's been massively difficult to find the time to do this," says Longcliffe Operations Director Chris Wainwright, "but this standard sort of forces you to do it. If you don't have to do it you would always park it."
Longcliffe Quarries is an independent limestone producer operating two quarries, Brassington Moor and Ryder Point, producing a range of lime products for construction, agricultural and industrial uses. It is the only remaining source of Hopton Wood limestone, famously used for floors in the Houses of Parliament, as well as on many other prestigious projects. The Hopton Wood stone is sold by Orlando Boyne's Britannicus Stone.
Chris Wainwright worked with Andy Meadows, the Longcliffe Group Engineering Manager, and Andre Elliott, who looks after the Group's compliance issues, to achieve ISO 50001, with John Shields, son of the chairman and part of the Group's controlling family, overseeing the project as Energy Director.
With machinery having replaced (and continuing to do so) many of what were once labour intensive activities of industry in general, energy use has inevitably become a more significant part of industrial production costs.
Longcliffe says: "The energy we use in the processing of our limestone and dolomite products is the largest contributor to our overall carbon footprint, making it a key priority in our environmental agenda.
"We are constantly upgrading plant and machinery, and energy efficiency is a key consideration in our planning and investment programme.
"Our certification to the ISO 50001 standard for energy management forms part of our Integrated Management System (IMS) and recognises that we have a robust system to manage our energy and help us reduce our energy consumption."
When the company set out on the ISO 50001 route in 2014, the aim was to reduce energy consumption per tonne of product sold by 7.5% by 2020. Chris says that target has already been exceeded.
ISO 50001 is only one of the standards Longcliffe has achieved. It also has:
ISO 9001 – Quality management systems
ISO 14001 – Environmental management systems
ISO 14021 – Self-certified environmental claims
OHSAS 18001 – Occupational health & safety management systems
BES 6001 – Framework for the responsible sourcing of construction products
FEMAS – Compliance with Feed Materials Assurance Scheme
TASCC – Trade Assurance Scheme for Combinable Crops (Transport Code of Practice)
BAA – Compliance with the British Aggregates Association Safe Quarry Scheme.
All these standards not only help the Group be more efficient and environmentally friendly, as well as reducing costs in some instances, they also enable it to quantify and demonstrate these benefits, which is significant when it comes to planning applications.
ISO 50001, like most of the standards, begins by understanding the starting point – how and where energy is being used.
To do that, Longcliffe used proprietary software called Carbon Desktop, a web-based energy and resource management tool that makes group-level reporting easier and drives continuous improvement by tracking projects, quantifying their benefits and making the business case for investments. 
As Longcliffe has 40 of its own HGVs delivering its products, logistics were clearly an area of potential opportunity for reducing energy consumption. Separate software tracks the fleet using GPS. It monitors driver behaviour and measures miles per gallon. As nobody wants to be identified as the worst driver, miles per gallon improve.
New tractor units with more fuel efficient and less polluting engines are gradually replacing older units. Reducing the unladen weight of units has also improved miles per gallon. Most of the lime products are powders, which are transported in tankers that use blowers to empty the tanks. Putting the blowers on the tractor unit, rather than on the trailer, has helped cut weight. Smaller wheels with lighter axles are now used on the middle axles. The walkway from one side of the trailers was removed because there was no need for one on both sides. Even the fuel tank was reduced in size.
The result was a reduction in unladen weight from 15 tonnes to 13.5 tonnes, reducing the cost per tonne of finished material moved by 4% and winning Longcliffe the Freight Transport Association's carbon reduction award in 2015, beating Tesco into second place.
The Longcliffe quarries at Brassington Moor and Ryder Point consume approximately £3.5million-worth of electricity, gas and liquid fuels a year, including £1million on electricity alone, so in 2015 the Group spent £6million installing two, 2.5MW wind turbines at Ryder Point quarry.
The electricity produced is fed into the grid – and there was a rush to get finished in time to benefit from feed-in tariffs, which have gradually been reduced over the years and will end all together for new projects next April. The wind turbines generate enough electricity to make Longcliffe's quarries just about neutral in terms of electricity use.
On the office roofs, photovoltaic cells generate more electricity. The offices use relatively small amounts of electricity so the cells charge up a Tesla battery during the day that discharges to the grid at night.
Lighting throughout the business was replaced with LEDs. On one of the processing plants, where Andre Elliott is the manager, passive infrared (PIR) sensors have been incorporated so lights only come on when a person is in the vicinity. The heating has also been replaced with lower energy alternatives.
The analysis of energy used showed half the electricity consumed was accounted for by motors that were idling, so inverter motors (variable speed) have been installed with energy efficient gear boxes. At Bressington there are four compressors, two with inverters and two fixed speed. The two variable speed compressors work all the time, supplying only as much power as is required for the work taking place. The other two compressors go on- and off-line depending on the need.
At the lime plant, three compressors consumed 75% of the electricity used. Now there is just one compressor and the electricity needed has been reduced from 132kW to 37kW.
The biggest savings were made within the first two years of incorporating ISO 50001. Understandably. As Chris Wainwright says: "You go for the low hanging fruit first." But the standard is not about making changes and then forgetting it. It requires on-going assessment and evaluation of processes to identify continuing savings that can be made and further investment that can be justified.
The next big change might be a combined heat and power plant at Brassington. A feasibility study is under way. Heat from the generator would go into the limestone dryer, reducing the amount of gas used.
In fact, the electricity being used by Longcliffe has not fallen. However, the output of finished product from the quarries has increased, and it is the cost saving per tonne that produces the benefits to the company, the environment and society in general. Without ISO 50001, increased production would have meant increased energy use, says the company.
Clean and quiet and as powerful as a diesel
Last year, an organisation called Principia Scientific International was registered in the UK. On its website is a report written by Johan Kristensson, who describes himself as a marketing expert, that points out the production of a lithium-ion battery produces 150-200kg of carbon dioxide for each kilowatt hour of battery power.
Call it 175kg and the 30kWh battery in a Nissan Leaf car has produced 5.25 tonnes of CO2 before the car has even been driven.
Not that Principia Scientific International cares about the level of CO2 created in the manufacture of the batteries because it does not believe the greenhouse effect of CO2 is real, according to another paper on the organisation's website.
The analysis of the carbon cost of making lithium-ion batteries comes from Mia Romare and Lisbeth Dahllöf in a 2017 report, The Life Cycle Energy Consumption & Greenhouse Gas Emissions from Lithium-Ion Batteries, for the Swedish Transport Administration & Energy Agency. The report concludes that larger scale production and more recycling could reduce the CO2 level.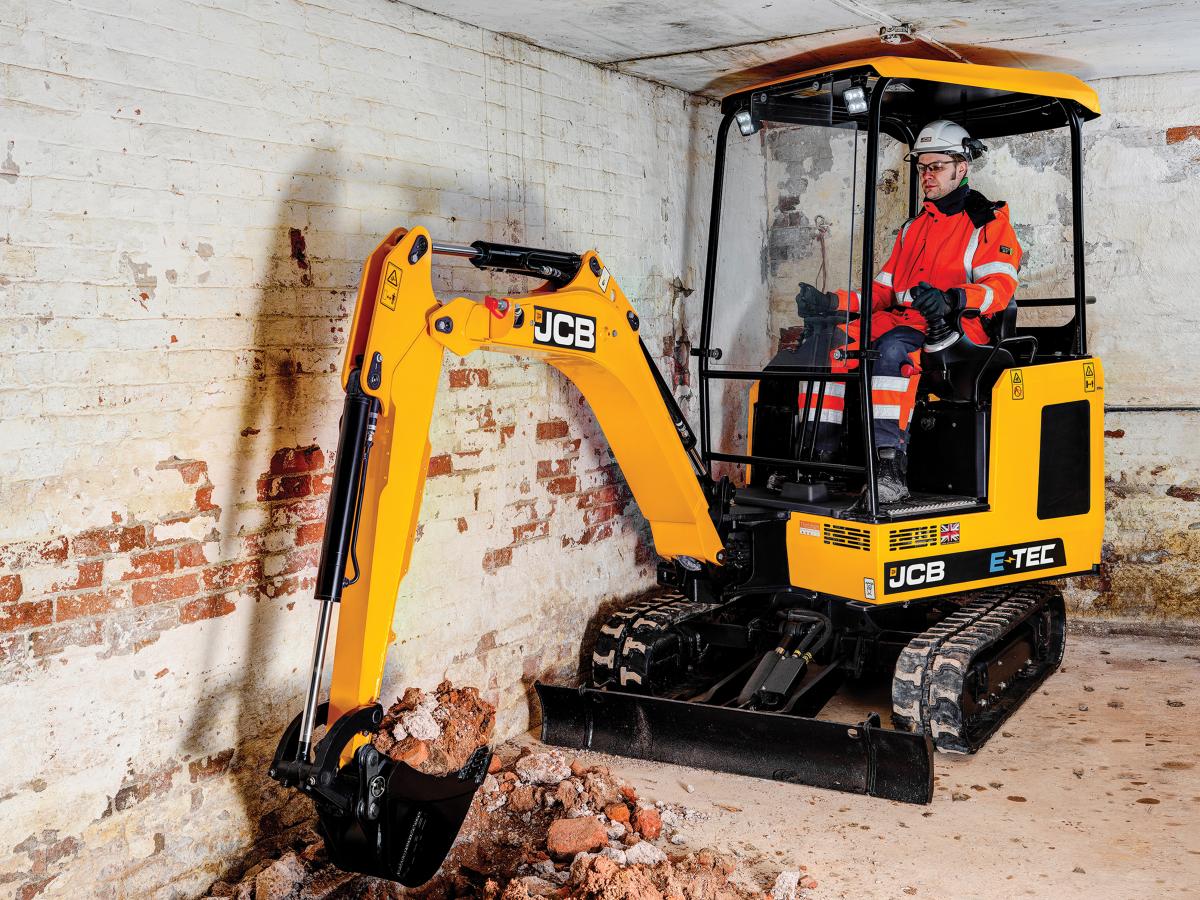 JCB goes electric. It's clean and quiet, ideal for enclosed spaces.
The same source was used this year by David Bell, a Director of British heavyweight manufacturer JCB and Honorary President of the Construction Equipment Association, when JCB launched its first ever battery powered equipment. In his example, David said 6.3tonnes of CO2 were produced in manufacturing a 35kWh battery. 
"That's as much as an equivalent diesel car would emit in four to five years of typical driving," he said.
Such comparisons always raise hackles and are seldom quite as straightforward as they seem because CO2 is also added to the atmosphere in the production of diesel. Neverless it makes the point that what at first looks green is not always quite as environmentally friendly as it at appears.
David Bell said for larger plant, batteries were simply too expensive. A battery large enough to power a 20-tonne excavator would cost £160,000, let alone all the CO2 its production would produce. "And then, of course," says David, "there's the issue of charging the battery. That produces even more CO2. Over 50% of the UK's electricity comes from fossil fuel-fired power stations, so the emissions are just being shifted from one location to another."
However, moves are being made to increase the use of electrical equipment in heavy plant. Volvo Construction Equipment and Skanska this year carried out a 10-week 'Electric Site' project at Vikan Kross Quarry near Gothenburg, Sweden, in a bid to create the world's first 'emissions-free' quarry (see bit.ly/carbon-free-quarry).
There is a way to go, not least because if all the cars, lorries and equipment in the UK currently powered by petroleum products suddenly became electric the country could not generate enough electricity to power them.
JCB firmly believes that diesel has a long and beneficial future building all the schools, roads, houses, factories, airport runways, railways and myriad other structures the world requires. And with the latest Stage Five engines that will eliminate nitrous oxide as well as having lower CO2 emissions than petrol engines, that might not be so bad.
Still, JCB can see there is a market for electric construction equipment. And it is not alone in that. Wacker Neuson has also introduced lithium-ion excavators and a dumper. It put them through their paces at the Hillhead exhibition in Derbyshire in June. Like JCB's, theirs are only now going on general release.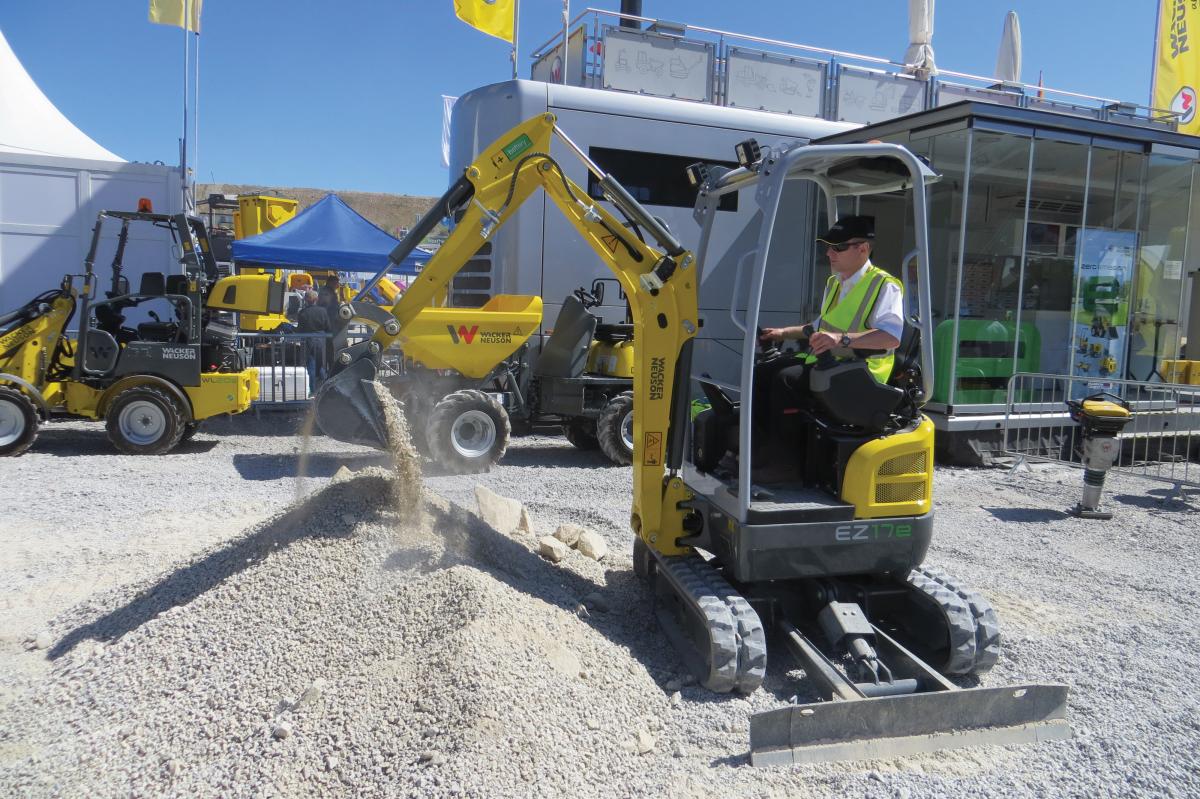 Wacker Neuson's electric minis were on show at the Hillhead exhibition in June along with small electric dumptrucks and face shovels.
JCB previewed its battery-driven mini in March, powered by three, next generation 5kWh lithium-ion batteries, giving the excavator the equivalent power of the same size diesel. They join the battery-powered scissor lifts from JCB, being introduced just a year after the company entered that market.
"Industry needs and expects choice," said Tim Bunthorpe, JCB's Chief Innovation & Growth Officer at the preview of the new battery powered products.
Lord Bamford, head of JCB, was at the launch. He said the new electric machines were "a real breakthrough".
He said with contractors digging underground in occupied property, near hospitals and in food production environments, a new zero-emissions, low noise level sector was emerging and JCB wanted to put itself at the front of these alternative power technologies.
The new minis might have a big future digging out basement swimming pools and fitness rooms for the urban population that will continue to expand as the world heads towards 10billion humans. Certainly working with an electric excavator in a confined space is preferable to being shut in with a diesel.
While the latest generation of diesel engines remove the problem of nitrous oxide, there are a lot of older engines still in use and their emissions have been blamed for 40,000 deaths a year in the UK. Some cities are pressing ahead with plans for a diesel free future. Oxford, for example, says contractors must be diesel free by 2020.
There are more questions than answers about energy after Brexit
It's been a good year for renewable energy. First it was windy. Then the sun shone. New records for renewable energy were set in both the first and second quarters of the year.
With recorded wind speeds in the first quarter higher than they had been a year earlier, renewables accounted for 30.1% of electricity generation, up 11.5% on Q1 2017 at a record 41.9GW, nearly half of which was due to new offshore wind capacity.
Renewable production increased still more in the second quarter, accounting for 31.7% of electricity generation as solar photovoltaics set new UK records.
The figures are from the Department for Business, Energy & Industrial Strategy (BEIS) in publications called Energy Trends and Energy Prices, published in September.
The increased share of the market of renewables is not only a result of the increase in production by these technologies, it is also the result of a decrease in generation by fossil fuels, with coal falling to a new 21st century low in Q2.
With the sun shining, total energy production was 2.1% lower in the second quarter than it had been a year earlier and consumption fell by 1.3%. The demand for electricity set another record by being the lowest since the current series began.
Of electricity generated in the second quarter of 2018, gas accounted for 42%, coal for a record low of 1.6% and nuclear 21.7%. Bioenergy waste, oil, hydro and other small scale production accounts for the final 3%.
People also seem to be more willing to switch suppliers. There were 10% more switches in the second quarter of this year than there had been in 2017.
But Energy UK, which represents electricity generators and gas providers, is worried about what will happen post-Brexit.
It can see energy bills rising if Britain leaves Europe's carbon trading scheme, the EU Emission Trading System (EU ETS). It sees problems concerning the UK's place in the EU's internal energy market, and wonders whether the nuclear industry will leave Euratom without a suitable replacement body in place.
Energy UK says its membership covers more than 90% of both UK power generation and the energy supply market for UK homes, with member companies ranging from established FTSE 100 companies through to new, growing suppliers and generators, which now make up more than half its membership.
Its members generate electricity for the country's 27million homes and every business in Britain. They directly or indirectly employ more than 730,000 people and invest £12billion a year as part of an £88billion contribution to economic activity through the supply chain and interactions with other sectors. And they add £6billion to the government's coffers through taxes.
Independent analysis from Vivid Economics and Cornwall, both investigating the likely consequences of Brexit, believe the government's focus on the energy 'trilemma' of securing supplies while cutting carbon emission and providing affordable energy will not go away.