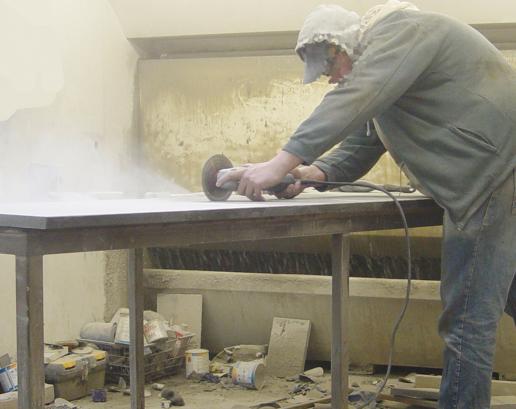 Australian mason Karl Bartosek says dry cutting engineered quartz for worktops has left him with silicosis and rheumatoid arthritis. It is believed to be the first time silica dust has been associated with rheumatoid arthritis.
The Health & Safety Executive (HSE) reminds stone companies of the dangers posed by high silica content dust as a stonemason in Australia who dry cut engineered quartz sues 10 distributors because he blames them for his silicosis and rheumatoid arthritis.
This is believed to be the first compensation claim associating  rheumatoid arthritis with exposure to Respirable Crystalline Silica (RCS).
A report by John Cherrie of the Institute of Occupational Medicine, Edinburgh, on RCS states: "Epidemiological data also supports an association between RCS exposure and autoimmune diseases such as scleroderma, rheumatoid arthritis and systemic lupus erythematosus. Although there was no clear exposure-response relationship evident for these diseases."
For more dust guidance from HSE see www.hse.gov.uk/lung-disease/silicosis.htm.
The case in Australia is being brought by 39-year-old Karl Bartosek, the father of two, who says working engineered quartz, which has a more than 90% silica content, has left him debilitated with the diseases.
He is seeking compensation, alleging he was not warned by suppliers about the risks.
The matter is reported in the Gold Coast Bulletin newspaper of 9 August.
According to the report, Karl Bartosek has to take a daily cocktail of medications.
Karl's lawyer is Roger Singh from Shine Lawyers, who is making a name for himself as an expert on lung disease cases.
He says he is confident Karl's case of rheumatoid arthritis will not be an isolated incident and is hoping to hear from other masons suffering from the disease after exposure to RCS. He can be contacted through the website www.shine.com.au.
Karl Bartosek is urging all stonemasons exposed to RCS to get tested for rheumatoid arthritis as well as silicosis.
He links his illnesses to long-term exposure resulting from cutting worksurfaces without using dust suppression. Karl says there were never any warnings from the suppliers about the danger.
Some natural stones, especially sandstones and granites, also have a high silica content, although engineered quartz used for kitchen and bathroom worktops has higher levels than almost all natural stones.
Karl Bartosek told the Gold Coast Bulletin he had suffered financial hardship by having to employ more people to cover his workload. He also says he is no longer able to do "everyday stuff" with his two children. "They're boys and it's a struggle."
Symptoms for silicosis are a shortage of breath and for  rheumatoid arthritis stiffness and pain in the joints, plus fatigue in each case.
Karl says: "The practices of cutting dry should be changed to cutting wet. No-one ever told me about the dangers of getting these diseases from the dust and [I want to] warn people you can get sick from it. It isn't good."
In America, the legal limit on exposure to respirable crystalline silica (RCS) dust has been reduced to half the UK level. The new limit was introduced at the start of this month (September). The new limit cuts the exposure to RCS to 0.05mg of respirable crystalline silica (RCS) per cubic metre of air in an eight hour day.
In Europe, RCS is being officially categorised as a carcinogen (something that causes cancer).
How lethal RCS can be is illustrated in a book published in 1986 about a case in 1930s America where RCS is known to have killed 700 workers as they dug a tunnel through high silica content rock. Many more actually died but their deaths went unrecorded. The book is called The Hawk's Nest Incident – America's worst industrial disaster (ISBN 13: 9780300035223).
In the UK, the Health & Safety Executive has made a video of an interview with stoneworker Terry who has silicosis. Terry visited the Natural Stone Show in London this year. You can read about the effects of silicosis and watch Terry's video at bit.ly/stone-silicosis.