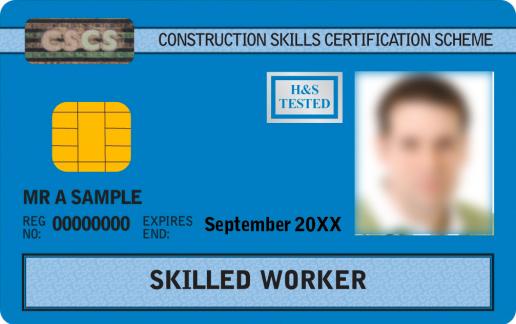 Andrew Weeks has been sent to prison for more than three years for forging official documents including CSCS cards.
A man who forged documents including CSCS cards, Construction Industry Scaffolders Record Scheme (CISRS) cards, forklift truck operator certificates, Powered Access Licences and CCDO cards for demolition operatives, has been given a three-year-eight-month prison sentence.
Online trader Andrew Weeks was sentenced on Friday 19 October at Warwick Crown Court after pleading guiilty to offences under Section 9 of the Fraud Act 2006 for the production and sale of fake documents.
On his website, Weeks blatently advertised 'Fake CSCS cards for sale' and 'Buy CSCS cards online.'
The court heard that in October 2013 Weeks, a steward at Hinckley Sports Club in Leicestershire, bought the domain name of Nuneaton-print.co.uk and started to trade as a printing business.
He offered a variety of certificates, all of which were counterfeit, including educational qualifications such as City & Guilds, O-levels, A-levels, and even doctorates.
More seriously, the 53-year-old offered the work-based certificates and cards that would allow people to obtained driving jobs and work in safety-conscious areas without the relevant qualifications.
Railway engine rolling stock certificates and gas and electricity competence certificates were also on offer, as were driving licences and fake St John Ambulance certificates.
The prosecution was brought by the Warwickshire Trading Standards department. Its investigation into Weeks was supported with information from the Construction Industry Training Board (CITB) and a number of card schemes including the Construction Skills Certification Scheme (CSCS) and the Electrotechnical Certification Scheme (ECS).
Jane Sarginson, prosecuting, pointed out that with some of the work-based skills cards "it was impossible to tell the difference between the originals and the frauds".
When Weeks, who charged £15 to £30 for each bogus document, was first questioned, he claimed they were just joke documents in names such as Yoda and so forth.
Some of them were, but trading standards officers found evidence of him providing documents with genuine names on them.
Jailing Weeks, Judge Barry Berlin told him: "The business was simply set up to create counterfeit certificates. That advertisement on the website makes it clear the business was set up for that purpose."
The judge pointed out that as well as referring to CSCS cards in particular, the advert boasted: "In fact we can produce any certificates or cards you want."
Judge Berlin said: "The list included some 230 different types of counterfeit documents from 20 different authorities. In my judgement it was likely to and was calculated to deceive."
Graham Wren, Chief Executive at CSCS, said after the case: "This is another example of the industry working together to tackle card fraud. CSCS will always support the authorities to identify and act against those attempting to deceive construction employers.
"This case also highlights the need for thorough card checks, ideally electronically, to ensure construction workers are who they say they are and have the correct qualifications for the job they do on site."
CSCS also sued weeks for copyright infringement and he was ordered to pay damages of £6,000.
Steve Brawley, Chief Executive at ECS said: "We hope that this case will serve as a message to would-be fraudsters that their actions will not be accepted. Fraudsters on construction sites present a danger to themselves and others and we need to work together to stamp this activity out."
Ian Sidney, Fraud Manager at CITB, said: "This sentence shows just how serious construction card fraud is and the lengths that CITB and the whole industry will go to in order to stamp it out.
"The use of fake cards could easily lead to accidents, injuries or even fatalities where contractors do not have the required skills, training or qualifications. Employers must remain vigilant when checking workers' documentation and keep an eye out for any suspicious activity."
What to do if you spot a fraudulent card
Employers are urged to conduct regular checks on cards.
If you think you know someone using a fraudulent card you should:
Retain the card if possible
Make photocopies of front and back
Record cardholder's name and address
Ask the cardholder where the card was obtained from
Call the local police and report the matter
Refuse access to site (subject to company rules)
Forward copies of all evidence to CITB Quality Assurance Team, Building 16, Bircham Newton, King's Lynn, PE31 6RH, marked 'SUSPECTED FRAUDULENT CARD' with details of the crime number given by local police.
You can also email

[email protected]

.