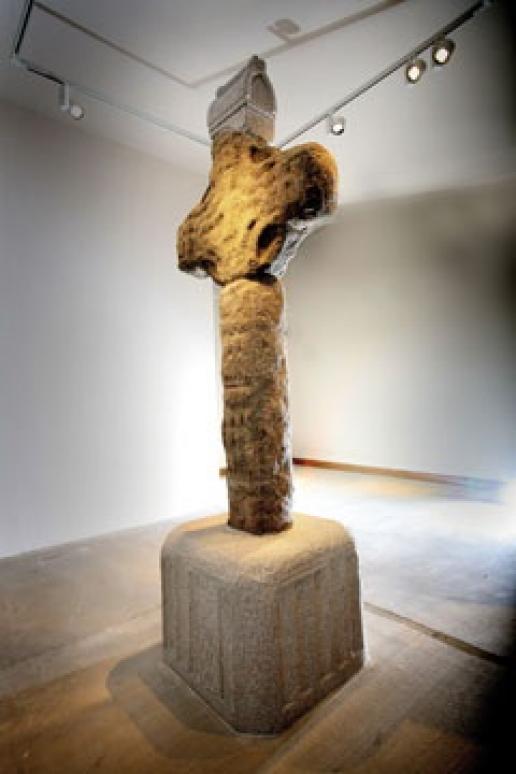 Stone and conservation specialist Cliveden Conservation from Maidenhead, Berkshire, and Northern Ireland stone specialist S McConnell & Sons, with its heavyweight CNC machinery, have worked together to solve a centuries old puzzle of what a 1,100-year-old cross originally looked like.
The result was revealed when the conservators' wraps were removed from the Downpatrick High Cross, restored to take centre stage in a new, specially constructed Christian Heritage gallery in the Down County Museum in Downpatrick, Northern Ireland.
In late 2013, the Mourne granite cross, weathered by centuries of exposure to the elements, was removed from the front of Down Cathedral and, just before Easter last year, was replaced by a replica.
Conservators brought the original into the protected and controlled environment of the museum and began the conservation process.
Now, for the first time in many generations, the restored cross can be seen not only cleaned and conserved for posterity but also complete, with a new base and capstone made by S McConnell & Sons from newly quarried Mourne granite raising it to a height of 3.6m.
The new socket stone has been reproduced from the original, which has been re-used as a font in Down Cathedral, while the capstone has been modelled on a surviving example preserved in the collections of University College Dublin.
When an extension to the museum that is currently being built is finished, it will feature a full interpretation of the complex carvings on the cross, explained for modern audiences, while new drawings will reveal what archaeologists believe it looked like when it was originally carved 1,100 years ago.
The museum extension should be finished before the end of this year. Objects found in excavations on the Hill of Down, and from other sites in the area, such as Inch Abbey, will be displayed. An adjacent tearoom will have views of Down Cathedral, Inch Abbey and the Mound of Down early Christian fort.
Present as the renovated Downpatrick High Cross was revealed, Naomi Baillie, Chair of Newry, Mourne & Down District Council, said, "This wonderful High Cross, originally created as a 'prayer in stone', will continue to play an important role in our lives.
"We are extremely grateful to the Dean and Chapter of Down Cathedral for placing this amazing monument on loan to the museum. Our thanks, too, must go to the Northern Ireland Environment Agency, the East Border Region and the European Union's INTERREG IVA Cross-Border Programme for the financial investment they have each made in this unique undertaking.
"The original craftsmen-monks who created the Downpatrick High Cross could hardly have imagined how long their work would last – and they would certainly have been bewildered at the array of state-of-the-art technology brought to bear by the masons of
S McConnell & Sons of Kilkeel and the conservators from Cliveden Conservation. I hope and believe, however, that they would be happy to see this wonderful piece of religious art protected and still revered in its wonderful new location."