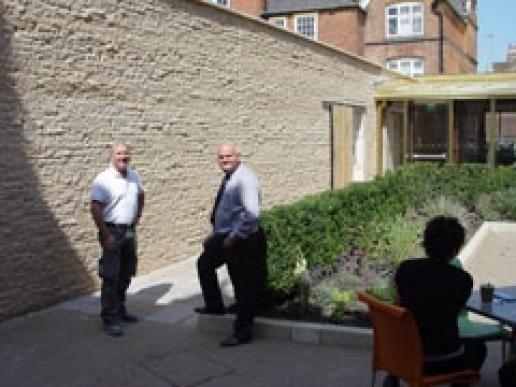 A new Richard III visitor centre, with walls and floors in a mixture of Ancaster Hard White and Basebed limestone from Lincolnshire and Wattscliffe Lilac sandstone from Derbyshire (supplied by Realstone in Derbyshire), was opened on Saturday (26 July) in Leicester by the Mayor, Sir Peter Soulsby.
Outside, new porphyry paving supplied by Hardscape, with outlets in Bolton, Stratford upon Avon and Belfast, was still being laid by the Casey Group, based in Rochdale, which also created the new gardens in Leicester Cathedral opposite the visitor centre.
The new paving is part of the regeneration of the centre of Leicester to make it a more attractive place for visitors, especially now the city has won the argument with Ricrad III's descendants, who wanted the memorial to be in York Minster, about where the bones of the king should be laid to rest – they are going into Leicester Cathdral, where they will be marked by a Swaledale Fossil memorial in the central aisle (Natural Stone Specialist magazine July / August 2014 issue – click here to view).
But although that work is still progressing, Leicester did not want to miss the opportunity of opening the Richard III visitor centre in time for the school summer holidays.
The visitor centre, with impressive high-tech exhibits, has been built on to the old school on land that was the car park where Richard's grave was discoverd. The grave has been left open and covered with glass so visitors can see it. The bones as they were found in the grave are projected into the grave.
Visitors tread nervously on the glass to see into the grave, but they should not worry. The glass is also holding up the roof, which is topped with brass and weighs five tonnes.
The walls and floors of the visitor centre have been constructed using Ancaster Basebed and Hard White limestone, and Lilac Wattscliff sandstone supplied by Realstone, based in Chesterfield, Derbyshire, after being extracted by Realstone's sister company, Block Stone. The stone was fixed by Amici Building Contractors Ltd.
At least 100,000 visitors are expected to visit the centre and the cathedral oppposite each year.