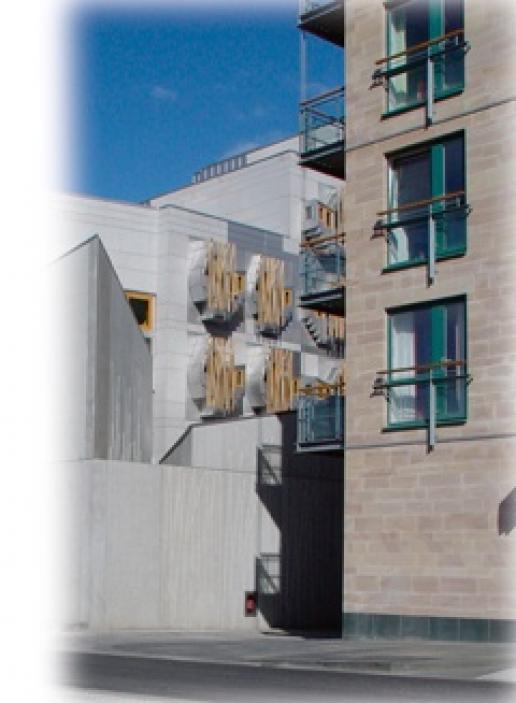 The varied geology of Scotland has created distinct built environments that stretch back 5,000 years.
The geological history of Scotland has given the nation as wide a range of stones as are to be found almost anywhere on earth in an equivalent area. Magma squeezed up into the crust gives it granites dating back at least 2.5billion years. Volcanos, shallow seas that covered the land when tectonic plate movement put Scotland in the tropics, rivers and glaciation have all played their parts in creating the variety of sandstones and slates, schist and marble that have been used to create the built environment of Scotland.
The country has some of the most complete examples of early buildings in Europe. The neolithic settlement of Orkney's Skara Brae, uncovered by a storm in 1850, has the best preserved group of prehistoric houses in Western Europe. They were built at the same time as the Egyptians were building their first pyramids about 5,000 years ago.
There is an example of the variety of stones to be found in Scotland in the Canongate Wall of the Scottish Parliament, opened by the Queen in 2004 after devolution had, in 1999, given Scotland its own parliament for the first time since 1707. There is marble from Iona, slate from Eriskay, Caithness flagstone from Wick, Clashach sandstone from Elgin, Giffnock from Renfrewshire and Knowehead from Dumfries.
The stones were shaped by Fyfe Glenrock, part of the UK stone and machinery group Pisani, and fixed by Watson Stonecraft, who went into receivership in 2008.
The Scottish parliamentary building includes 6,000m2 of cladding in Scottish Kemnay granite, which was one of the last granites still in production in Aberdeen, where there were once so many granite quarries that it was known as the granite city. With the new parliamentary buildings finished, Kemnay Quarry went back into mothballs. The 'trigger' features on the Scottish Parliament are Belfast Black granite from South Africa.
Another impressive modern building in Edinburgh is the Museum of Scotland, clad in Clashach sandstone from a quarry near Elgin. The stone was worked and fixed by Stirling Stone. The design by Benson & Forsyth is undoubtedly modern but is nevertheless informed by neighbouring buildings that include the City's famous castle.
Clashach Quarry was taken over about a year ago by Tennants (Elgin), who are investing in it to re-establish the stone as a viable alternative to imports. "There's as much of it as anyone wants," says Gavin Tennant, who runs the business.
He is in the process of moving the factory out of the quarry so that processing can be streamlined. He is considering investing in saws and possibly a tiling line for flooring, because although currently 90% of what Tennants supply is ashlar, they do also supply the stone as other products, including flooring, and believe there is potential to sell more.
Tennants have been involved in quarrying granite and sand & gravel for many years, but not dimensional stone. They had the chance to buy the Clashach quarry a few years ago but for various reasons it didn't happen. Then came the opportunity to buy the business of Moray Stone Cutters, who ran Clashach Quarry and the smaller Spynie Quarry, and they took it. They have been trading under the Tennants name but have decided now to revert to using the name of Moray Stone Cutters because it is well known in the area. They have just had confirmation of orders for their stone from a project in Weston-Super-Mare (where 1,000m2 of Clashach has already been used as coping for the harbour wall) and for Roslyn Chapel in Edinburgh, which is making the coming year look positive for them.
Having got a taste for the dimensional stone industry they are now looking at producing Aberdeenshire cut granite again from their Avochie Quarry about 30miles west of Kemnay. They currently only supply crushed granite and concrete from the site.
Bardon Fyfe say they still have stocks of the local grey Kemnay and pink Corrennie granite that they supply but that the quarries are no longer in production. They bought Clashach block from Tennants to produce the copings for the Weston-Super-Mare harbour wall, although they also supplied 1,500m2 of Chinese paving.
Lately they have been working reclaimed granite to carry out repairs in Aberdeen, where once there were around 150 quarries producing granite that was exported all over the world the world, as well as being used locally to build the city.
Allan Bruce, who runs Fyfe Glenrock, says they are exceptionally busy, but that most suppliers are competing to sell imported stone, which is keeping prices depressed. "There's no margin for anyone to enjoy. We tend to go for quality and look for the niche market, but when you employ 30 people, as we do, you have to keep them busy."
Tennants may offer a bright spot for Scottish stone production but elsewhere the news is not so good. Stirling Stone's quarrying arm, Natural Stone Quarries, have closed down and the five quarries they worked are not currently in production. Ledmore Marble, who briefly sent block to Italy to be produced as slab and tiles a few years ago, are now only producing chips for gardens.
In the north, Caithness production is doing better. Caithness Stone Industries have spent a lot on new production equipment and A&D Sutherland are planning to do so in order to double production. Mark Mancini, who manages A&D Sutherland, says he is encouraged by the level of orders coming through.
The Caithness stone producers emphasise that their stone is ideal for just about any building application – walls, floors, roofs, worktops – although it is particularly popular as paving. It has notably been used in the Royal Mile leading up to the castle in Edinburgh, but has also been used in many other locations in Scotland and further afield – A&D Sutherland are currently supplying it for Tooley Street in London as well as Clayton Street and Nelson Street in Newcastle. These are just the latest streets to be paved using Caithness in Newcastle.
Caithness Stone Industries have recently won their biggest contract so far at the new, £56million Aberdeen University library. They will supply 7,000m2 of calibrated paving inside and flame finished paving outside, as well as 1,500m2 of walling. They are using their waterjet cutter to cut stainless steel lettering for insetting into the stone. They are also supplying paving and planters for Newcastle.
Tradstocks opened Cullaloe quarry five years ago to supply stone to match the Craigleith stone of Edinburgh Old Town, the Craigleith Quarry having been built on. And an entrepreneurial farmer, Brian Binney, trading as Denfind Stone, who started selling stone he had recovered from disused quarries, is expanding his business.
Historic Scotland, through the Scottish Stone Liaison Group (SSLG) that they finance, have been highly supportive of the stone industry in Scotland and have been ahead of the rest of the UK in championing the industry. SSLG, which brings together all interests involved in stone in Scotland – conservators, clients, landowners, developers, planners and the stone industry itself – is still working with producers to open a quarry to supply Glasgow and has been trying to encourage producers to re-open some of Scotland's slate quarries.
SSLG has worked with the Scottish Qualifications Authority to ensure training for stonemasonry is industry relevant. It has introduced a National Apprenticeship Award and a £2million bursary scheme with money from the Heritage Lottery Fund and Scottish Enterprise.
It is currently working with the British Geological Survey in Scotland and Historic Scotland on a Scottish version of the English Heritage / British Geological Survey Strategic Stone Study. And it plans to hold the first of what it would like to become an annual lecture or seminar about stone later this year.
Historic Scotland are still at the forefront of stone and have commissioned from Heriot Watt University a survey into the embodied carbon content of stone to fnd out just how green it is, which should help producers answer questions that they are increasingly being asked.
The report's results were presented at a conference called 'Energy Efficiency and Sustainability in Traditional Buildings' hosted by Historic Scotland on 24 March at The Hub in Edinburgh.
The neolithic settlement of Skara Brae, built from the local stones lies near the white beach of the Bay of Skaill on Orkney. Skara Brae is the best preserved group of prehistoric houses in Western Europe. It dates from 3,000BC – the same time as the Egyptians were building their pyramids.
The new section of the Museum of Scotland In Edinburgh was built using 100mm thick Clashach.
The galleries of the original Victorian section of the museum are currently being repaired and repointed by Stone Engineering, the specialist stone cladding, restoration and flooring division of Land Engineering (Scotland) set up in 2008.
Now with a turnover in the region of £5million, Stone Engineering have already successfully completed contracts that include the £750,000 repair and conservation of historic Portencross Castle on the Clyde at West Kilbride, the £1.4million construction of 2,500m2 of rainscreen façade at the Cube development in central Edinburgh and £250,000 worth of granite cladding to a new office block in Queens Drive, Aberdeen. Current contracts include stone cladding to the new Vet School for Edinburgh University, restoration works to the Scottish National Portrait gallery, Edinburgh, and cladding and restoration of the new Dundee City Council headquarters.
Gardner Malloy of Cockenzie, East Lothian has been working as a self employed mason in Scotland for more than 20 years producing architectural carvings and carrying out restoration and repair work. The occasional headstone commission exposed his lack of knowledge of lettercutting, so he remedied the shortcoming by attending a number of courses with respected lettercarvers. Now he designs his own lettering and his reputation for skilled chisel work and public art regularly wins him work (such as that above) from Scottish local authorities and five or six bespoke headstones a year.
His designs start from a mason's perspective, which he considers one of his strengths. He is working on two major urban public art work projects now, one in Dunfermline and the other in Falkirk. You can see more of his work at www.gardnermolloy.co.uk.