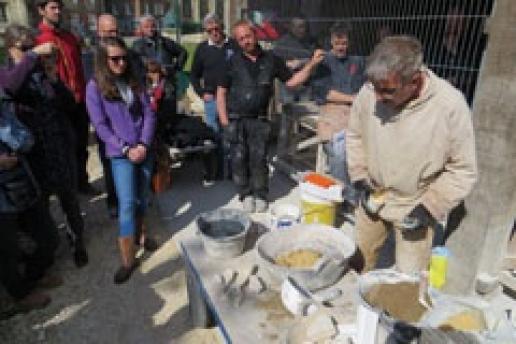 Nigel Copsey demonstrates hot lime mixing during the Building Limes Forum event at York in May.
The use of natural hydraulic lime (NHL) mortars to replace Portland cement mortars used to repair ancient stone walls previously might have been as harmful to the stone as the Portland cement was. What should have been used is a hot mix lime mortar.
That is the message from the Building Limes Forum that it is currently spreading with evangelical zeal to the conservation sector to prevent further damage to the built heritage of the UK.
It took the message to a two-day event in York last month (14 & 15 May) where it was well received by an audience of 88 architect and stonemason conservationists and others interested in the sector. Part of the event was at York Minster, where Master Mason John David is a convert and has been using hot mix lime for five months.
Read more about the York event and the hot lime argument at bit.ly/hotlime.