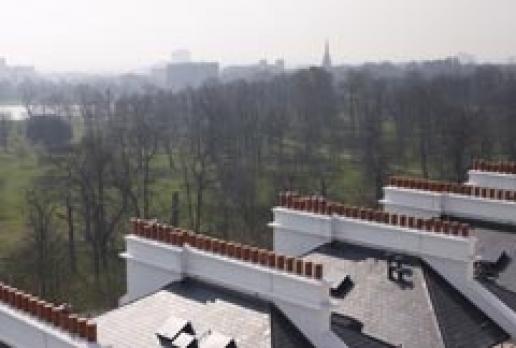 One of London's most prestigious developments, The Lancasters, which overlooks Hyde Park, has been topped off with Canadian Glendyne slates from UK roofing supply company Cembrit.
The Lancasters is part new build part refurbishment of an elegant parade of 15 stuccofronted Grade II listed houses. The work has created 77 highend apartments with prices that start at £2million for a studio.
Each apartment has been elegantly adorned with stonework supplied by Chiltern Marble, which provided up to six bathrooms in each of the units. Chiltern Marble sourced, processed at its 2,000m2 factory in Bedfordshire and installed a total of 3,200m2 of stone. It included 206 vanity tops, 46 bath surrounds, and six bookmatched Calacatta Oro wall features for master bathrooms.
Chiltern Marble also made 1200 x 610mm vein matched Sahara Noir floor tiles for the master bathrooms. It fashioned the Pietra Serena for the spa and concierge areas and made Statuario treads and risers to the duplex apartment staircases.
When it came to the roof, contractors Richardson Roofing suggested Glendyne to project architect Nilsson of London as its blue/grey colour is a good match to the Welsh natural slates that had been used on the original parade.
Glendyne natural roofing slate, available only from Cembrit in the UK, comes from a quarry at Saint Marc du Lac Long in Quebec, Canada, which operates an externally audited quality management system based on EN ISO 9001. Glendyne, like all natural slate from Cembrit, is tested to BS EN 12326-1:2004.