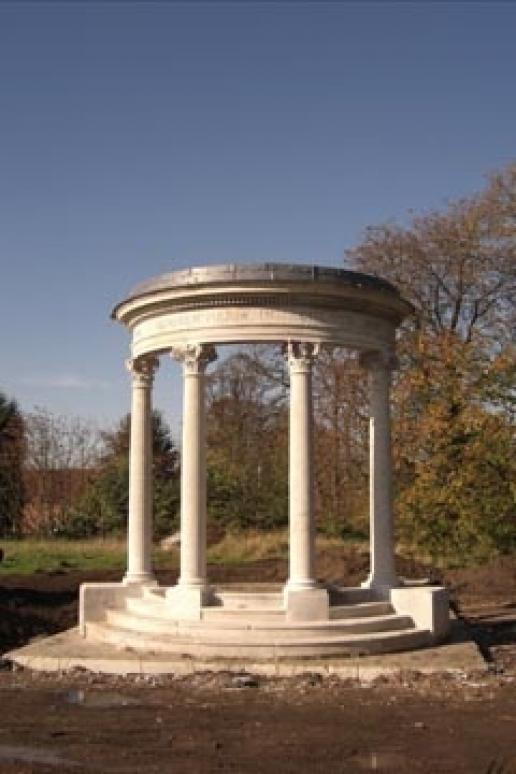 A Georgian Portland limestone temple discovered dismantled in the cellar of Bessborough House, London, (now Parkstead House) when it was bought by what is now Roehampton University in 2000 is being reinstated by Chichester stone and conservation specialists CWO.
The award-winning stonemasons have completed the first phase of work to rebuild the Ponsonby Temple in the grounds of the University that was only established in 2004.
The neo-classical temple, built in 1760 for William Ponsonby, the 2nd Earl of Bessborough, was designed by Sir William Chambers, a prominent Georgian architect who also built Bessborough House.
The dismantled stones of the temple had been stored in the cellar of the house by Jesuit Priests. They bought the house in 1860 and dismantled the temple early in the 20th century.
Work carried out by CWO includes cleaning the stonework and carrying out extensive repairs and replaced missing stones with new work from their workshop, including a new base and top blocking course.
The restored and newly worked stone was transported from Chichester to London to be erected at the chosen site, 127m from the front of the house.
The temple was set out and built at a 56º angle offset from the face of the façade so that it presents the perfect view head on as you walk out of Parkstead House.
The reinstatement work was designed and co-ordinated by Donald Insall Associates, architects and historic building consultants, who began by producing an inventory of the stones in storage. This was followed by a detailed survey of the masonry and the development of design proposals for the reinstatement of the temple on its new site. The design of all the new stonework was based on the surviving fabric and archive material.
Fundraising for the project has been chaired by the internationally renowned interior designer Nicholas Haslam, the great-great-great-great grandson of the 2nd Earl of Bessborough, who launched the appeal because of his family connection.
The next phases of the work will include putting up the door casing and building the anti chamber, as well as putting on a roof.
John Rye, Contracts Manager at CWO, said: "The CWO team have enjoyed working on this exciting project and look forward to completing the further phases of restoration so that students and guests alike can enjoy this beautiful temple and experience a sense of history when visiting the university."