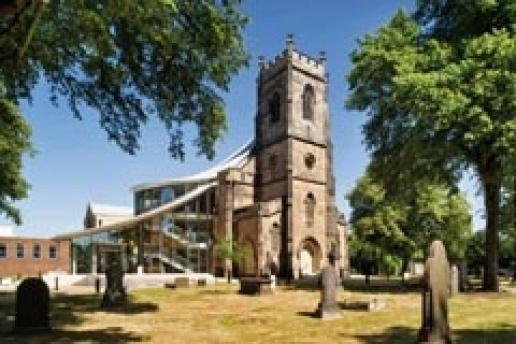 English Heritage wants to mobilise even more volunteers to help save the nation's built heritage.
English Heritage, cash-strapped from Government cuts, announced the new crowd-sourcing initiative at the launch of this year's 'At Risk' register in the Granary Building this month (10 October). The Granary Building was itself rescued from dereliction as part of the redevelopment of King's Cross railway station into a campus for the University of the Arts.
This is the first crowd-sourcing project initiated by English Heritage. It is aimed at tackling heritage at risk by working with other bodies in the heritage sector and local authorities to provide the means for members of the public to volunteer to carry out surveys of England's 345,000 Grade II listed buildings.
English heritage expects the initiative to enable thousands of individuals passionate about the built heritage to get more actively involved in protecting it.
English Heritage says 19 pilot surveys run over the past year indicate there is a vast potential army of volunteers keen to take an active part in saving local heritage.
The pilots were carried out by varying combinations of councils, civic groups, consultants and volunteers.
With training from English Heritage and with professionals checking the results, volunteers surveyed around 5,000 Grade II listed buildings all over the country.
English Heritage, together with other heritage bodies, will analyse the results of these pilot schemes and come up with the best model for conducting surveys and an app for recording data while out on site. The data will be published once verified by local councils.
At Risk
This year's Heritage At Risk Register that was launched on 10 October shows there are now 5,700 Grade I and II* historic buildings, scheduled monuments and archaeological sites, registered parks, gardens, landscapes and battlefields, conservation areas, places of worship and protected wrecks at risk.
The good news is that this is down from 5,831 last year. English Heritage says it is on target to meet its challenge of removing 25% of entries from the 2010 Register by 2015.
However, the cost of repairs has gone up and the average deficit between the cost of renovation and the end value of buildings on the Register now stands at £450,000.
English Heritage says this suggests that even more creative and inspiring partnerships are needed – like the one between English Heritage and Natural England's Environmental Stewardship scheme, which rewards land owners for looking after heritage on their land. It has led to the rescue and removal from the Heritage At Risk Register of 97 sites all over England in the past year.
In the year, English Heritage gave grants of £10million to 191 sites at risk while the Heritage Lottery Fund (HLF) awarded more than £6.3million to 43 projects to help pay for urgent work to 57 buildings.
Angel Awards
The Angel Awards that recognise the role of volunteers in removing heritage from the At Risk register take place at the Palace Theatre in London on 21 October