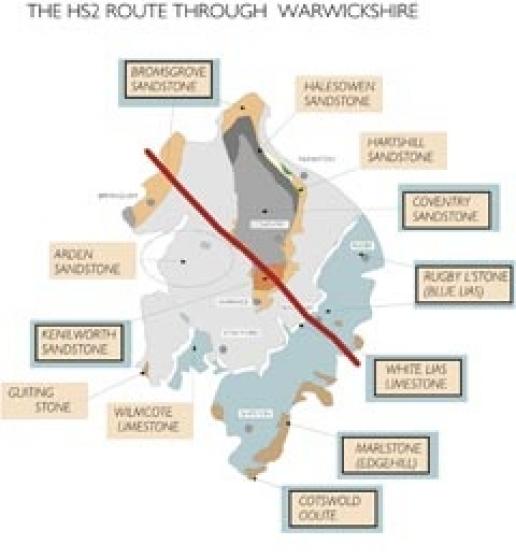 While the national press has concentrated on heritage that could be lost and blighted by HS2, some see the project as potentially a unique opportunity to obtain stone for the repair of historic buildings.
Transport Secretary Justine Greening confirmed this month (January) that the Y-shaped high-speed rail line linking London with Birmingham, Manchester and Leeds is to go ahead.
Costed at £32billion, the new rail line will go through areas that contain stones used on historically significant buildings but which are no longer commercially available.
With more tunnels and cuttings proposed to reduce the noise impact of the trains on residential areas, significant quantities of dimensional stone could be extracted, just as they were when Isambard Kingdom Brunel tunneled through Box Hill near Bath for the Great Western Railway in 1836-41.
Consultant Maurice Rogers, based in Rugby, Warwickshire, has superimposed the route of the railway line on to a map showing the geology of Warwickshire (right).
Maurice was featured in Natural Stone Specialist last year (July 2011 issue) when he sourced Arden sandstone, which was then extracted by Nick Rymer's Historic Stone company, for repairs to Baddesley Clinton, a moated house in Warwickshire dating back to the 15th century and now owned by the National Trust.
Baddesley Clinton is one of the buildings that could benefit from HS2 because the line will be going through areas of Arden sandstone. Warwick and Kenilworth Castles could also benefit, along with more humble parish churches and village cottages.
There would be considerable obstacles to overcome to secure the stone – not least the logistics of getting it out in useable blocks and off the construction site.
But Maurice points out that using the stone in this way could help counteract the significant opposition the proposal is currently encountering, not least because of the impact it will have on historical buildings and rural communities.
Maurice is seeking wide-ranging support for his proposal, including from English Heritage, the National Trust and the English Stone Forum.
Brian Marker, who was chairman of the English Stone Forum until he stepped down at the beginning of this month and was heavily involved in planning when he worked at the Office of the Deputy Prime Minister, told NSS that there could be a pertinent wider point of considering the dimensional stone possibilities of any infrastructure development.
But he says the HS2 is premature as the project is so far off and might yet never take place. Maurice Rogers, on the other hand, believes if the conservation industry is to have any chance of success it needs to start mobilising quickly.
"The train line could give us adequate stocks of stone to last for a hundred years," says Maurice. "I haven't a clue how we get there or how we finance it but it must be worth trying."