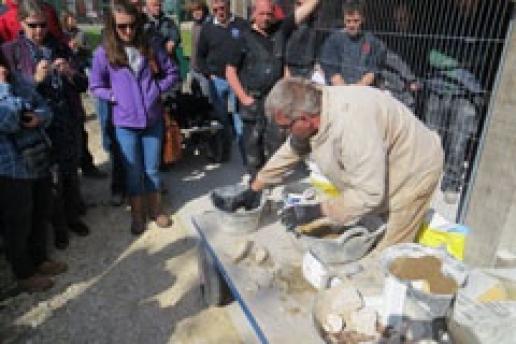 Nigel Copsey mixes hot lime, dispelling some myths about the danger of it.
Over the past 15-20 years a lot of earlier hard cement mortar repairs and repointing of stone buildings have been replaced using lime mortar to counteract the accelerated decay caused to the stone by the hard cement.
But sometimes, and even more so recently, natural hydraulic lime (NHL) has been used to make the repairs and that might be just as bad for the stone as the hard cement was.
What the industry should be using, says the Building Limes Forum, is a hot mix mortar. And on 15 May it took that message to York, where it held a two-day seminar and demonstration about hot-mix lime mortars. 
The demonstrations took place at York Minster, where Master Mason John David started using hot mix limes five months ago and expects their use to increase at the Minster.
The audience was a mixture of 88 conservation architects and stonemasons, mostly local but some from as far away as London, Orkney and Ireland.
The argument was summed up in a presentation at the Building Limes Forum (BLF) event in York by Nigel Copsey and Ben Gourley from the Earth, Stone & Lime Company. Both are Research Associates of the Department of Archaeology at the University of York. Nigel is a stonemason and building conservator and Ben a buildings archaeologist and conservator.
Their argument goes like this: historic mortars in the UK rarely exhibit a compressive strength greater than 3MPa (most, in fact, less than this). Many walls were built with an earth mortar and only pointed using lime in a mix with sand. Recently, lime mixes of 1:2.5 or 3 with sand have been common, but have used NHL. After 28 days a 1:3 mix of NHL2 has a compressive strength of 4MPa, NHL3.5 of 5.5MPa, and NHL5 of 7MPa. After two years, when NHL has reached its initial strength, the corresponding figures are 11.8, 16.1 and 17.2MPa (figures are from Paul Livesey's paper 'Portland Cement Properties Through the Ages' in the book 'Building Limes in Conservation' edited by Ian Brocklebank).
Nigel and Ben said in their paper: "The compressive strength of a typical NHL3.5 after 28 days will already be up to three times stronger than a typical, historic hot-mix mortar and more with an NHL5."
The problem with hard mortars is that they trap moisture in stones, which can lead to decay. Weaker mortars facilitate the migration of moisture out of the stone into the air as well as accommodating movement in a building.
But why a hot mix rather than using a lime putty? 
The few historic records that exist indicate that hot mix would have been the norm in the past and lime putty used only for fine plastering. The hot mixes historically would have used quicklime. On slaking (adding water) quicklime expands (2.2times, according to tests reported by Nigel Copsey and Ben Gourley). That means what starts out as a 1:3 mix ends up as 2.25:3.
The authors: "This is very much richer in lime than the standard 1:3, but equates very well with historic precedent and, therefore, with the original mortars of most of the buildings encountered by the authors in practice."
When Nigel demonstrated the mix at York Minster on the second day of the BLF event it was evident how 'sticky' the hot mix lime-rich mortar was. After only a little working, Nigel was able to turn a trowel of it upsidedown without it falling off.
He said his experience told him this hot mix mortar performed better in terms of mechanical and bond strength than even a similar lime-rich mortar made from lime putty, although he admitted no-one had been able to work out quite why. The benefits seem to come from the hot mix itself but do not require the mix to be used hot – in fact, for plastering it would normally be left a least a day to improve before being used.
For more information about hot lime mortars, news from the Building Limes Forum and how to join it, go to www.buildinglimesforum.org.uk