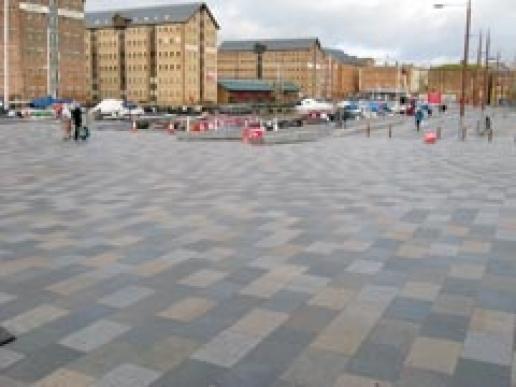 A £2.7million project just reaching its conclusion after 12 months is breathing new life into the area around Gloucester's Victoria Dock, including an area that had previously been a public car park.
Civil engineering specialists Britannia carried out the work on behalf of the South West Regional Development Agency.
The new public realm area now comprises a natural granite square and events area, enhanced with three pieces of commissioned public art, tree planting, and viewing lecterns at vantage points around the site. Granite benches have been modelled into a 100m retaining wall where the natural landscape slopes down to the docks.
Three of the main natural stone features, namely the 6,500m2 of Chinese granite paving in mixed colours, the black granite seating and the Scottish Whinstone kerbs and setts used throughout the scheme, were sourced from Fyfe Glenrock, part of the Pisani group based in Aberdeenshire.
The area had to remain open to the public throughout the contract and due to the social importance of the site, a local historian was consulted. During excavation work, hidden culverts and an old flour mill were uncovered, all now duly recorded.
Three pieces of public art have been commissioned for the new square: a floorscape from artist Katayoun Dowlatshahi, which uses a series of curved timbers flush with the paving to represent boats entering the docks; a 23m high steel candle sculpture created by Wolfgang Buttress, with words from war poet Ivor Gurney round the base; and an 1850 5-ton hand operated crane, refurbished by Britannia.