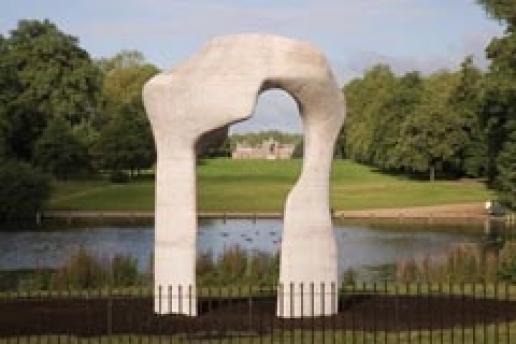 It is called The Arch. It is a work by Henry Moore, made of Italian travertine. It is priceless. Imagine if it had been damaged when London stone and conservation specialist PAYE was restoring and rebuilding it in Kensington Park. PAYE's insurers did. And they still insured it. "They took a pragmatic approach to it," PAYE Director Robert Greer told NSS. And PAYE wanted to do it. "There are jobs that come along once in a lifetime and you don't want to see someone else do them," said Robert.
The Arch is created from seven stones weighing a total of 37 tonnes. It was presented by Henry Moore to the nation for siting in Kensington Gardens in 1980 – two years after the artist's 80th birthday exhibition at the Serpentine Gallery, London. In 1996, it became apparent it had become structurally unstable and it was carefully dismantled and put into storage.
In January this year, under the project management of Rider Levett Bucknall on behalf of The Royal Parks, PAYE was appointed to undertake the work needed to return The Arch to Kensington Gardens. It included cleaning and restoring the stones, creating a new internal skeleton of 150mm stainless steel doweling to replace the original bronze dowels and overcome the previous structural issues, and sourcing travertine from the same quarry in northern Italy from which The Arch was originally carved to make repairs as necessary. It then had to be re-erected. There is Code Six and Code Eight lead between the joints, which are pointed on the face.