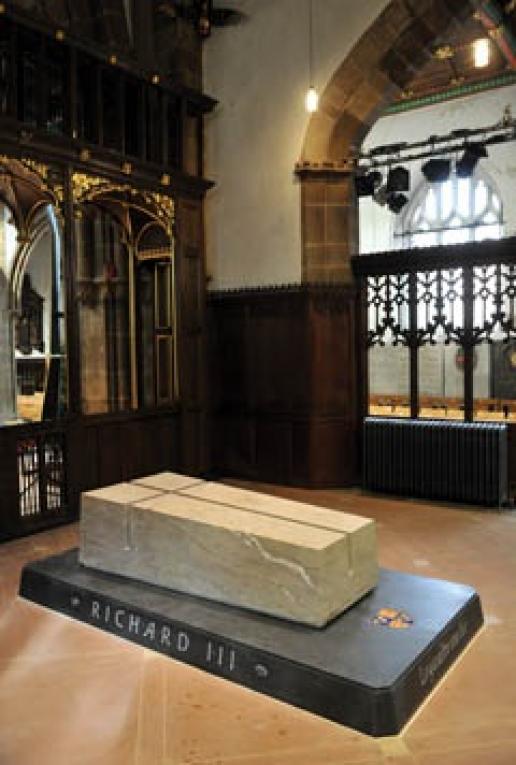 The ceremonial burial of the bones of Richard III in Leicester Cathedral in March, more than 500 years after the King was killed at the Battle of Bosworth Field nearby, drew visitors from all over the world.
The tomb that now protects the royal remains is a powerfully simple statement in limestone. A block of Swaledale Fossil with a deeply incised cross cut into it sits on a plinth of Irish Kilkenny limestone.
The tomb was designed by van Heyningen & Haward Architects.
The monument is produced from a single, 3.5tonne block of Swaledale stone that has been sawn into a trapezoid, polished, and a simple cross cut deeply into the upper face.
The tomb was originally intended to lie on a plinth of Pietra Dura, but that was changed for the Kilkenny stone, into which is carved the name of Richard III, his dates and motto (Loyaulte me lie – Loyalty binds me). His coat of arms is inlaid.
The architects say the stones were chosen both for their inherent beauty and to ensure the prominence of the carved features.
The tomb has been included as the central feature of the reordering of the chancel and crossing at Leicester Cathedral.
Phil Stone, chair of the Richard III Society, told the BBC when the tomb was revealed at the cathedral: "The tomb is something else. I had been worried about the design – the depth of the cross incised within it. But when you look at it, the stone is very special. I think for a medieval king reburied in the 21st century, it's a fitting place."
The remains of the King are laid to rest in a brick vault below, sealed by the tombstone itself.
"This is a tomb which reflects the era in which it is designed as well as the solemn purpose for which it is commissioned," said David Monteith, Dean of Leicester. "To do anything else would be a pastiche of a medieval tomb and would ignore the fact he is being reburied in the 21st century. That is part of King Richard's story now."