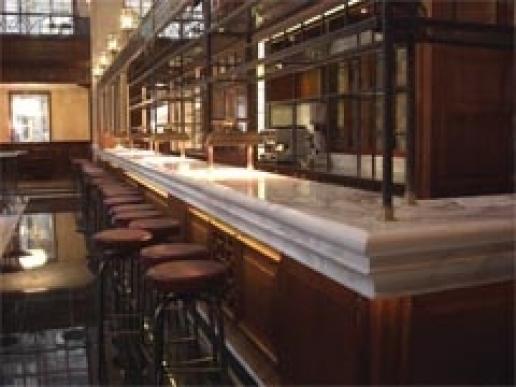 DAR Marble in Manchester have just completed fitting out their local Jamies Italian restaurant in King Street in the city ready for its opening this month (on 20 February). The Manchester branch brings the number of outlets in the chain being developed by chef Jamie Oliver up to 28.
In Manchester the restaurant is in what was a Midlands Bank until 2008. It is a Listed building designed by Edwins Lutyens and built in 1928. It is on three levels, in what used to be the ground floor banking hall, mezzanine antechambers and the basement vault room. The banking hall has columns clad in statutory marble with mahogany wall panelling. And there is a magnificent marble staircase leading to what was once the basement strong room and adjoining counting rooms.
DAR's contribution has included the supply and fit of 200m2 of Alexandrette Black flooring, 50m2 if Blanco Ibiza flooring, 10m2 of Nero Absoluto 30mm bar tops with a bullnosed edge and 40m2 of Calacatta Oro bar tops and waiter stations with a 75mm bullnose on the front. Under the main bar DAR have added a 150mm x 75mm thick Scocia downstand. It was all produced in DAR's factory with a major contribution from the company's GMM Egil saw.
And it could lead to more work for the stone specialist as DAR has already priced for two more Jamies Italians.