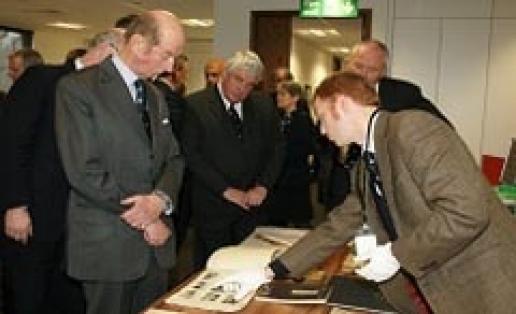 Following the opening of a new museum at the newly refurbished headquarters of the Commenwealth War Graves Commission (CWGC) in Maidenhead on 11 December by His Royal Highness The Duke of Kent (who is President of the Commission), the organisation is now looking for volunteers to engage with local school groups visiting CWGC sites across the UK.
The CWGC is launching a new volunteer-led educational outreach programme in the spring to coincide with this year's start of activities marking the centenary of World War I (1914-18).
As part of the initiative, the Commission is now looking for on-site volunteers to engage with local school groups visiting CWGC sites at Southampton, Plymouth, Cardiff, Oxford, Cannock Chase and Cambridge.
While the programme will initially focus on these six locations, it will be rolled out to CWGC locations throughout the UK during 2014.
If you are interested in volunteering for this scheme, please email [email protected].
During his visit to the CWGC headquarters in December, His Royal Highness met with CWGC staff and was briefed on the organisation's plans ahead of the commemoration events that will mark the Centenary of the First World War this year.
His Royal Highness said as he opened the new museum: "Our efforts to commemorate the fallen of two world wars will come into sharp focus during the forthcoming Centenary of the First World War. It is my sincere hope that ever-growing numbers of the public will come to know the Commission over this period, visit this new facility and value the work that it does."
Free and open to the public, the museum details the origins and work of the War Graves Commission. Exhibits include a passport issued to King George V for his pilgrimage to the war cemeteries of France and Belgium in 1922. If you'd like to visit, more information can be found here.