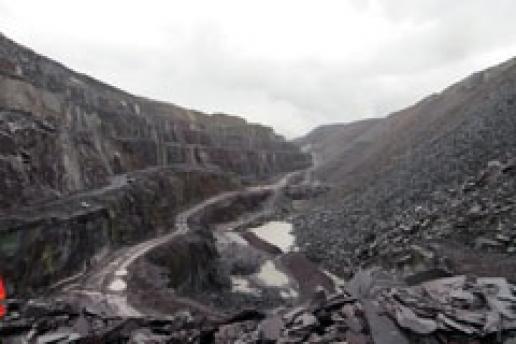 Penrhyn Quarry at Bethesda is one of the main sources of Welsh slate today.
The Welsh slate industry was not entirely sure it wanted to be seen as a 'World Heritage', because the quarry operators consider themselves part of a thriving, modern industry. But it is beginning to warm to the idea.
Gwynedd Council's bid to gain World Heritage Status for the area's slate industry, partly in the Snowdonia National Park, was not universally welcomed by the industry when the first moves were made to achieve it in 2011.
There were (and still are) concerns that giving the industry this status will wrap the sources of the slate in so much red tape that continued exploitation of them would become a practical impossibility.
But since Natural Stone Specialist first reported on the bid to obtain the World Heritage Status from UNESCO (United Nations Educational, Scientific and Cultural Organisation) in 2011 (read that report here), that attitude has changed a bit along with the industry.
We reported in 2011 that "the bid has been submitted to the UK Government's Department for Culture, Media & Sport in the first step of a process that could take years to complete".
And it is taking years to complete, but it is progressing and is currently on the Government's 'tentative list' of nominations to UNESCO.
In May, a book, Welsh Slate: Archaeology and History of an Industry, was published in support of the World Heritage bid (see below). And in July a conference was held in Bethesda to explore ideas for making the most of opportunities that could arise from achieving World Heritage Status.
The conference was armed with a report prepared by TBR & Redbanks Consulting, commissioned by the partnership leading the bid.
It emphasised the importance of heritage tourism to the area. It said slate heritage contributed 710 jobs, a turnover of £53.4million and a GVA (gross value added) of £22million in 2014.
Slate was important to the area's heritage, said the report, accounting for 41% of jobs, 53% of turnover and 55% of GVA. However, it attracted only 4.3% of heritage tourism. "This should be seen as an opportunity rather than a weakness, especially with respect to the impact that World Heritage Status might have on this part of the tourism economy."
The benefits of tourism have not been lost on the slate quarry operators. John Lloyd, the owner of Wincilate and Inigo Jones, and the company Greaves have used old slate quarries as tourist attractions. Greaves offer visitors a chance to enter the mine at Llechwedd to see what slate mining would have been like in its Victorian heyday, and the old Braichgoch slate mine previously owned by Wincilate Ltd has been turned into King Arthur's Labyrinth by Corris Caverns Ltd, telling the mythical stories of the ancient king.
Ian Rutherford, who runs Corris Caverns, is very much in favour of the World Heritage proposals. "We get 50,000 visits a year and I could see it increasing by 10% – that sort of level is very realistic from the added publicity and awareness of the industry."
The latest craze is adventure, both underground and above, with caving through the old Braichgoch workings and an adventure playground and zip wires at Llechwedd. Even Welsh//Slate, which operates the largest active Welsh slate quarries of Penrhyn and Cwt-y-Bugail, has allowed an operator to stretch a zip wire along Penrhyn quarry. It claims to be the longest zip wire ride in Europe.
The slate processing works at Inigo Jones (which takes its name from one of its founders and not the 16th century British architect of the same name) is also geared up for tourists. It offers tours of the factory, with its mixture of ancient and modern machinery – some of the ancient, such as a sander and a planer, still working off the same belt drives that were originally powered by a waterwheel. There is a video explaining about the winning and processing of slate to give visitors an overview before they start their tour. And once they have completed the tour they often like to take a slate item from the shop home with them.
The newest machine at Inigo Jones is a printer, used for printing colour pictures and designs such as coats of arms on to slate for coasters, clocks and commemorative plaques.
The TBR & Redbanks Consulting report includes case studies from other locations that have become World Heritage sites, including Cornish Mining, Hadrian's Wall (Frontiers of the Roman Empire World Heritage Site) and Blaenavon in south Wales with its coal mining at the gateway to the valleys falling partly within the Brecon Beacons National Park. The industrial landscape left behind is described as 'a testament to the human endeavour of miners and ironworkers of the past'.
According to TBR & Redbanks Consulting, these areas have seen sustained growth after becoming World Heritage sites, attracting more investment as well as tourists by creating a coherent story across a number of attractions that do not at first appear to be obviously connected.
Like the other sites, the slate industry of north Wales can claim to have impacted not only on the landscape and lives of the people who live there, but on a much wider community, not least because Welsh slate once roofed many of the most significant buildings of an empire on which the sun never set.
Gaining World Heritage status recognises outstanding universal value to culture, history and / or science. As well as the slate industry itself, the Welsh slate bid includes Port Penrhyn and Penrhyn Castle rail system; an early hydro-power station; the main university building at Bangor, reflecting the quarrymen's financial contribution and zeal for education; and the National Slate Museum at Llanberis, created with the help of a £1.6million National Lottery grant.
"I think World Heritage status can only be good for the industry," says John Lloyd at his Inigo Jones Tudor Slate Works near Caernarfon. But he adds a caveat that worries all the slate companies: "…as long as the working industry isn't restricted."
Because those still extracting slate and / or making slate products are worried that the heritage sector might want to preserve the industry as it is or even take it back to a bygone age rather than allowing the old machinery to be replaced with efficiency-improving new equipment. There might even be some conflict between straightforward slate production and the tourist sector. Tourism would almost certainly benefit from World Heritage status but the traditional slate industry might not.
"You have to find that happy medium," says John, "but, generally, I'm in favour of the World Heritage status."
Slate is, of course, synonymous with roofing and there is still a lot of roofing slate produced by Welsh//Slate, in particular. Some is split traditionally by hand, although more of it these days is being produced by machinery. It is often used on heritage projects and goes all over the world.
But slate makes a superb, inert, water resistant building material for walls, cills, steps, floors, paving, fencing, kitchen and bathroom worktops, water troughs, snooker tables, memorials… you name it.
As Dafydd Wigley, a former Plaid Cymru Member of Parliament wrote in the Welsh Daily Post newspaper in July in support of the World Heritage bid, Gwynedd's slate has done "more than colour our environment; it has helped mould our culture".
He continued: "Slate communities contributed enormously to our cultural heritage. Chapels, schools and eisteddfodau provided a framework and people provided the inspiration. Choirs, brass bands, poets, writers and craftsmen abounded."
He said that to succeed, the World Heritage bid had to attract support "from business and commerce as much as people passionate about history, culture and our environment" and added: "This project could contribute an estimated £335million annually to our economy, generating over 5,000 jobs by 2030. It deserves our enthusiastic backing."
The arguments seem to be winning round some of the sceptics from the industry. And Chris Allwood, who heads Welsh//Slate at Penrhyn and Cwt-y-Bugail, admits he has been one of those sceptics.
Chris: "The name – World Heritage – it makes you think its over; from a bygone age. I have been at pains to make sure everyone knows slate in north Wales still has a life and makes a great contribution to the economy – we employ 214 people."
It is important to Chris that none of the skills involved in fixing slate roofs are lost, as well as that the quarrying and production knowledge should be retained. After all, if nobody can fix slate roofing nobody will buy it. These are skills dating back at least to Roman times, with some slates from that era still surviving. That helps Welsh//Slate feel completely comfortable offering 100-year guarantees on the roofing it sells.
Chris: "It's key to World Heritage status that we have a working quarry within that zone to perpetuate these skills and maintain an industry to be proud of."
Some remain to be convinced, Hugo Were from stone processor Cerrig Granite & Slate in Pwlheli among them. Hugo is an outspoken opponent of unethically sourced stone from the Far East and an advocate of the use of as much British stone as possible. He says Welsh slate accounts for 25-30% of his turnover supplied as worktops, flooring, tiles and memorials.
"I'm slightly against the World Heritage proposals," he says. It is, again, the problem of what the word 'heritage' conjures up.
"Slate is an active industry. Penrhyn Quarry in Bethesda is a hole in the hill half a mile across. It's a massive industrial operation – it's not heritage. It's not just part of history, it's part of the future as well."
The geology of north Welsh Slate
The slate-belt of North Wales started its journey to becoming the materials we know today in the Iapetus Ocean, which ceased to exist about 450million years ago. Further south in Wales, as well as in Cornwall, Brittany and Spain, the slate was formed about 150million years later.
The stone began as muddy sediments washed into the sea during the Cambrian 545-495mya (million years ago) and Ordovician 495-443mya.
The crucial factor in the metamorphosis into slate was the lateral force provided by the colliding of tectonic plates. This not only compressed the sediments but also forced them deep below the surface, where pressures and temperatures are higher. The compression rotated the clay particles so that their flat, flaky faces were perpendicular to the direction of stress.
The clay re-crystallised with the same alignment and the effect is that the whole rock splits easily in a direction of 90º to the original squeezing stress, which is independent of the original bedding planes.
A book to support the World Heritage bid for Welsh slate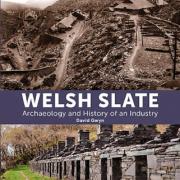 Welsh Slate: Archaeology and History of an Industry. Author: Dr David Gwyn. Published by the Royal Commission on Ancient & Historical Monuments of Wales (ISBN: 978-1871184-51-8).
The book is also available in Welsh as Llechi Cymru: Archaeoleg a Hanes (ISBN: 978-1871184-52-5).
This is a large format book of 291 pages with 243 high-quality illustrations.
Price £45.
This is a book which tells the story of an industry that changed the landscape and communities of Wales.
Welsh Slate: Archaeology and History of an Industry is published by the Royal Commission on Ancient & Historical Monuments of Wales ([email protected]) and is the result of a collaboration with Dr David Gwyn, an industrial archaeologist who lives in Pen y Groes in the Nantlle Valley.
The book brings together Dr Gwyn's life-long fascination with the industry and the Royal Commission's recording expertise and extensive visual archive.
Dr David Gwyn is in no doubt about the importance of the industry. "The slate industry left its mark not only on the country's landscape but also had a profound social and cultural impact on the region, on Wales and on the wider world."
Professor R Merfyn Jones, who has written the book's Foreword, agrees. "The Industrial Revolution may have been founded on textiles and powered by steam; but it was roofed with slates skilfully wrenched from the Snowdonia hills."
This book is encyclopaedic in its range and immensely detailed in its research, yet is accessibly written and illustrated by outstanding drawings and photography.
The book was officially launched in May in the Great Hall of Penrhyn Castle near Bangor, a neo–Norman building constructed in the 19th century by the quarry owner Lord Penrhyn. It is now owned by the National Trust.
In 1900, conflict between Lord Penrhyn and the Bethesda quarrymen he employed led to a bitter three year strike. The launch of this book is seen as an important step in reconciling the heritage of the castle with the surrounding communities.
Slates from quarries in Gwynedd once roofed large parts of the world, hence the inclusion of the Slate Industry of North Wales on the UK's tentative list of World Heritage Sites to be submitted to UNESCO. Cllr Mandy Williams-Davies, Chair of the bid's Steering Group, says the book is undoubtedly a key step in gaining UNESCO World Heritage Status.
"The book will help the people of Gwynedd take pride in yet another part of the county's rich heritage, ensuring that the industry continues to bring benefits of all kinds to people still living in the slate."