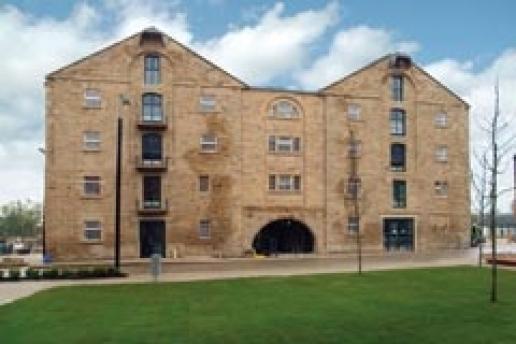 The 218-year-old York sandstone Calder Hebble Navigation Warehouse, close to the heart of Wakefield, has been given a new lease of life from a £4.8million restoration project carried out by York and Manchester-based building conservation specialists William Anelay.
The grade II* listed building underwent a complex 80 week programme of works that has seen it converted into 3,200m2 of office and retail space as part of the £100million Wakefield Waterfront Project.
Anelay started on site at the warehouse in 2007 on behalf of phase developers CTP St James.
Anelay Operations Director Tony Townend says: "The warehouse is actually two separate buildings constructed at different times and joined at a later date to provide covered unloading areas for the barges that navigated the canal.
"The two buildings, over time, had moved apart so our first task, before any of the other major structural works could begin, was to underpin the external and internal walls, which was made all the more difficult due to the fact that groundworks were below water level and the warehouse is next to the river."
Where new stonework was required, Woolley Edge sandstone was supplied by Barnsley company Farrar.
An attractive atrium area has been created with a glazed roof to provide a bright welcome to the four-storey building.
Tony adds: "One of the major challenges was the erection of a mass of cantilevered scaffolding directly above the canal with an exclusion zone marked out with buoys in the water to heed the safe passage of traffic on the River Calder.
"Another complexity was the lack of working space and access imposed due to neighbouring developments."
William Anelay's MD Vernon Carter commented: "It's been a complicated and demanding project that has drawn on all of our in-house skills and resources but the end result is a building that Wakefield can be truly proud of."